I have officially discovered what's been missing from my wardrobe, and I didn't even realize how badly I needed it. My friends, I bring you the kimono.
No, this isn't what you may know as a traditional Japanese kimono, but certain elements (the billowing sleeves for example) do resemble the historic garment. Trust me, I completely know what you're thinking right now, "Anna, you're crazy; you're telling me that I absolutely need a kimono in my closet?!"
Yes, you do.
I implore you to read on as I'll tell you exactly why you need a kimono, and all of the various ways you can style one!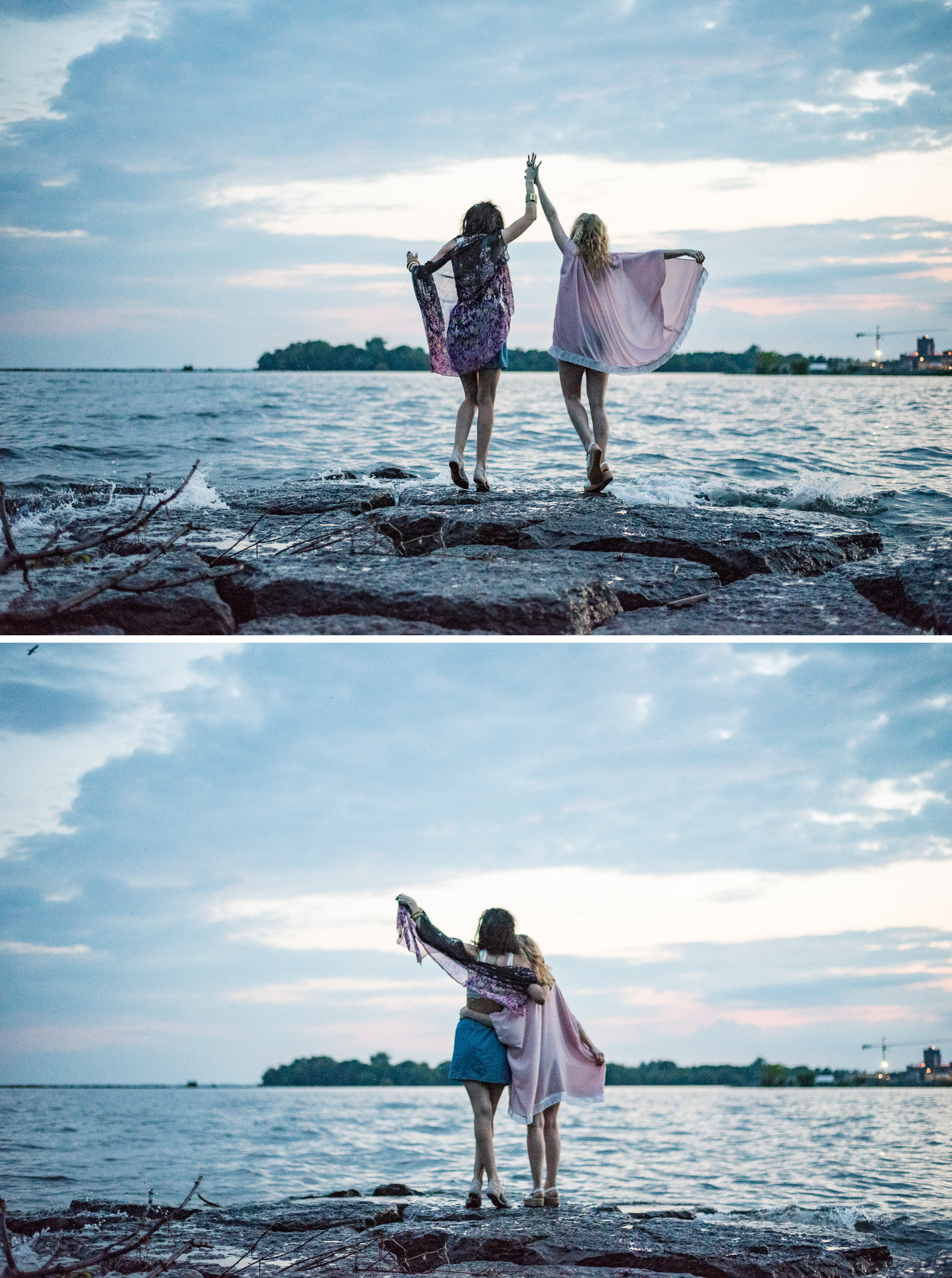 About This Photo Shoot
First though, a little behind the scenes. I had the pleasure of being asked to style and model these kimonos made by an awesome local designer, Amelia of KnitWhits Couture. It's not too often (although I wish it were every darn day) that I'm asked to work on such a creative shoot. Her vision was a hippie inspired, 1960-1970's beach vibes. I was beyond excited to channel my inner flower child and work with these beautiful garments. The hair by Laura McAleer, make up by Kristin of Kalon by Kristin, and photography by the always amazing Ashlee of Red Lemon Art & Photography brought it all together. I worked with my fellow model and dear friend Laura of YGK Studios to complement and showcase these kimonos through styling. I credit this process with my realization. Through styling these pieces I became truly convinced that the kimono is one of the most outta sight additions to your closet, and such an easy way to make your look just a tad more interesting.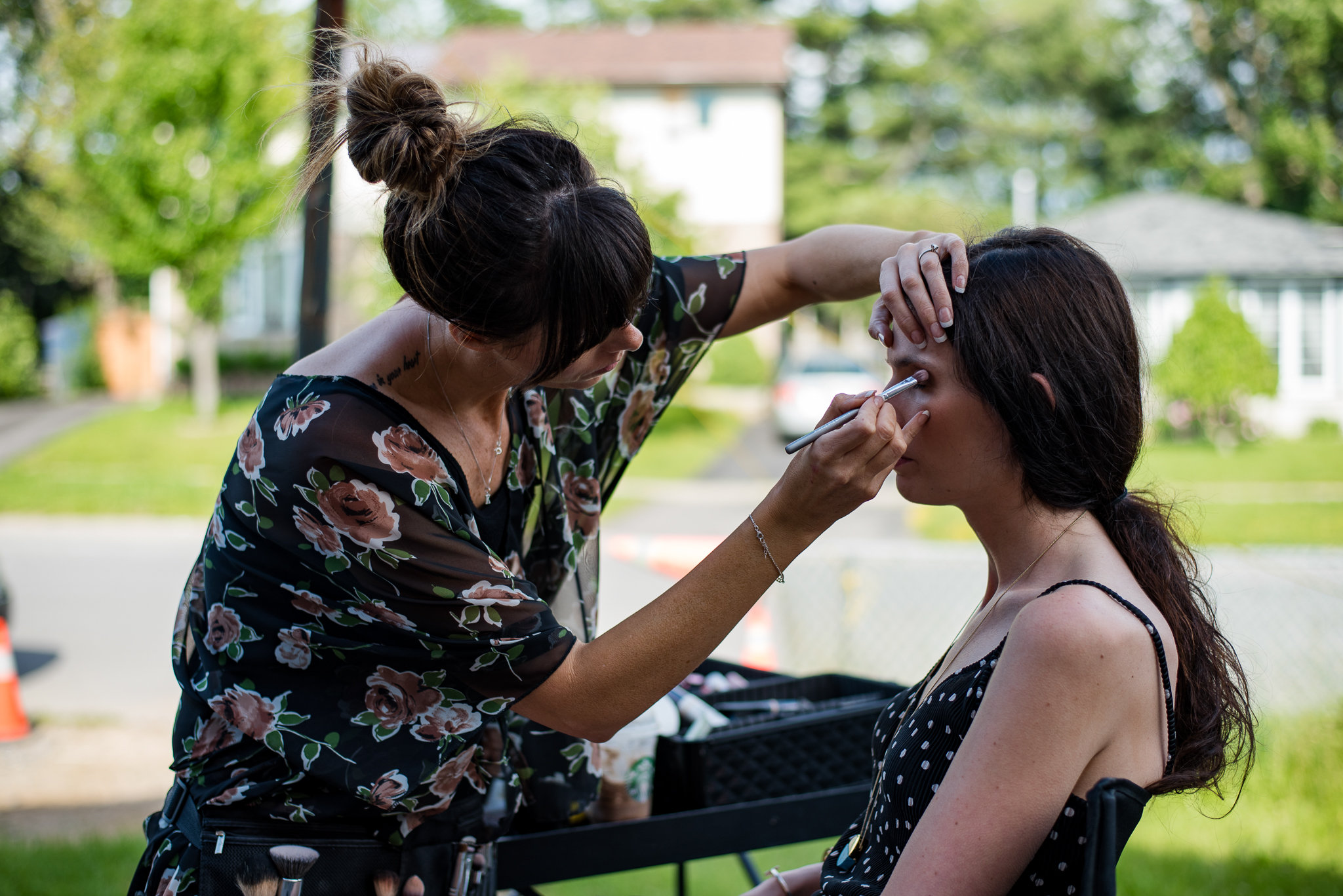 Why The Kimono?
In the past, I have made the mistake of misjudging the kimono and underestimating its full potential. I've always regarded them as a fun little extra addition to my closet, just something to have around in case I feel like throwing something on. Granted, there is validity to this statement, I'm in no way comparing it in importance to the perfect jean or little black dress, which are serious wardrobe staples. But a beautiful kimono enhances your favourite pieces and brings them to the next level. We all want to be next level right? Obviously (I feel like the cool kids are saying this these days, so we'll go with that).
The problem however, is that for many of us the kimono can be intimidating (similar to this post, where I spoke about how to wear a poncho). Even just the word kimono spawns a slew of questions: What is a kimono? How does one style a kimono in a modern fashionable way? What does kimono wear, or a kimono outfit look like? Sound familiar? I got you.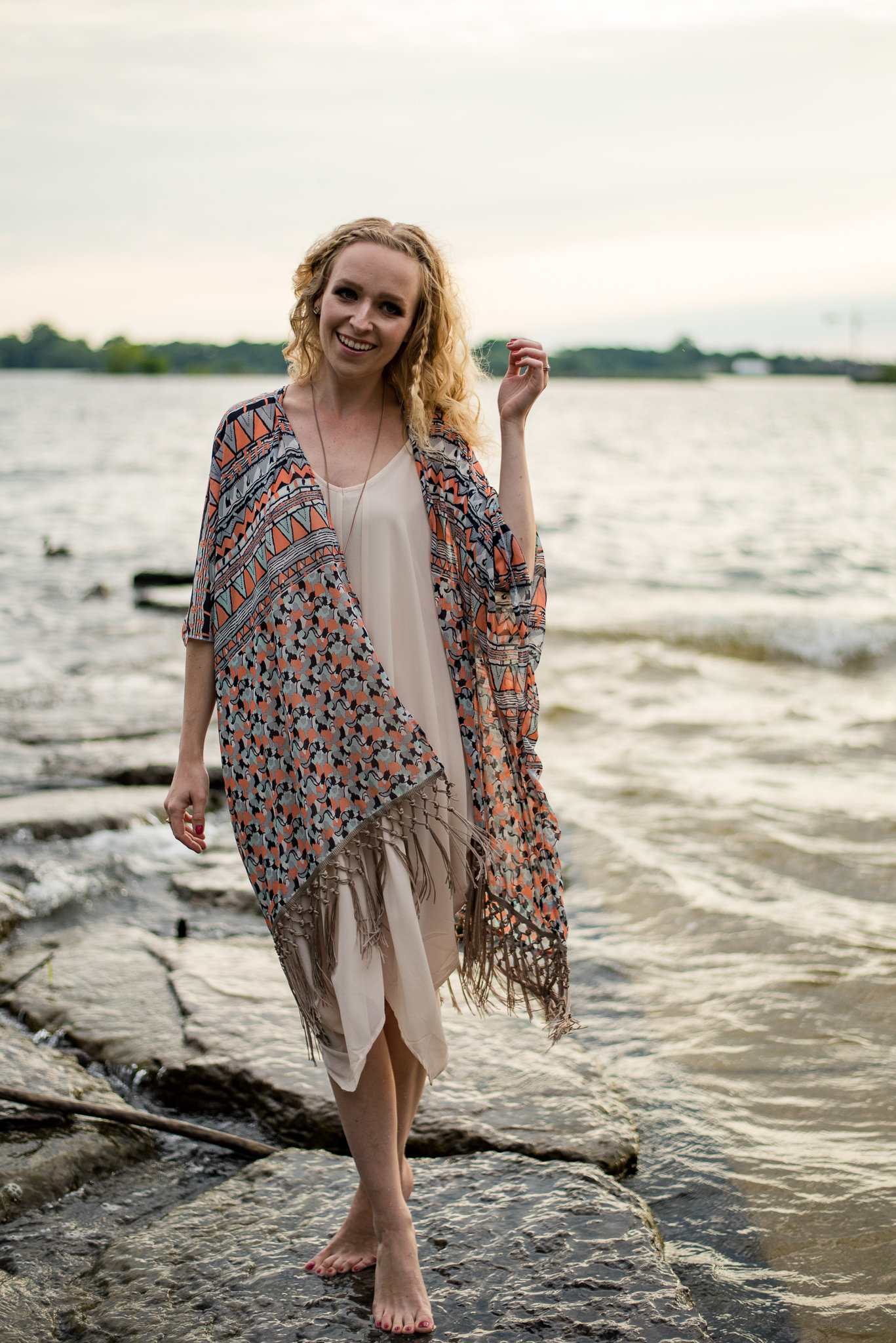 The Colour Coordinated Kimono
One of my favourite tricks for styling outfits in general is to focus on one key colour, and use it to pull the entire look together. I've talked about this before when describing "How to Sneak Summer Colours into Cooler Seasons". But this applies just as well when it comes to kimono wear. Many kimonos I've stumbled upon are patterned, which can make them tricky to pair, but not if you hone in on just one key colour. How do you choose? Let your existing wardrobe lead the way.
For example, this piece contains some light pink tones, which I noticed complemented this dress perfectly. I then decided to accessorize with rose gold jewelry, to continue with the warm-toned theme. The end result goes together quite nicely! But in reality, it's that simple. You could apply the same concept and recreate this look with a focus on the pale turquoise found in this kimono instead if you have the perfect blue dress currently residing in your closet (for example). I also like the shape this of this look, it's loose and flowy which really completes the overall boho-hippie vibe. Righteous.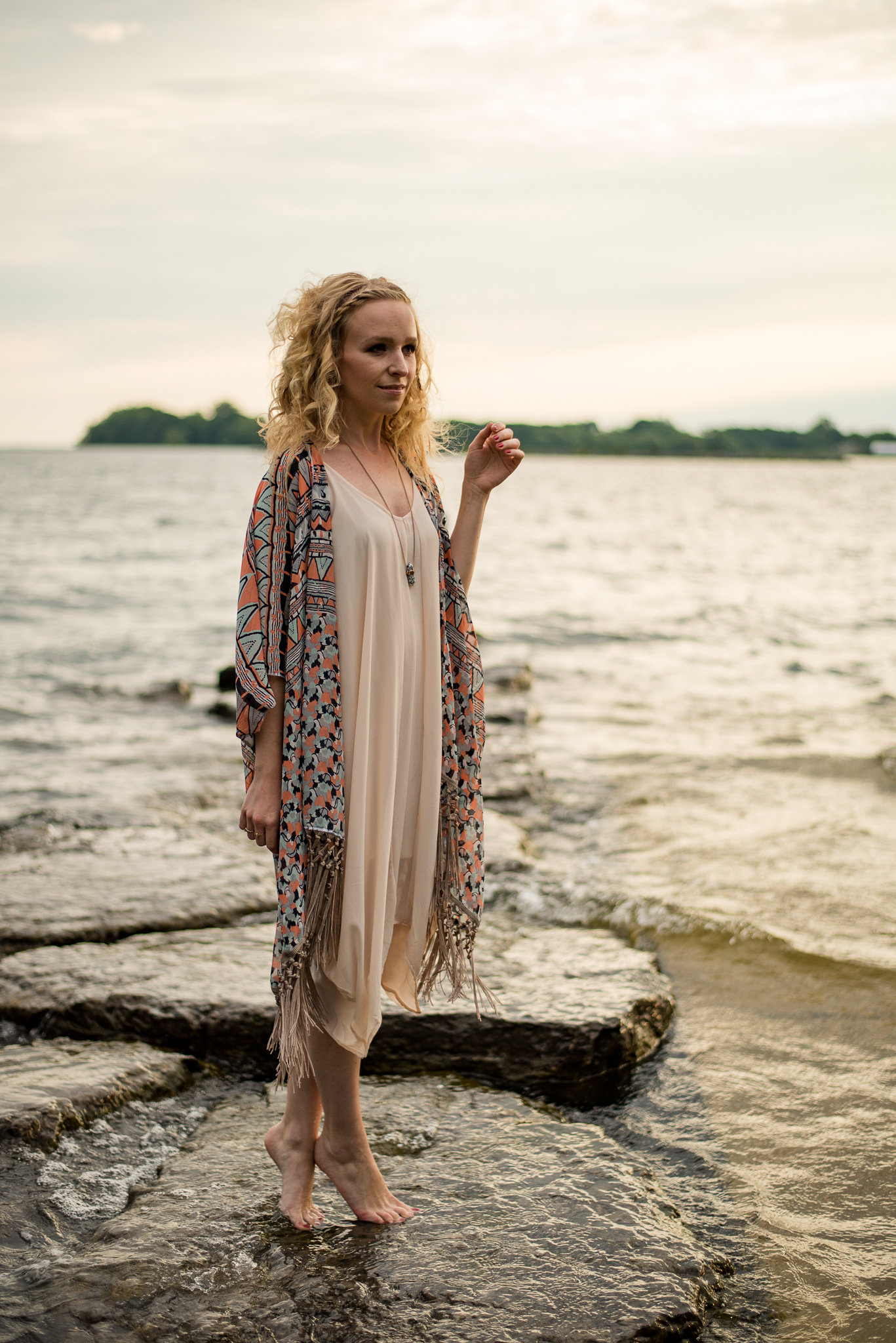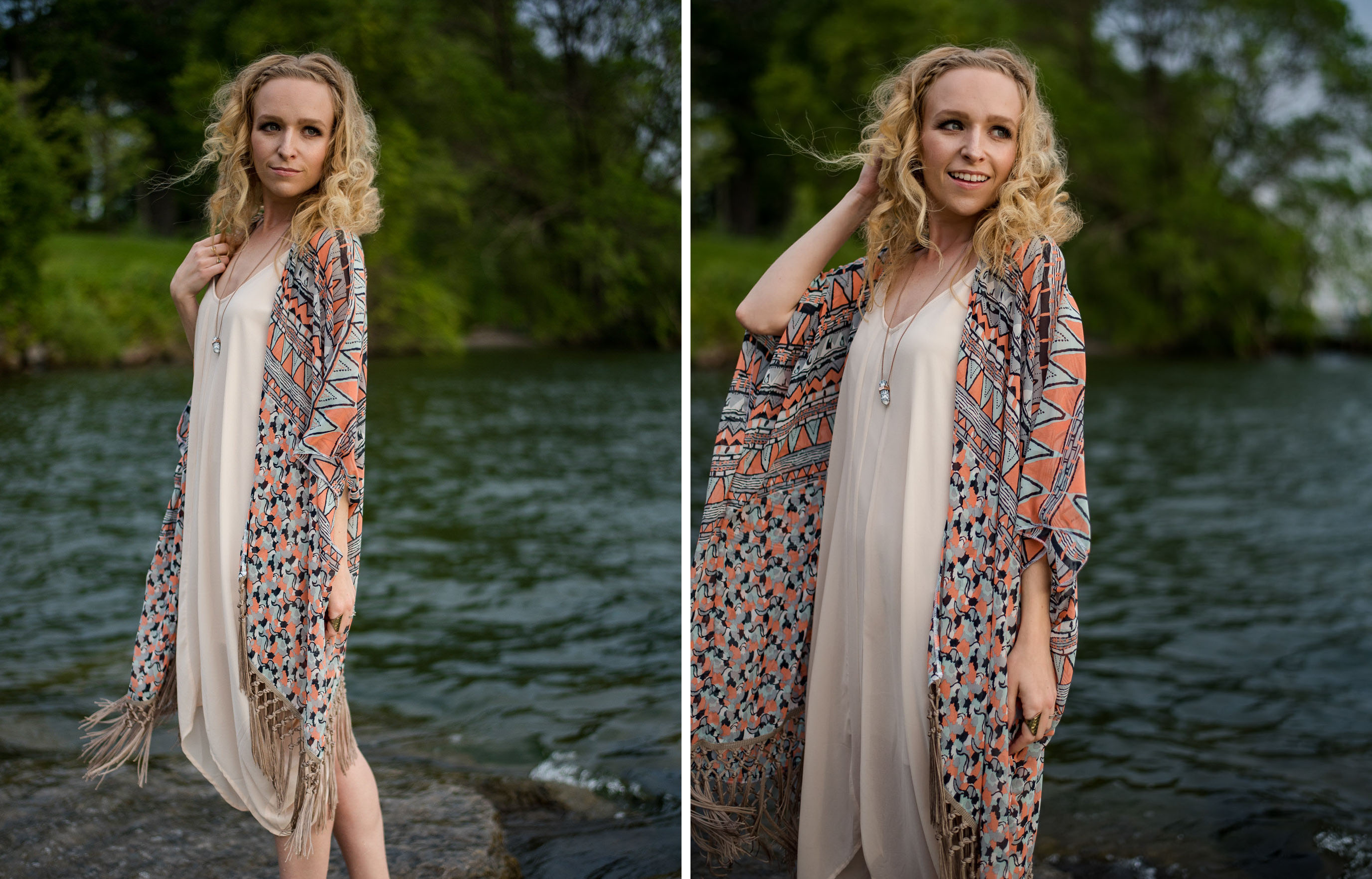 The Beach Cover-Up Kimono
Kimono and beach cover-up are basically synonymous terms. What does one need from a beach cover-up? You'll find it in a kimono. A cover-up is simply that, it's something to throw on over your bikini at the resort, so you can grab lunch at the restaurant and head back to your beach chair on a full stomach. It's something many of us ladies like to wear while in a bathing suit to make us feel more comfortable, and that's totally fine. To each his own! But there is no reason the beach cover-up shouldn't also be stylish, while meeting all of these needs, am I right?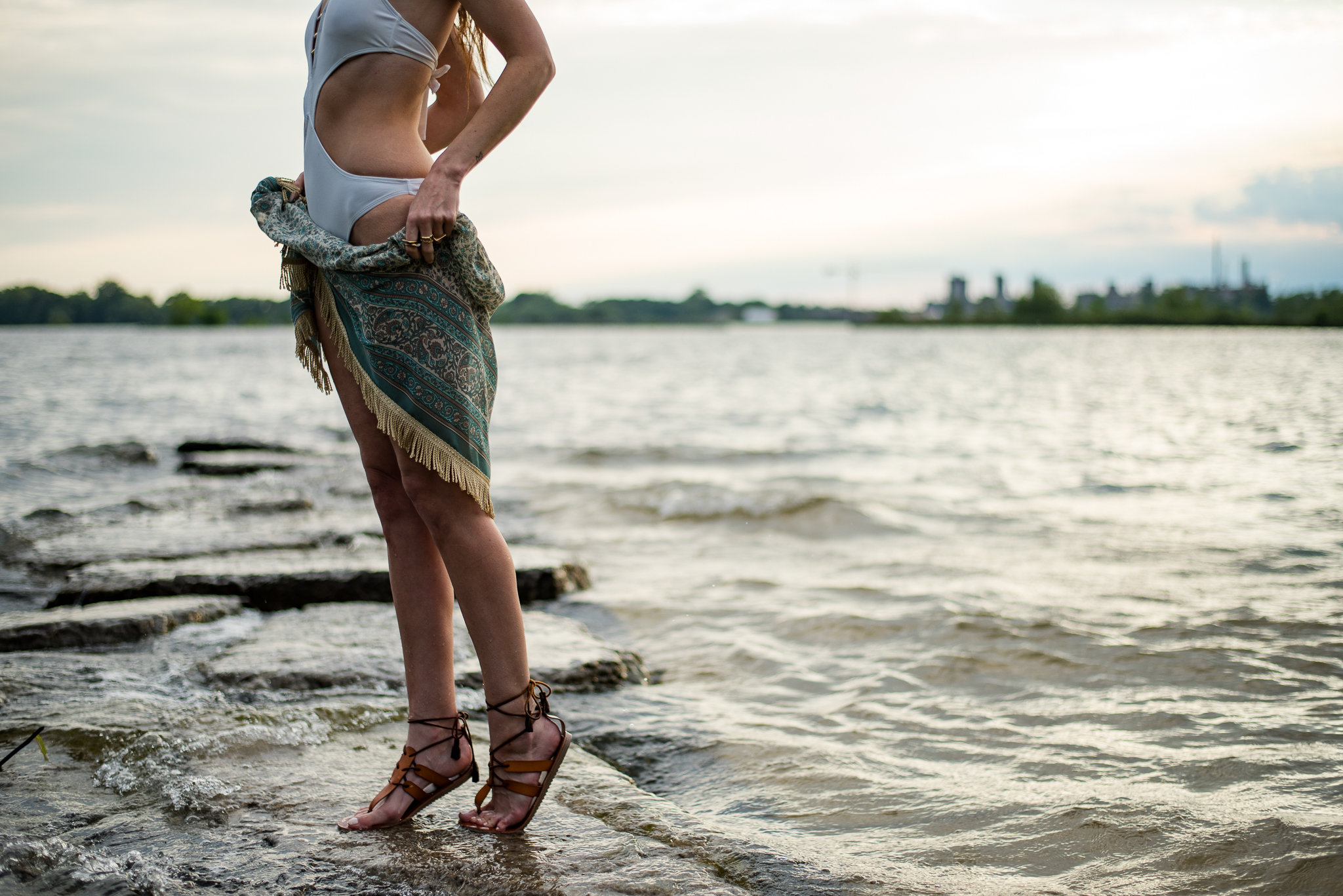 Versatility is the name of the game here too, especially since you'll be wearing your kimono with a variety of bathing suits. A simple black and white option is always safe, and goes well with just about everything. Choosing a soft palette, earthy, and neutral tones also makes it easy to pair.
You can wear it and tie it a variety of ways and the light fabric ensures that you won't overheat no matter how you wrap it around yourself. But the kimono is totally boss as the ultimate beach cover-up as this isn't the only way to wear it. It can be worn on and off the sand. If you live in a four season climate like me and don't make it to the beach as often as you'd like, this is important. There is no sense in cluttering your closet with pieces that only have one purpose and you only get to wear once in a blue moon. The solution is the kimono cover-up, you jivin' me?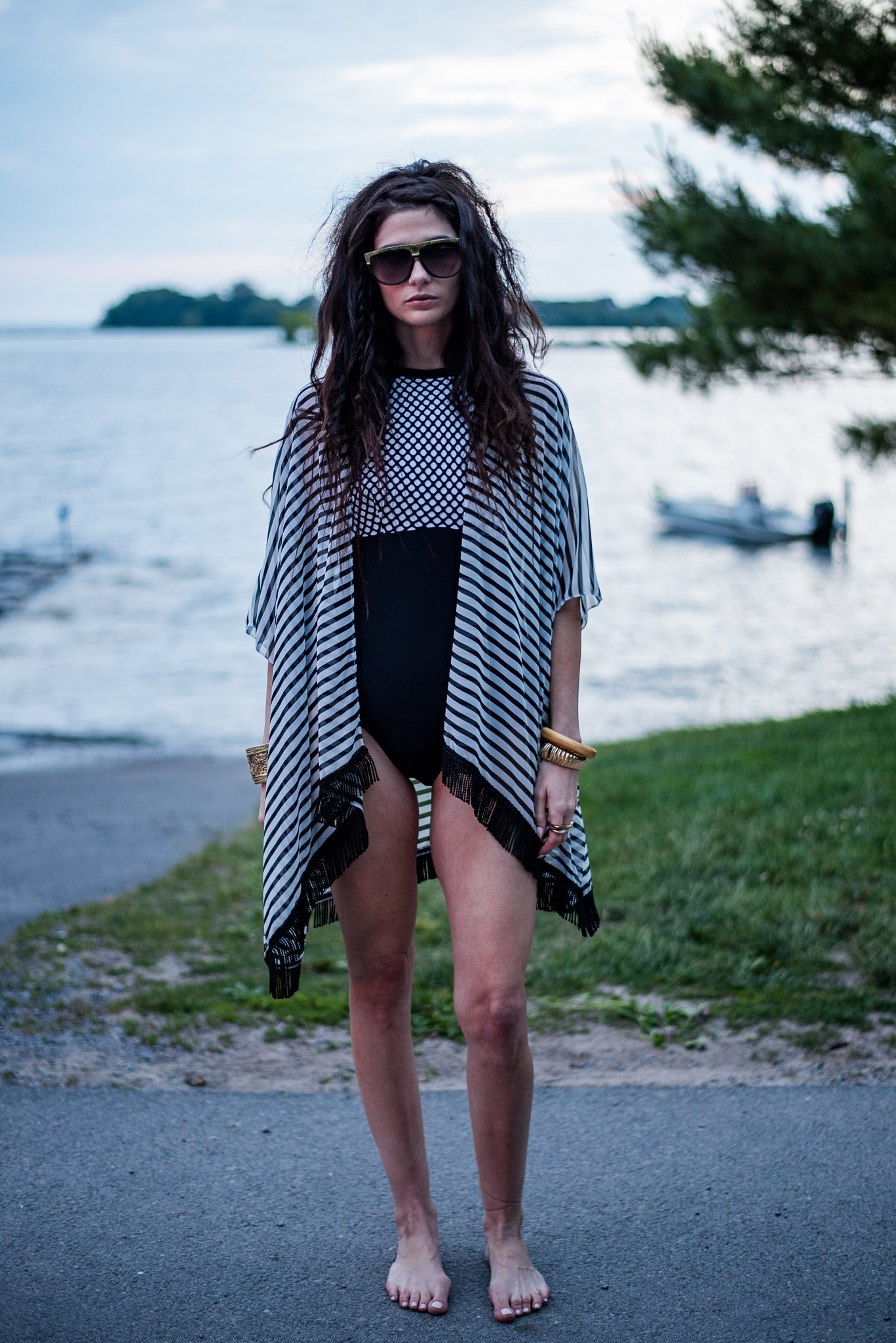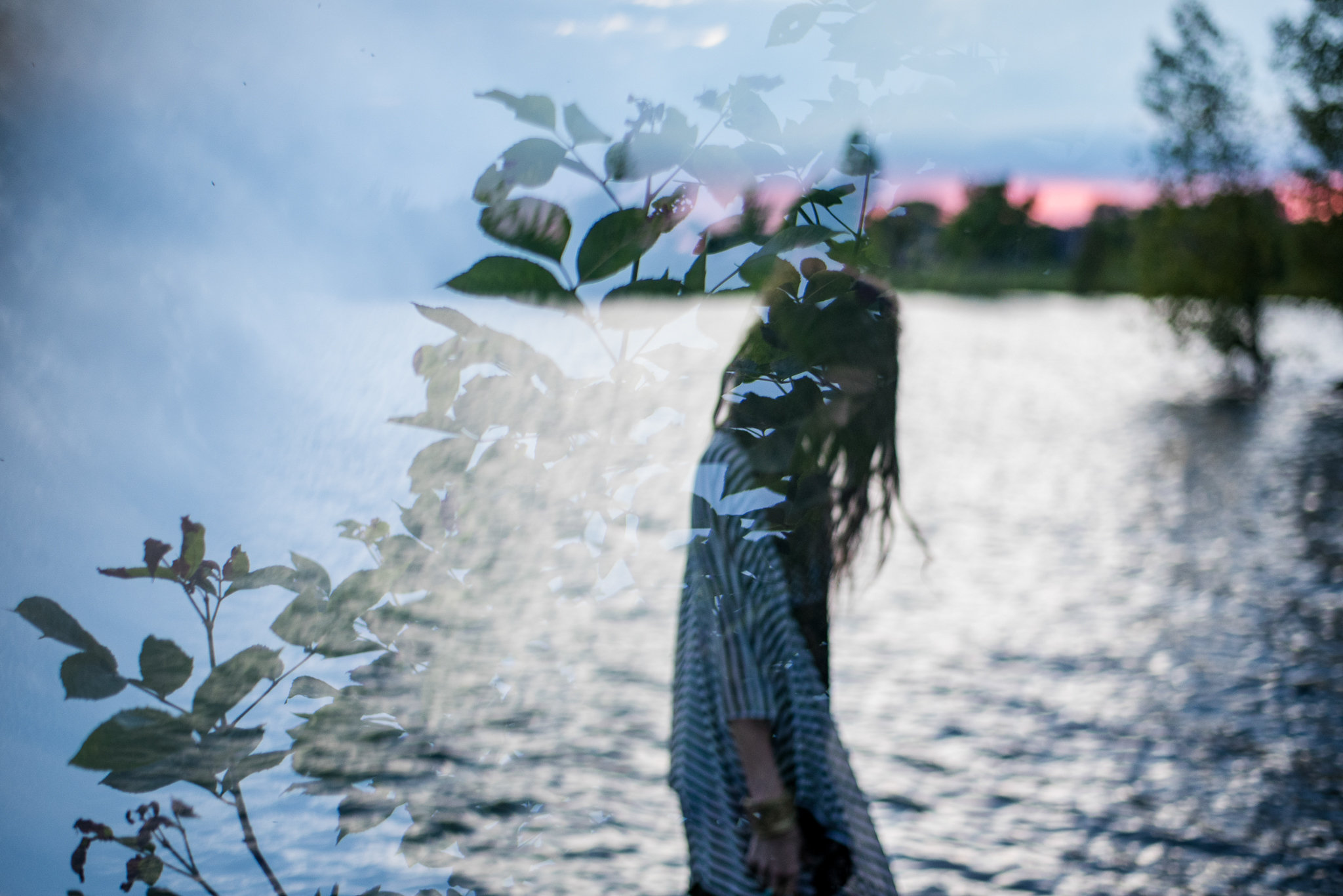 The Contemporary Kimono
The kimono is exactly what you need on the days when inspiration is hard to come by. You know, those mornings when you stand in front of your closet wondering why on earth the perfect outfit won't just jump out and grab you. On those days, you need something easy that will also make you feel confident. For me, jeans and a white top are my go to when I'm feeling unimaginative. The colour combination never lets me down, regardless of cut and style. However, the danger with this look is that it can become boring, very easily.
For example, let us picture for a moment that I wore the look below sans kimono, white tank, flared jeans, and a brown leather belt. Pretty uninteresting and uninventive, no? But with the addition of this kimono, what would otherwise be a fairly humdrum look now has some edge to it.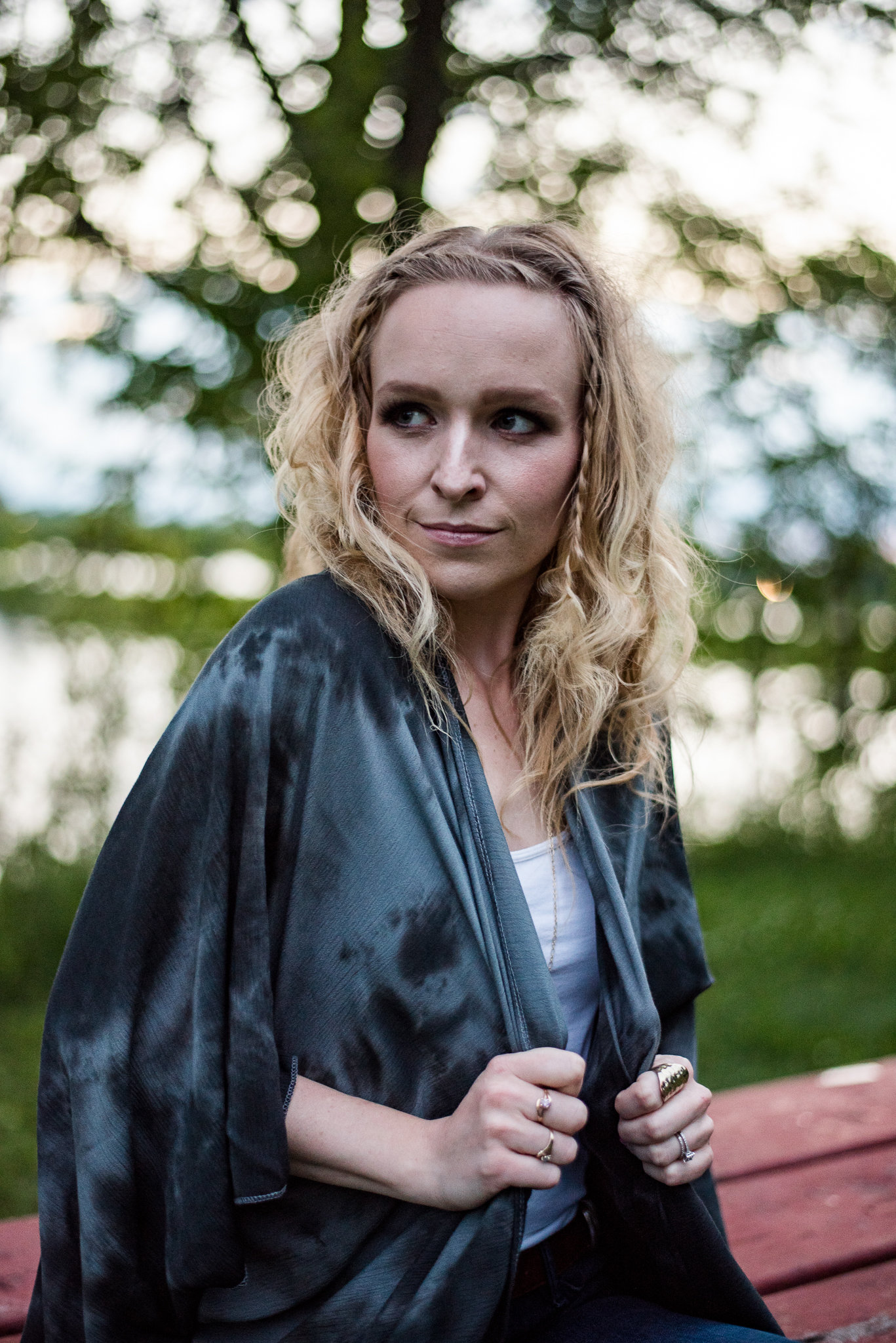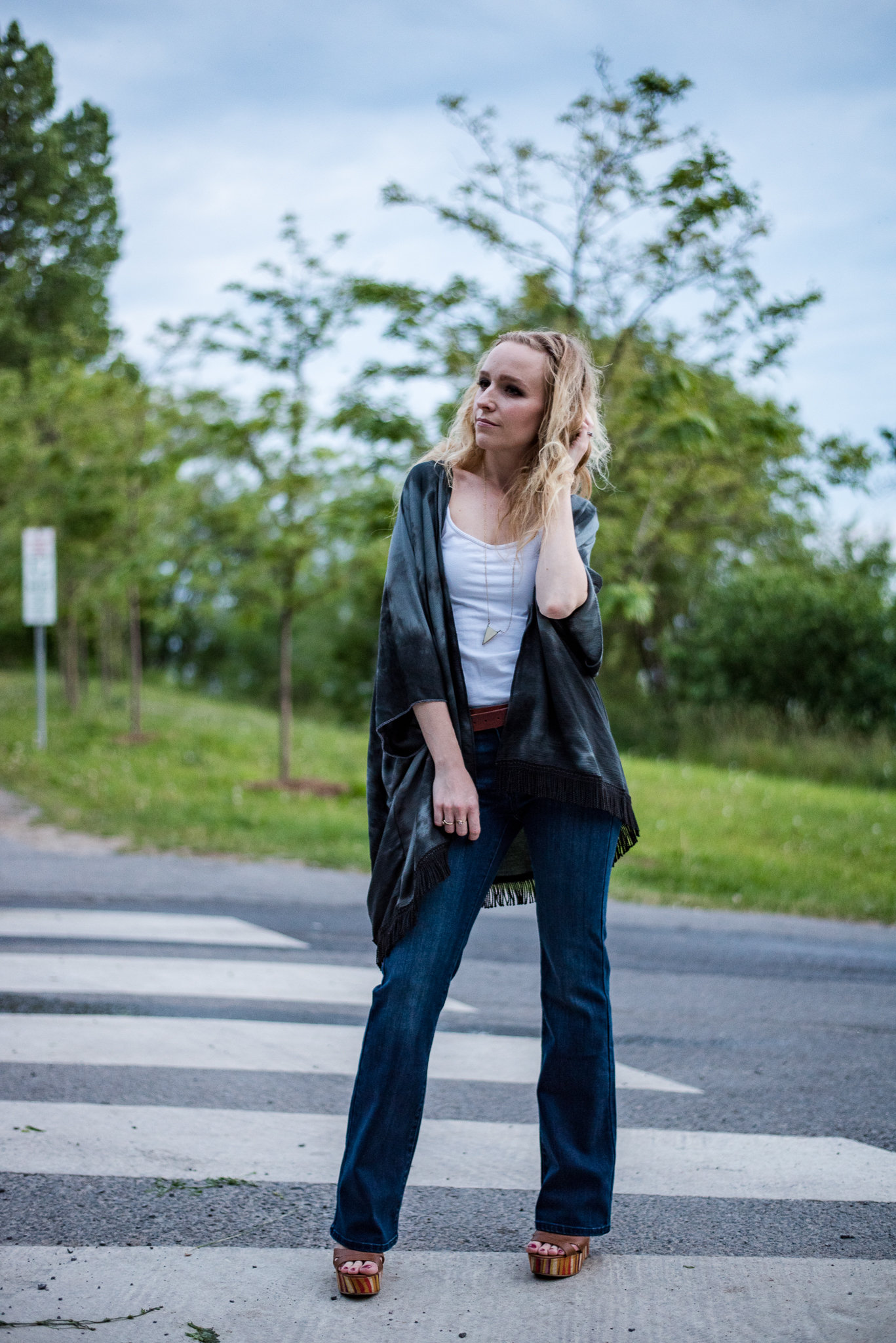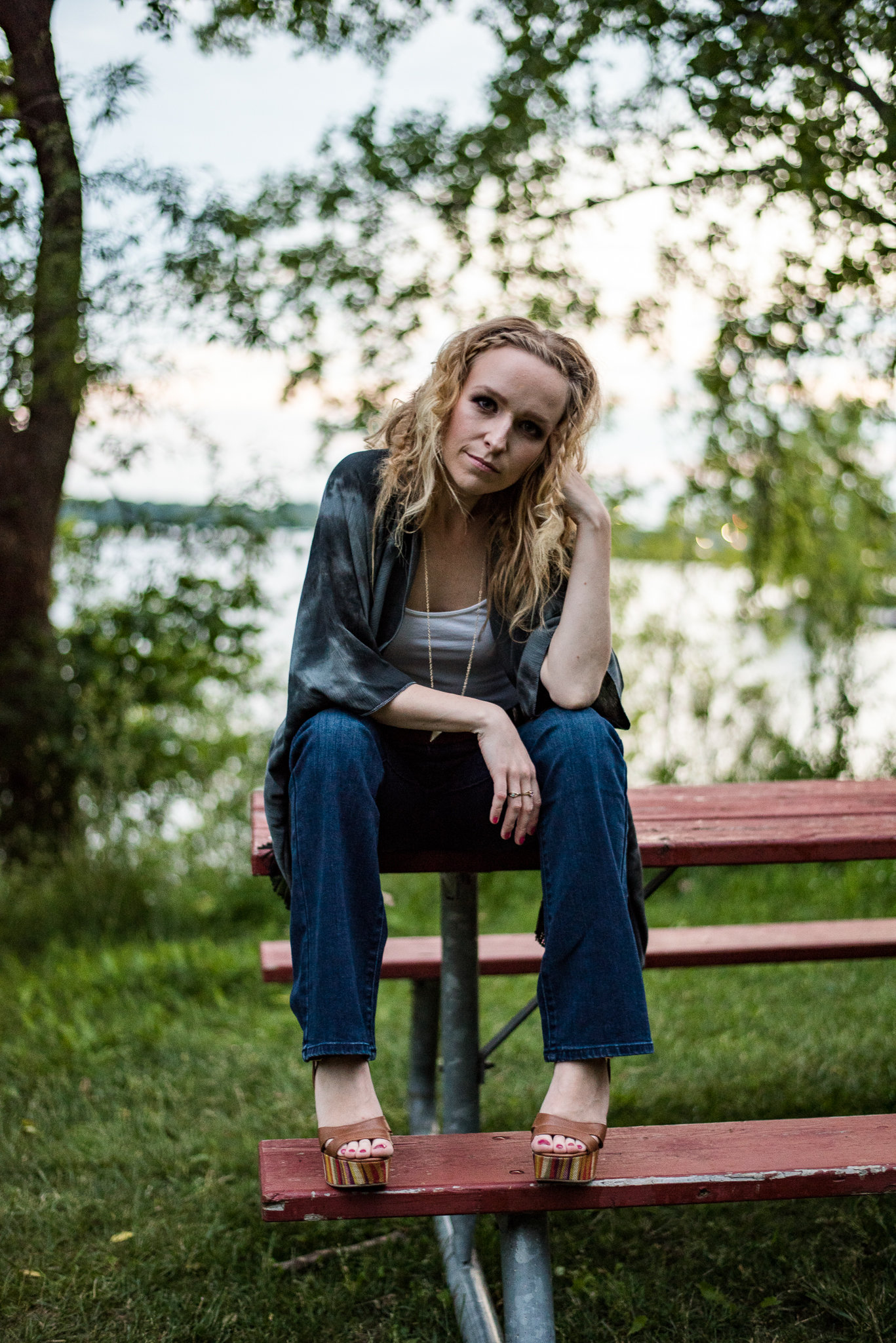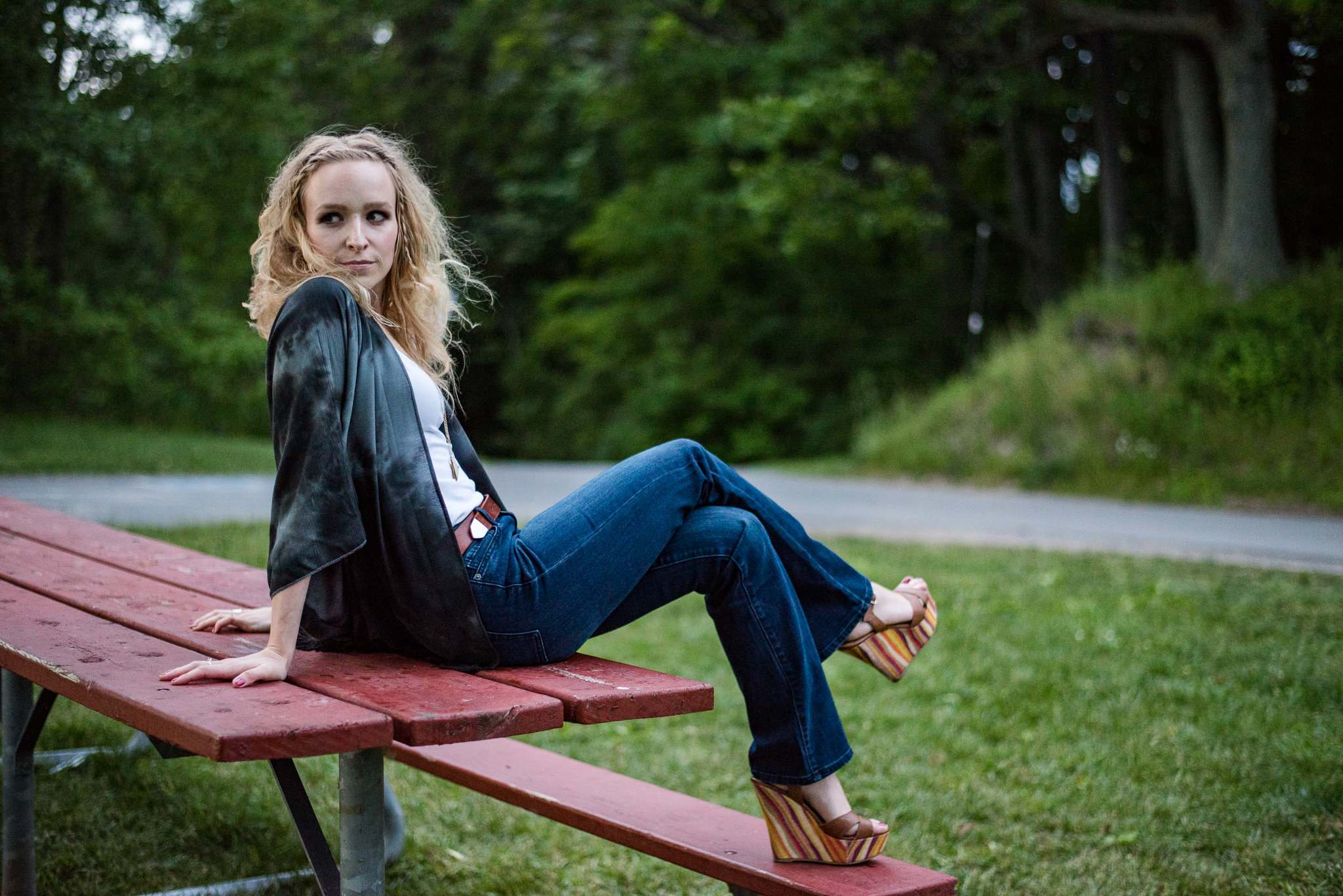 I chose to style this particular kimono with dark boot cut jeans as the tie-dye pairs perfectly with a more casual look. The simple colour palette also allows me to have fun with colour elsewhere without pulling attention, hence the addition of these rainbow wedges. The result is a fun complete casual look, based on uncomplicated pieces you already have in your wardrobe. It's the perfect way to give a nod to my favourite era, without going ape (I sincerely hope you're enjoying my neato hippie slang throughout this post).
The Layered Kimono
Do you ever find yourself putting together an outfit only to realize that although the colours go well together, the pieces don't fit quite right? I've been there. A look will be perfect in my mind's eye, but upon putting it on I realize something is off. Any good outfit needs balance, colours not only need to harmonize, but fit as well. Sometimes a too-tight or low-cut look can come across as too sexy, even when that's not what you're going for (and if it is, rock it like a fox). The kimono adds some movement to your look and balances out the shape, so just throw it on top if you're feelin' yourself, but questioning whether or not you're showing more skin than you're comfortable with. It provides a little cover, so instead of turning to the shawl or dress wrap, the kimono may be all you need. No sweat!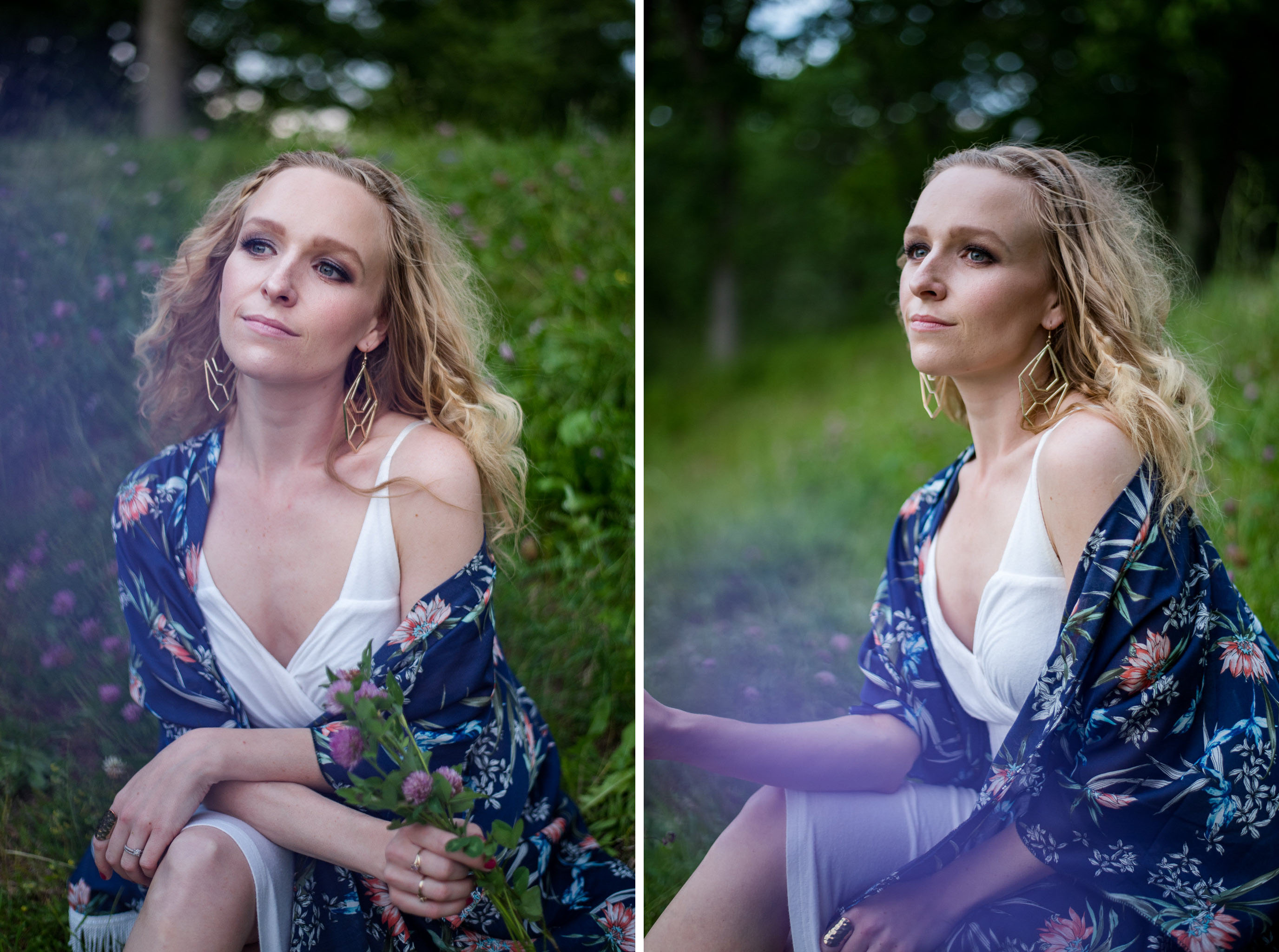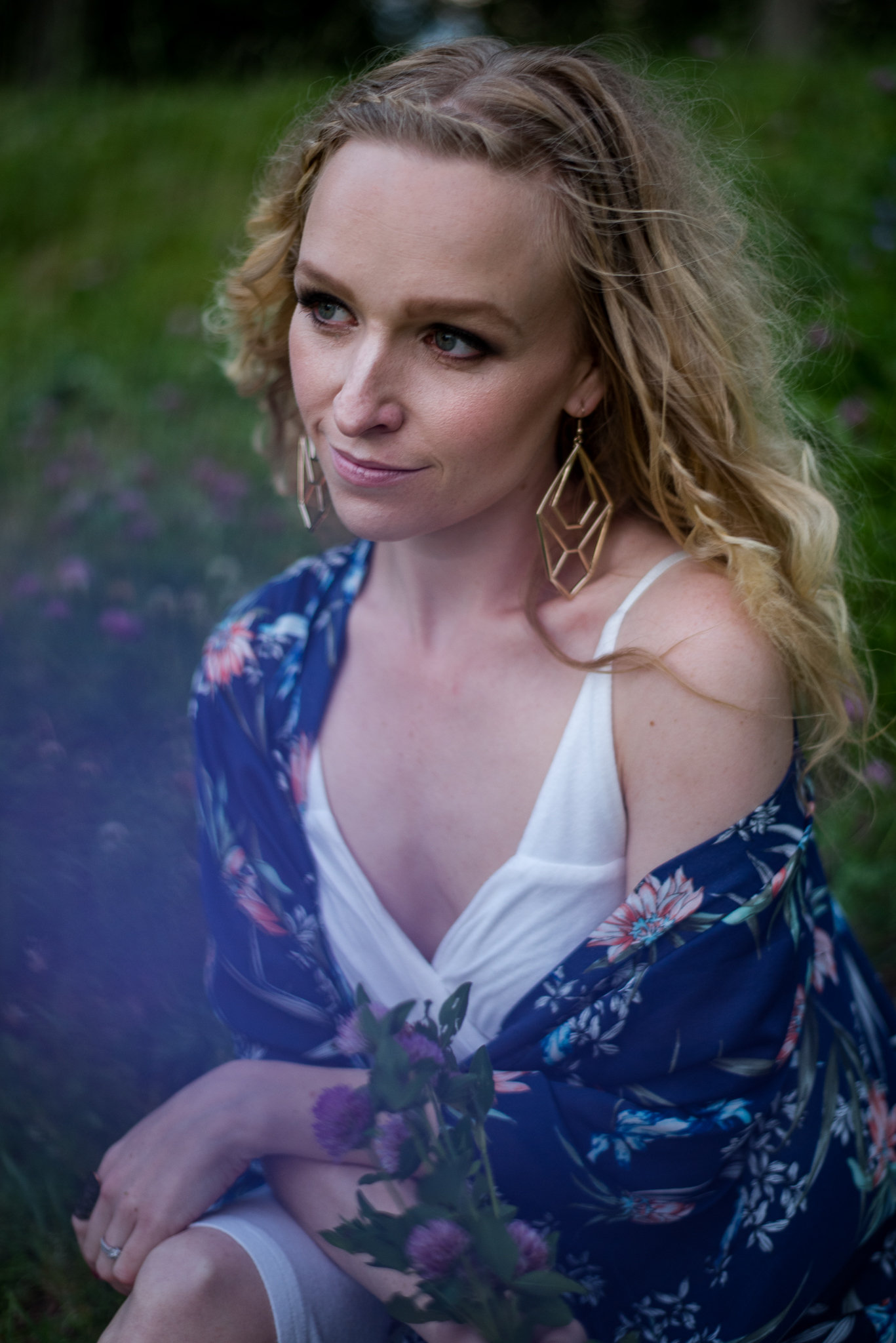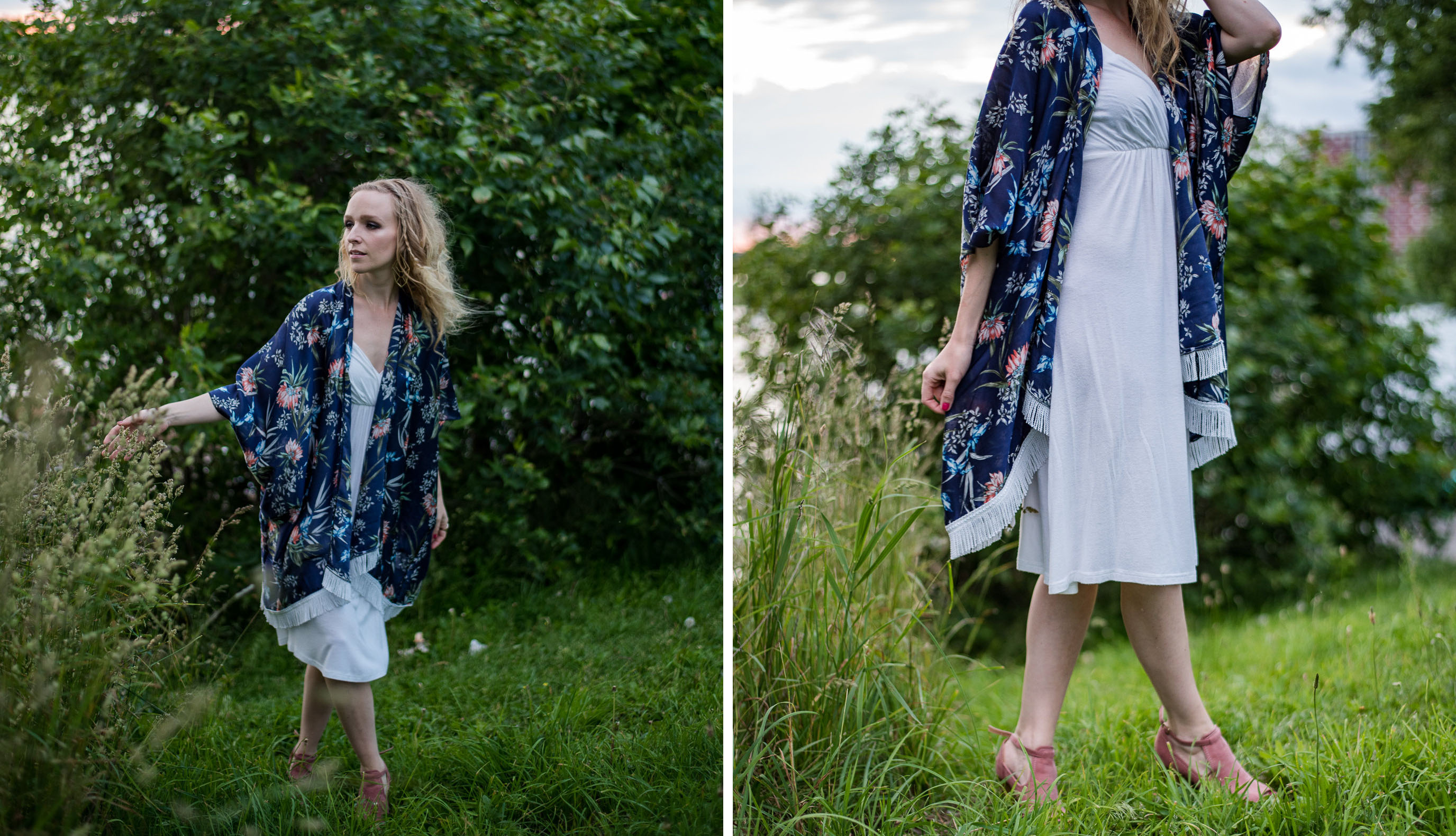 You can also layer with accessories such as jewelry, floppy hats and belts. For this hippie-inspired shoot we went to town with accessories as Laura brought along some of her vast vintage collection of necklaces, bracelets and rings. In order to appropriately feature these pieces, we opted to dawn clean cotton white dresses (a complete coincidence that we both pulled these to bring along) so we had a plain palette to work with. Laura's colourful pieces capitalized on the floral pattern in the kimono and brought out those fun summer blues and pinks.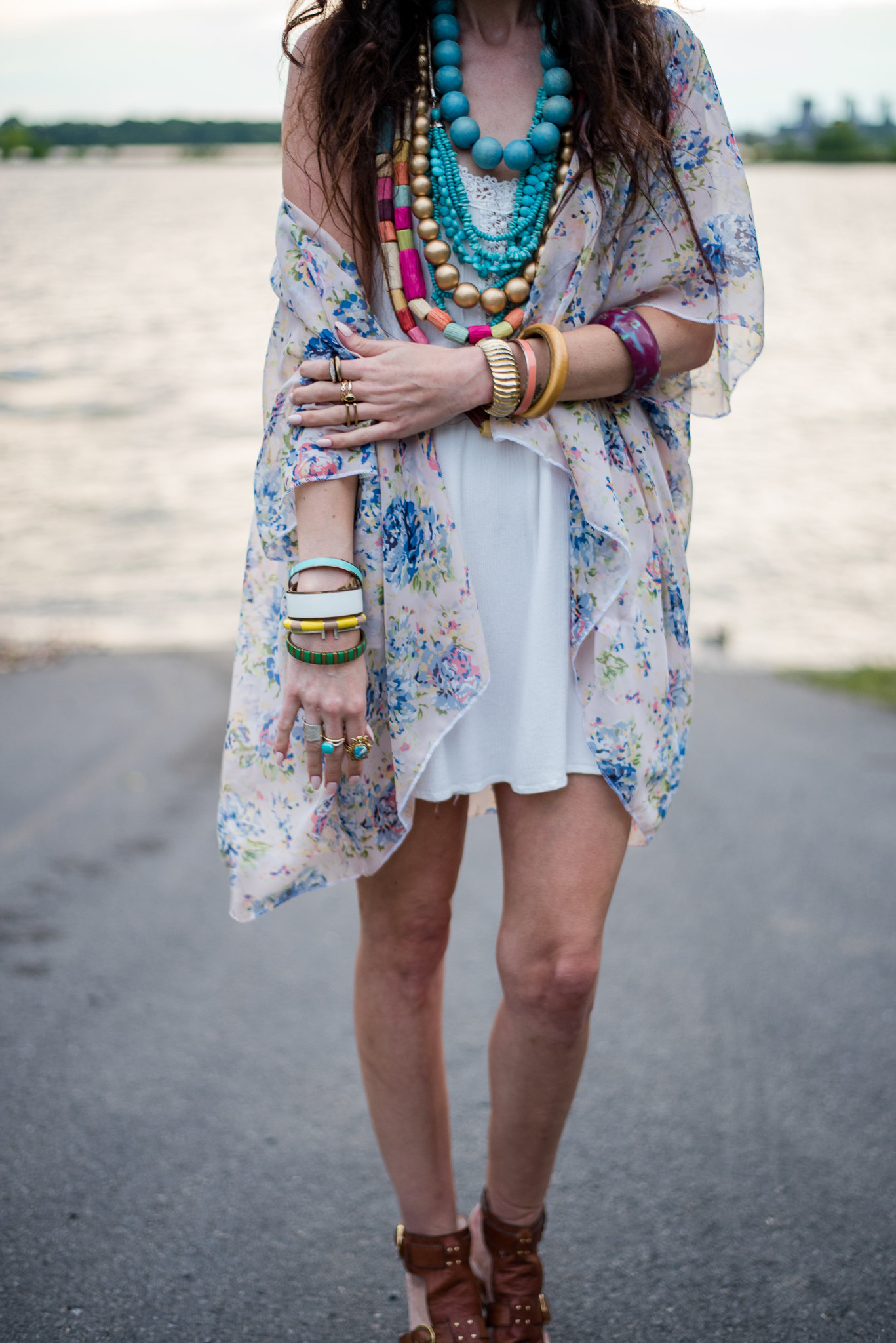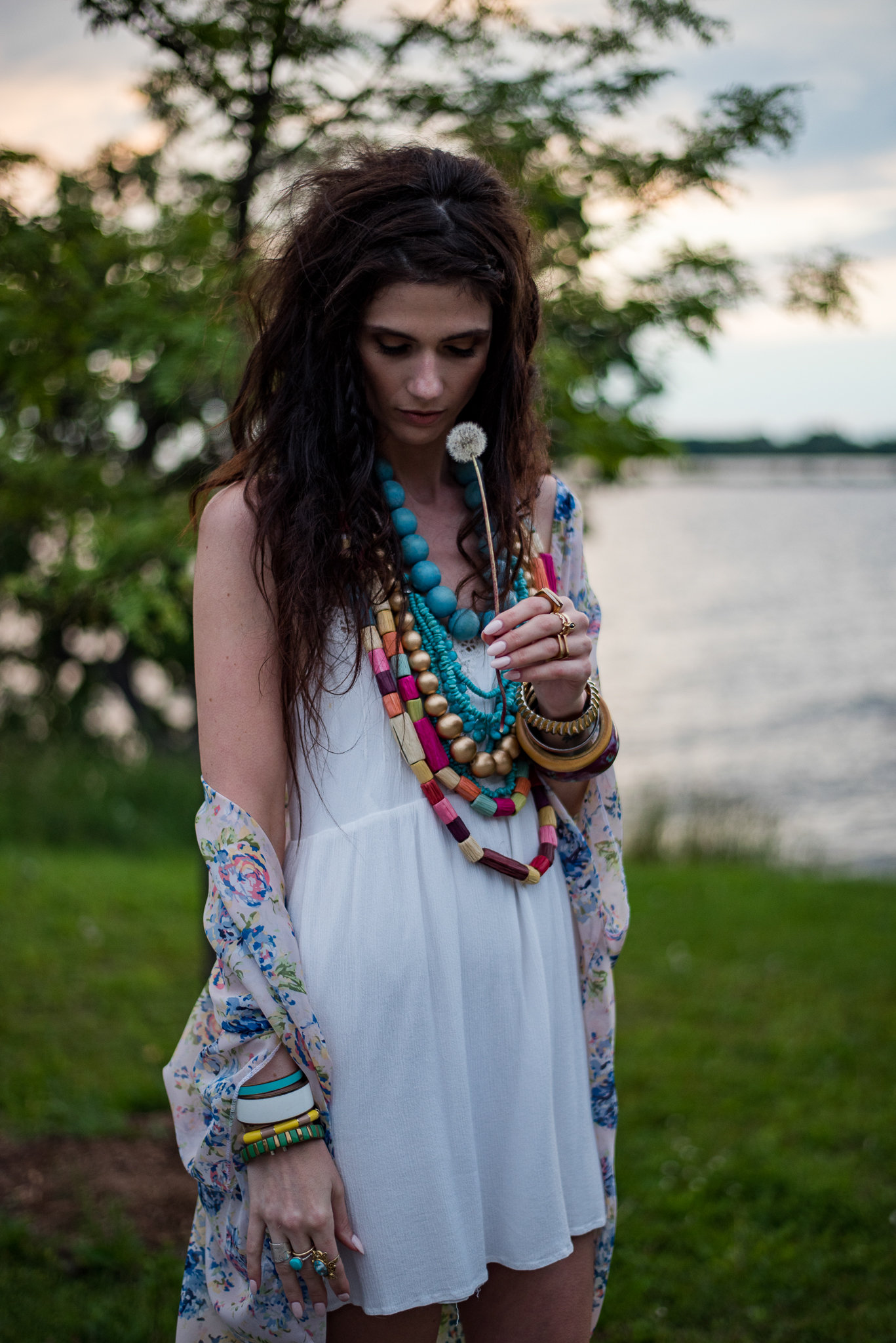 For our matching kimono look, we decided that the deep navy would contrast beautifully against the white, and also match the fringe detailing. My mauve heels capitalized on the same shade within the flower-power pattern of the kimono, so focusing on one colour within the print works when it comes to accessorizing as well! Where would one wear something like this? I might wear this to dinner, out shopping with friends, even for special occasions such as wedding showers or baby showers (I'm at that age where I'm attending a lot of those lately). Or to go dancing at the disco, cool cats.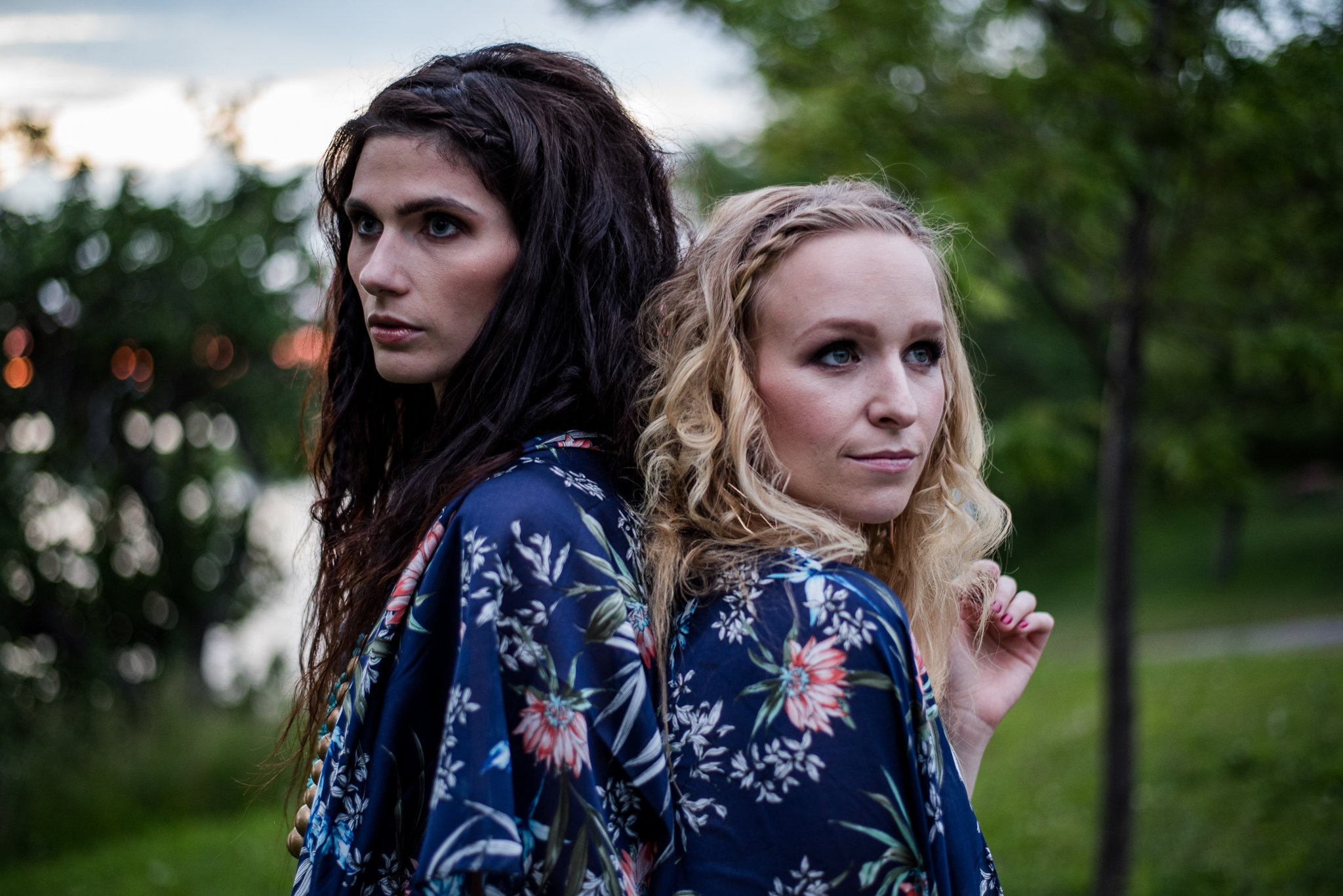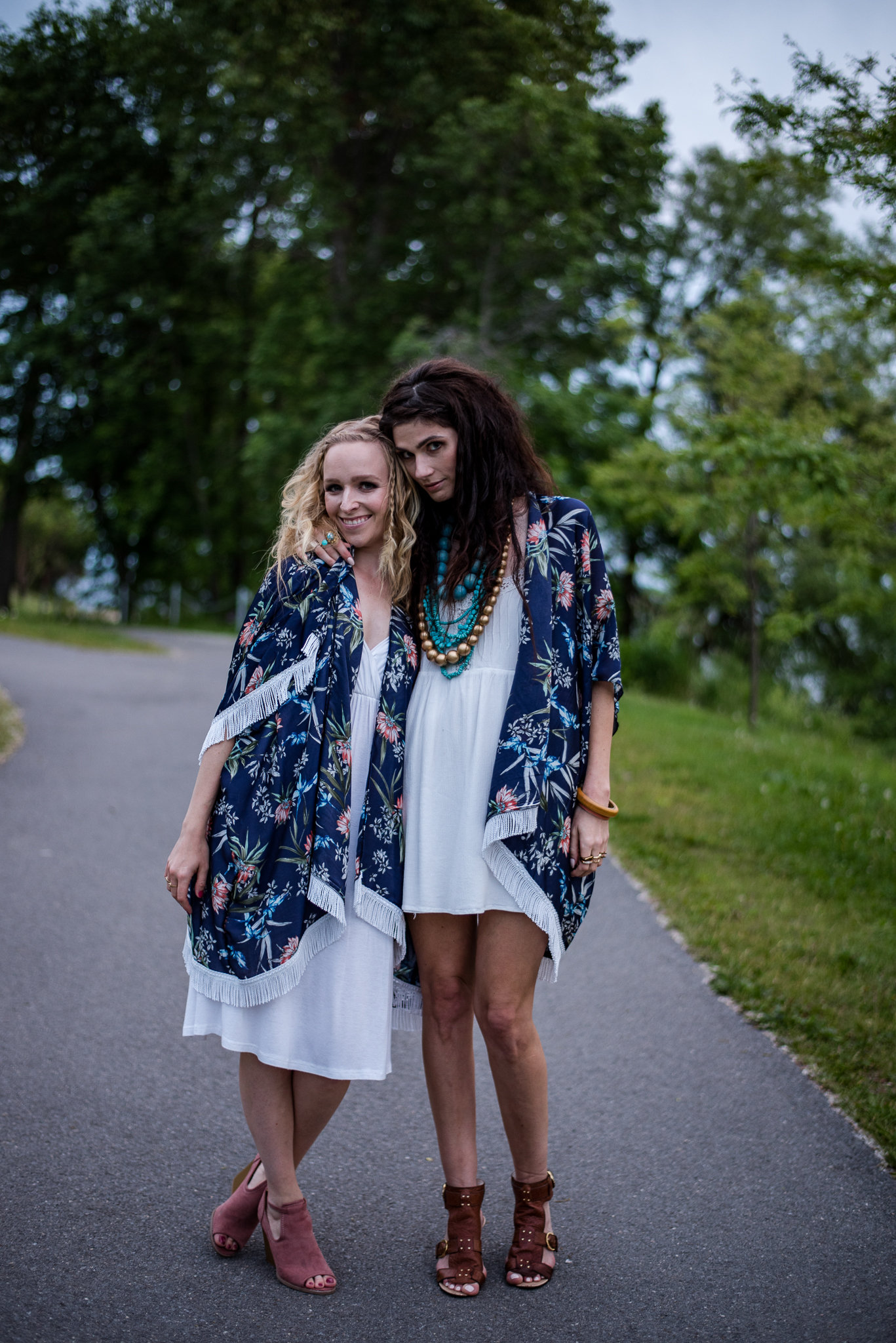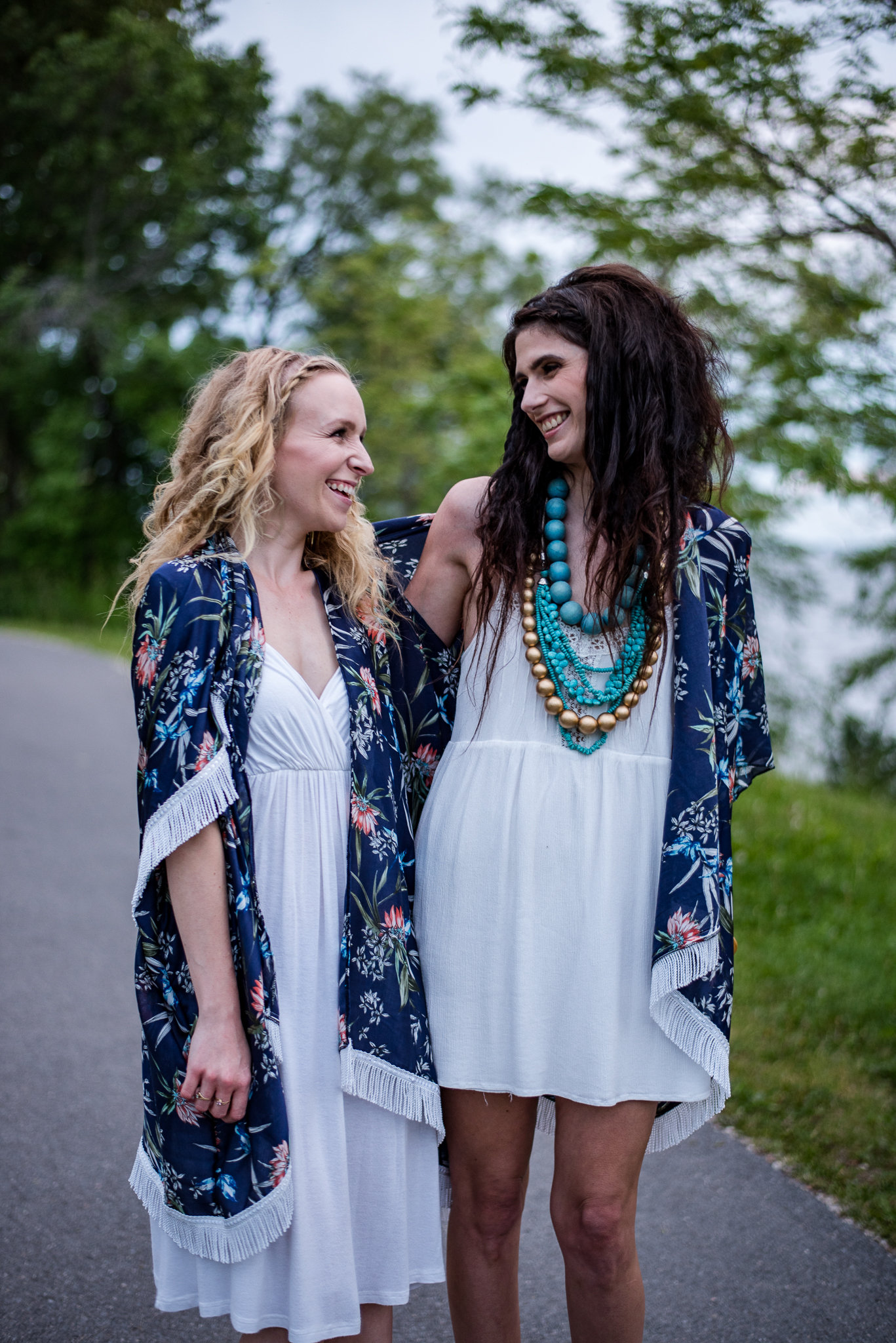 So, have I convinced you!? Jazzed about a favourite look? Lay it on me in the comments below! I'm sure you'll be seeing more of me in a kimono during the summer of love, and probably into the fall as well. It's such a great transition piece (throw it over any summer dress and you're seasonally appropriate). Let your wardrobe guide you, stay true to your style, and have some fun with colour! The kimono makes it easy. Alright, alright, I'll stop going on and on about my new favourite piece before you flip your wig.
A big thank you to these ladies for such an incredible evening, and for involving me in this totally far out shoot!
Peace, love and stay groovy,
Anna
Wearing (on Anna):
All kimonos by KnitWhits Couture
First Look:
Dress and necklace from H&M Canada.
Second Look:
Basic white tank-top from Forever 21 Canada, you could also recreate this look with this bodysuit or this ribbed t-shirt.
Jo Fresh dark boot cut jean (on sale for less than $10 right now)!
Last season multicoloured wedges by Madden Girl by Steve Madden, find similar fun styles here.
Jimani Collections Tatu Triangle Bone Necklace, also seen in "Jimani Collections: Discount & Giveaway".
Vintage brown leather belt.
Third Look:
White cotton dress, find similar here.
EXPRESSIONS by Hudson's Bay earrings.
Qupid mauve heels, sold out! Check out these slingback mule sandals or strappy sandals in the same colour.

P.S. Want to shop my exact look? I've got something in the works. Stay tuned…
Disclosure: This post was kindly sponsored by KnitWhits Couture. All photography by Red Lemon Art & Photography. All opinions, and comments are my own.
Want to see your brand/business reviewed on STRUCKBLOG? Contact me for a copy of a Media Kit.