If you're anything like me, you have some difficulty saying sayonara to summer. Those of you who already subscribe to this blog (thanks a million) have probably picked up on that. I'm the girl who is in sandals until my toes are cold, or wearing dresses with my legs exposed for as long as I can stand it. Eventually we all have to come to terms with the changing temperatures, myself included. But that doesn't mean I don't keep summer in my heart, and sneakily incorporated into my outfit, all year long.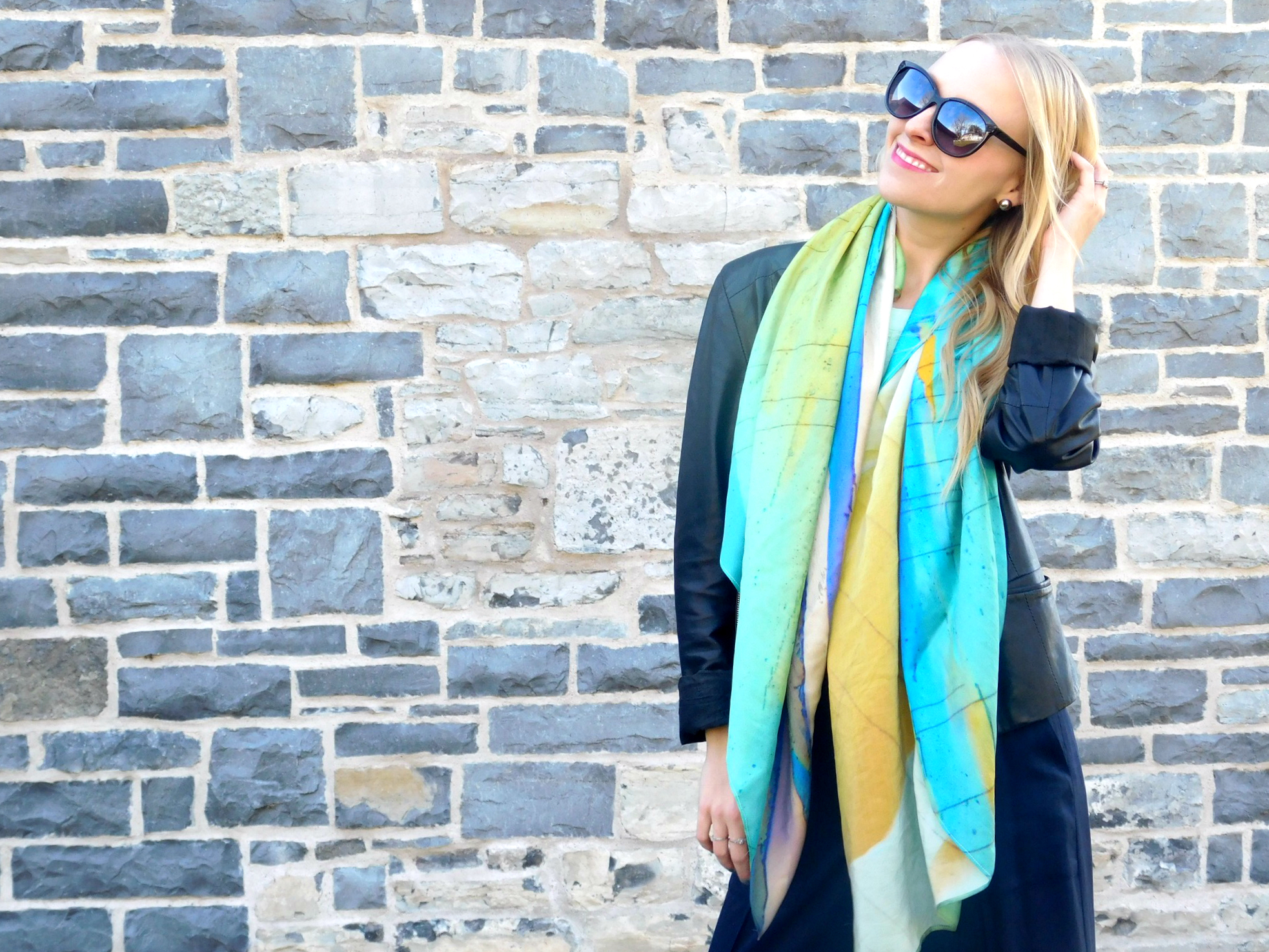 Colour is one of my favourite ways to pull this off as a pop of a bright hue can immediately conjure up images of lively blooms and summer sunshine. So, as fall approaches I slowly (as slowly as possible) transition my look into the cooler months. I'll keep wearing many of my summer dresses and tank tops, but add key pieces to create a complete fall look (and not freeze). Maybe like me, many of your most vibrant pieces are technically summer attire, but with a few tricks you can easily take a little bit of summer into the fall season with you, in a bright, bold and (obviously) stylish way.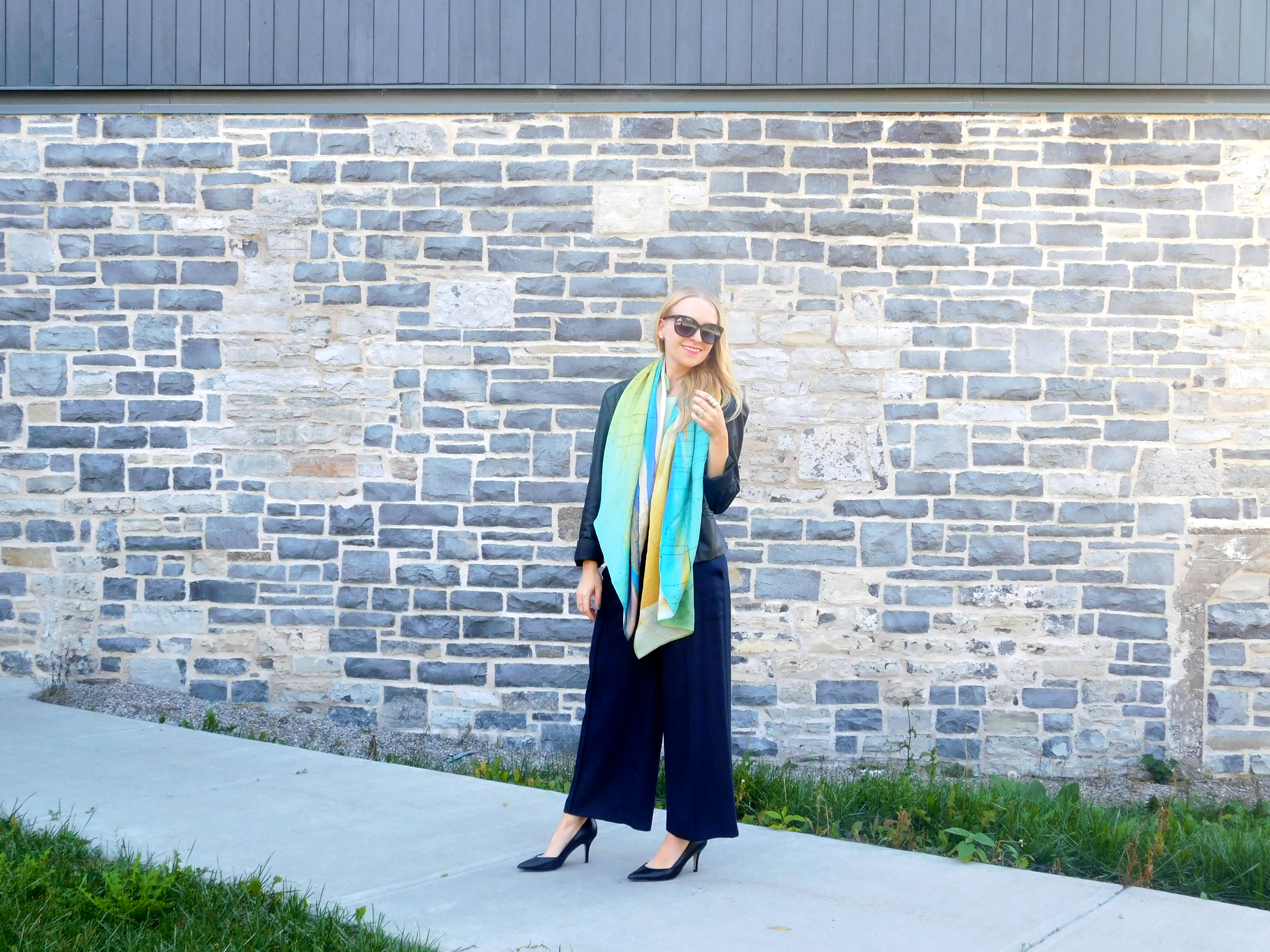 So, whether you're the chromatic queen or prefer to keep it simple, intricate and colourful pieces allow you to jazz up your wardrobe no matter the season. Regardless of your preferences, I've styled these spectacular pieces from Crystal Art Outfitters' summer collection for both ends of the spectrum. A colour coordinated look for those who love to experiment and an effortless classic chic outfit for those who keep it simple. Either way, colour is the key. I'm taking you along through my styling-thought process so you too can transition your favourite summer pieces stealthily into fall.
Colourful Crystal Art
I've got to tell you about this incomparable company, Crystal Art Outfitters is incredibly unique. Part of the reason I wanted to learn more about them was because like me, their passion for fashion stems from their love for the fine arts. They create pieces of art, but it goes beyond design, and how we generally think about fashion as an art form. Crystal Art Outfitters creates beautiful clothing that is literally pieces of art, why hang a canvas when you can be the canvas!?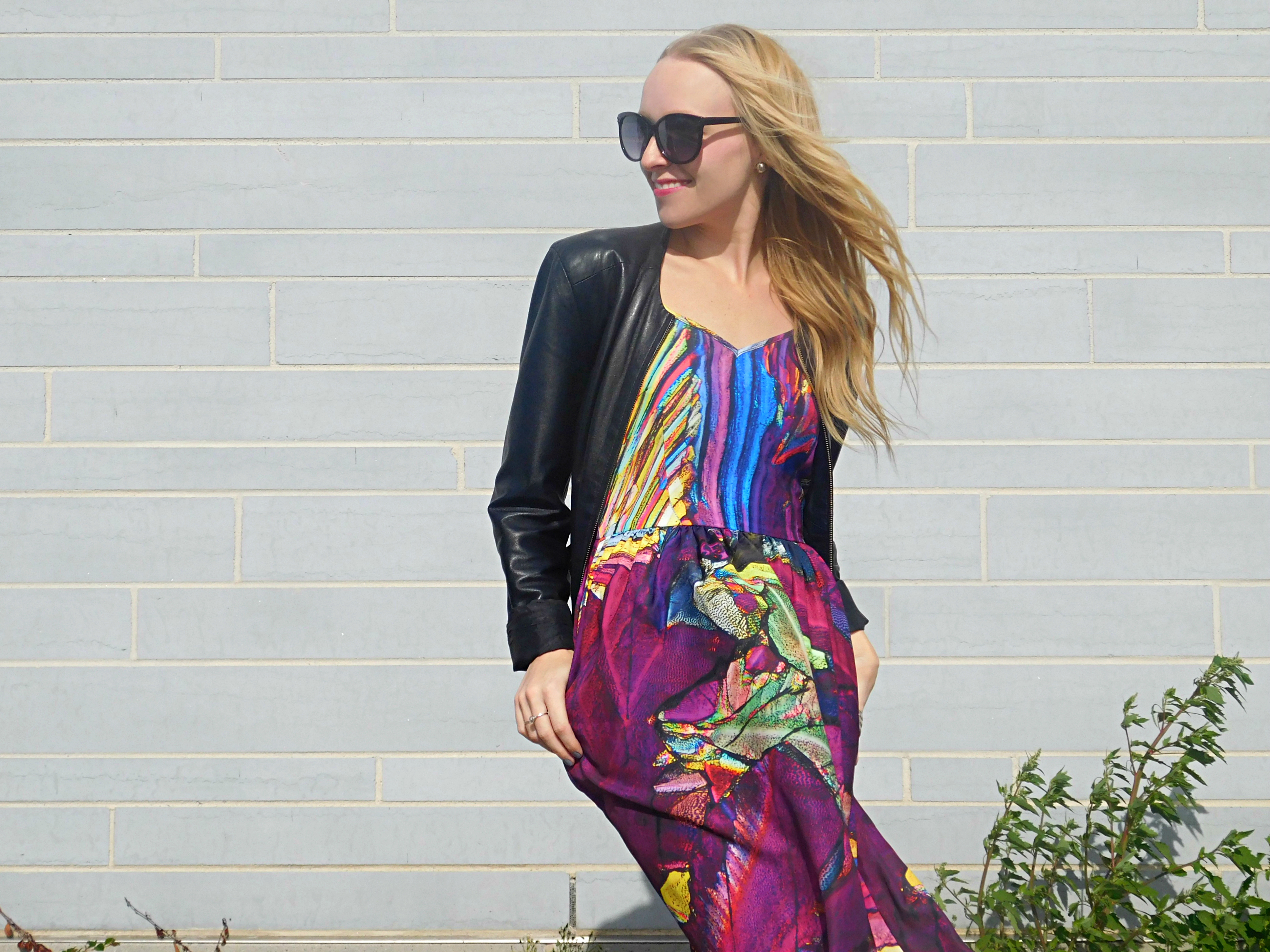 Carol Roullard, the artist behind the designs, experiments with crystals and a microscope to create spectacular and colourful works. I've never considered what many of the chemicals and compounds we use in our daily lives, such as caffeine or vanilla look like under a microscope. Turns out that at this tiny level, they expand to create vivid and intricate designs that will never occur more than once in exactly the same way. Carol photographically captures these compositions and displays them through her art (watch this interesting video if you'd like to learn more about the process). Nature is endlessly influential in the fashion world, I myself have been known to spot a brightly coloured flower and exclaim how amazing it would look on a breezy summer dress. Carol is similarly inspired by the natural world around her, but her designs take it one step further by allowing you to engage in the art by becoming a walking canvas.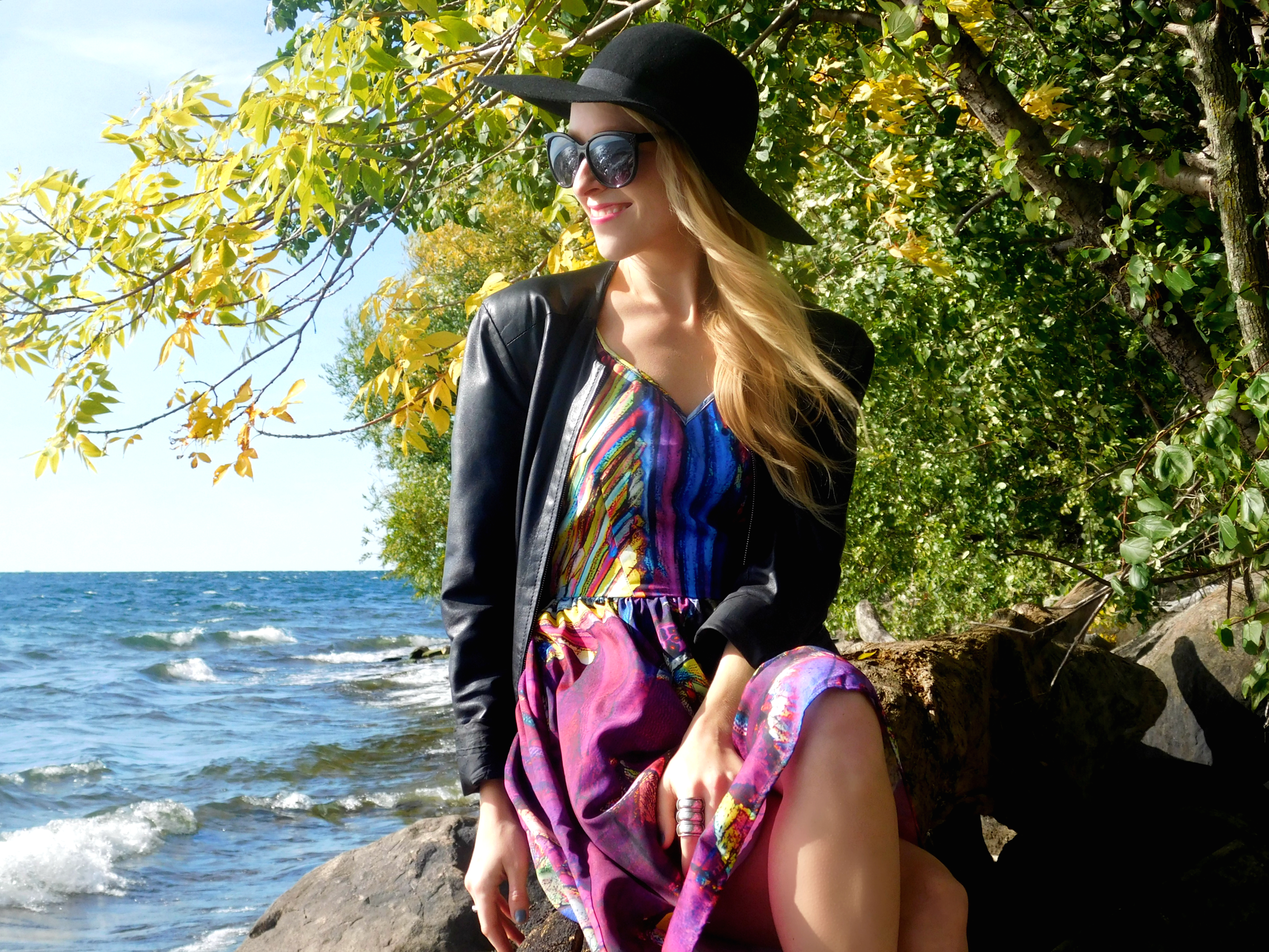 As someone who loves colour (have you seen my Instagram account? It's pretty lively) I was immediately drawn to these designs. Better yet, incredibly colourful pieces are extremely versatile in your closet as chances are, you'll be able to pair them with at least a few different things you already own. You can pick one colour within the pattern and highlight it by choosing coordinating pieces and accessories that are the same shade. Conversely, if you're the kind of person who prefers to tone it down, you can let the colour and pattern do all the talking.
Chromatic Queen
You're someone who doesn't shy away from colour. You take one look at those bold patterned pants that others may run from and start mentally cycling through your wardrobe to determine if you have anything to pair them with. That's exactly what I did when I first laid eyes on this gorgeous Light & Cool Crystal VIP Silk Scarf. Because it's comprised of so many soft and flowing colours, I had a lot of options. I could capitalize on the blues, yellows or purples found in the piece and choose existing items in my closet that also encompass these hues. So many choices! Versatile well-made pieces allow for endless creativity.
I held the scarf up against pieces in my wardrobe until I came across something that paired nicely, and this mint top popped right out. Since they both contain elements of the same colour, they coordinate nicely. That's really the secret behind combining patterns and colours, choose one colour within the pattern that you can feature elsewhere, and all of a sudden you have a well put-together outfit. You'll wonder why you've never combined them into a killer look before! Next time you spot that brightly patterned piece, instead of wearing it with white or something neutral, consider what colour you would like to draw out and highlight in the rest of your look.
Classically Chic
You could absolutely exercise your colour pairing skills (since you now know the simple secrets) in the same way with this Psychedelic Crystal Summer Dress and draw upon the rich purples or bright yellows by adding a jacket, sweater, hat or shoe with corresponding shades. However, you don't necessary need to if you feel there's already enough colour or interest to begin with. It really depends on your personal preference and unique style.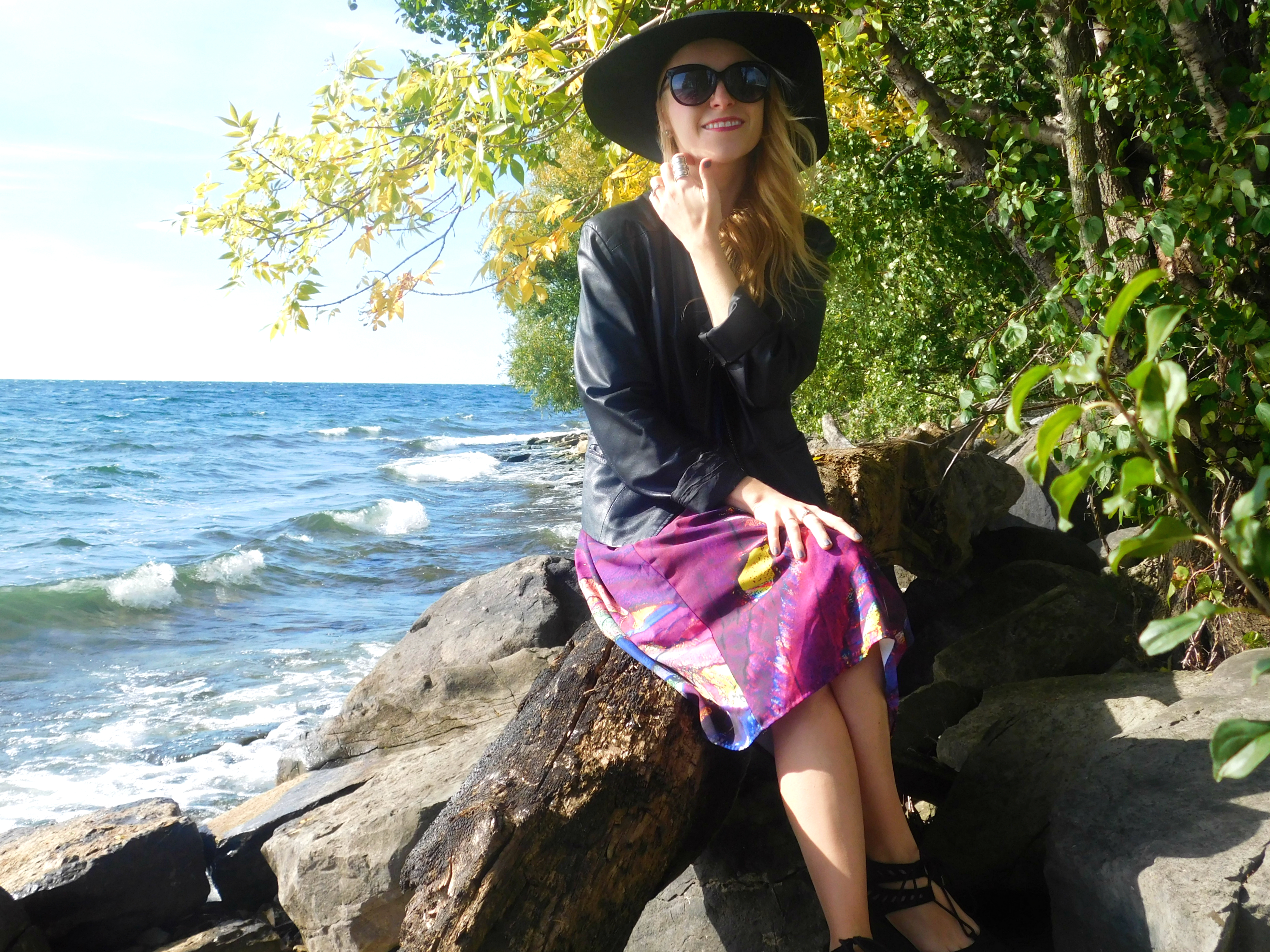 In that case, let those dazzling colours shine and choose a base shade to support your simple look. If it needs a little something, try to have some fun with details and accessories instead. Add a shoe with some added design, and a hat will always top off your look and take it to the fashionista stratosphere. I chose solid black so that the vibrant colours in this piece would steal the spotlight, and the underlying darker pallet in this dress makes black the logical choice (look at the lines in-between the colours, they're black)!
Black, brown, grey and other neutral tones act as anchors to tie your look together and create a classically chic look. With the help of a neutral anchor tone (you can read more about my thoughts on neutrals in "How to Wear Necessary Neutrals"), a summer dress can easily transition into chillier months, especially if the length is a little longer and the supporting tones within it are darker.
So, if your fall and winter wardrobe is looking a little drab, I encourage you to dip your fashionable toe into the land of colour. Maybe you're the colour queen, or perhaps you're more of a classically chic kind of girl. Whatever you're preference, you don't need to put away those brilliant summer pieces just because the seasons have changed. When those gloomy fall days have got me down, and the sun doesn't want to make an appearance, I bring the colour instead.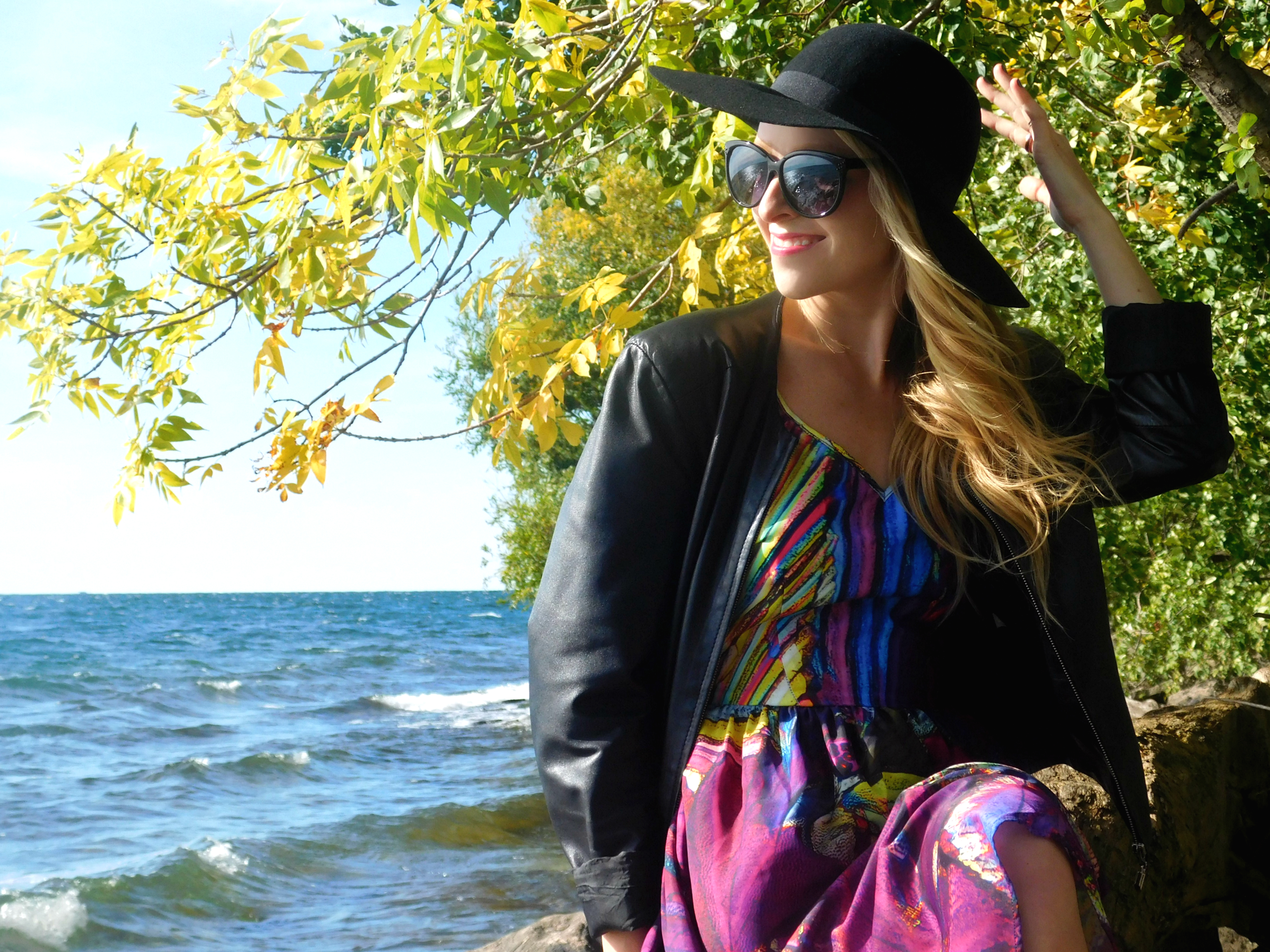 These pieces from Crystal Art Outfitters are strikingly beautiful and feel even better than they look. I always get comments and questions about the intricate palates and colours found within the design, and it's so fun to share the artistic process behind it. Better yet, subscribing to the Crystal Art Outfitters email list here, will get you 10% off (awesome). That should brighten up your mood, and your outfit!
Wearing:
Light & Cool Crystal VIP Silk Scarf and Psychedelic Crystal Summer Dress by Crystal Art Outfitters. (Don't forget to subscribe to save 10%!)
Hat by Betsey Johnson, similar options here.
Vintage leather jacket, can also be seen in "Toronto Fashion Week: The Madness Continued".
Navy palazzo pants by 1. STATE. Find similar here.
Mint top from Tristan.
Tahari black pumps, can be found here.
Anna
Disclosure: This post was kindly sponsored by Crystal Art Outfitters. All photographs, opinions, and comments are my own.