Featured photos by Kaley Noel Photography published in Refined Kingston Magazine as part of YGK Studios: Community Building Through New Media Marketing.
Check out my article printed in the same issue, Extending Summer Style for more style tips and tricks.
Vintage shopping. Honestly one of my favourite pastimes. I could hop from one consignment shop to another on any given day and have a blast. My wardrobe is made up of so many unique pieces that I have picked up over the years from a variety of places. I'm known to research vintage shops in whatever city I'm visiting before I've even left home. Wearing consignment pieces always takes me back to that moment. The magical minute when you spot something out of the corner of your eye. A little sparkle, a bold pattern, a bright colour. You see it from afar and tear towards the treasure, eagerly unearthing your find. Once discovered, you're filled with some extraordinary combination of awe and joy. You found it, something special. Something rare, something with a story.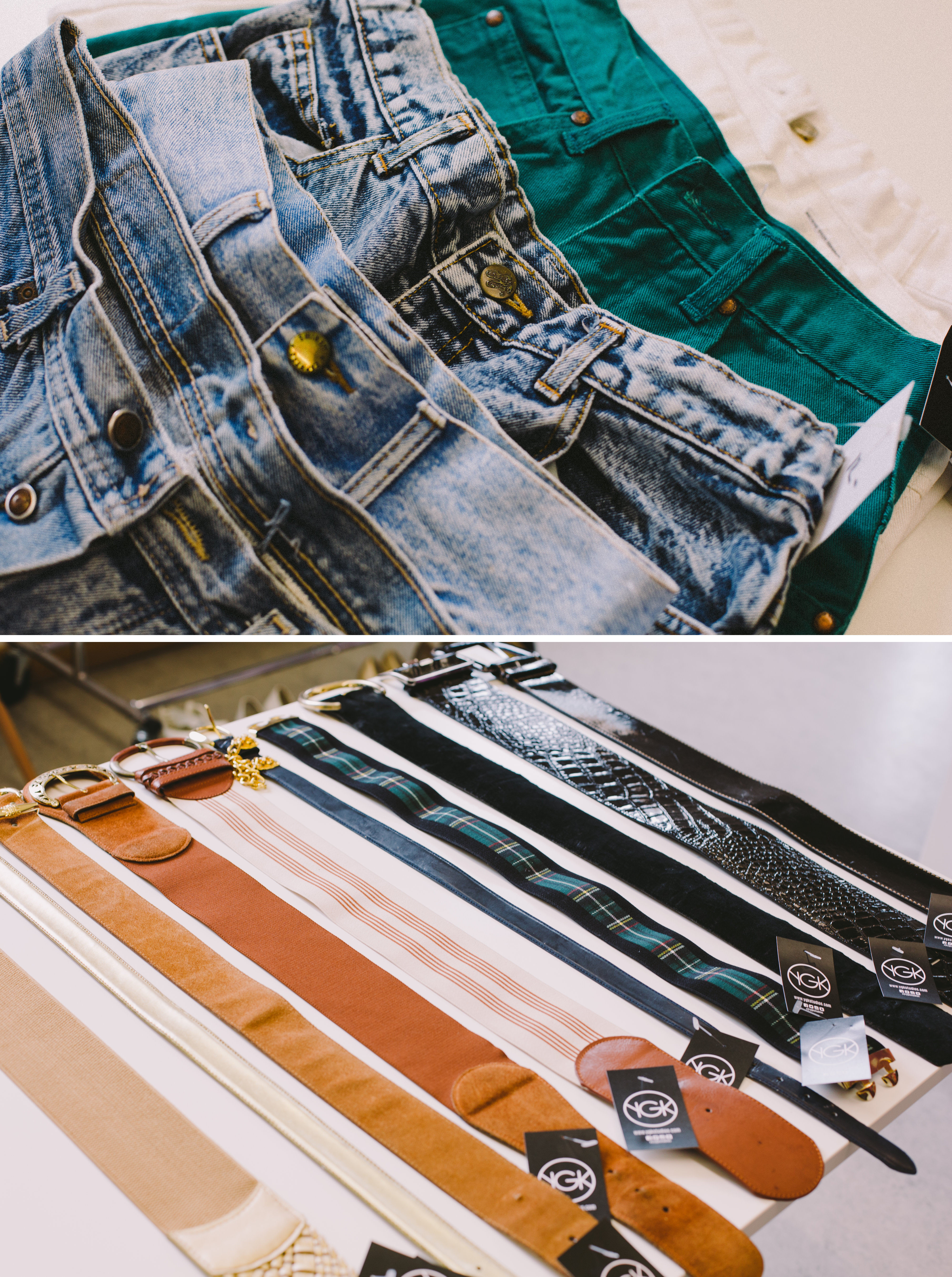 That's why I love my consignment finds. I remember the feeling of discovering the item and examining its characteristics. A fray here and there, that worked in leather, it all tells a tale. I imagine the fantastic diva that may have worn those towering stilettos, or the successful business woman who may have sported that structured blazer. The clothing maintains the essence of its experiences, and that just makes it that much more expressive.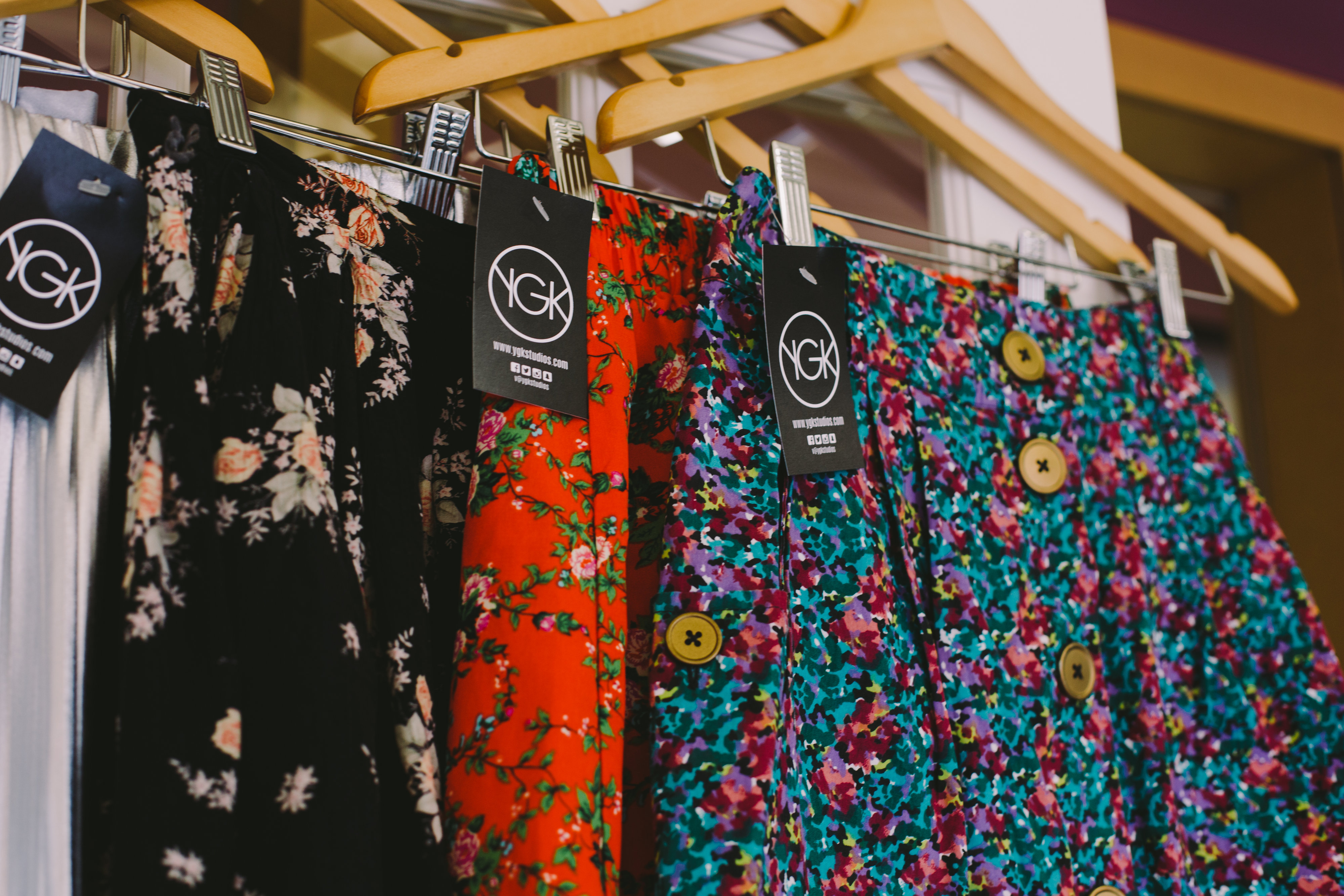 About This Shoot: Curating with Community
As you can probably gather, I have major love for all things vintage, thrift and consignment. As such, I was so excited to spend a Saturday afternoon with YGK Studios and boss babe behind the brand, Laura Kaminer. As part of the Princess Street Promenade, Laura's boutique and event facility opened its doors to the downtown community, and I wouldn't miss an opportunity to style and model a curated consignment collection, obviously. The ladies of Total Diva Boutique Spa dolled me up with retro-inspired hair and make-up, and the shopping began! YGK Studios offers a variety of gorgeous second-hand options, and much of the eclectic collection is sourced from The Goodway, a Kingston thrift store whose profits stay within the local community. Additionally, you'll find accessories, housewares, as well as YGK Studios community-based pieces all under one roof. The brand celebrates community life through apparel, and collaborates with many local entrepreneurs to bring fun and innovative pop-up shopping events to the Kingston, Canada community. In fact, I'll be styling and sharing the fun on social media this weekend! So be sure to join us at the event if you live in the Kingston area. Details can be found here.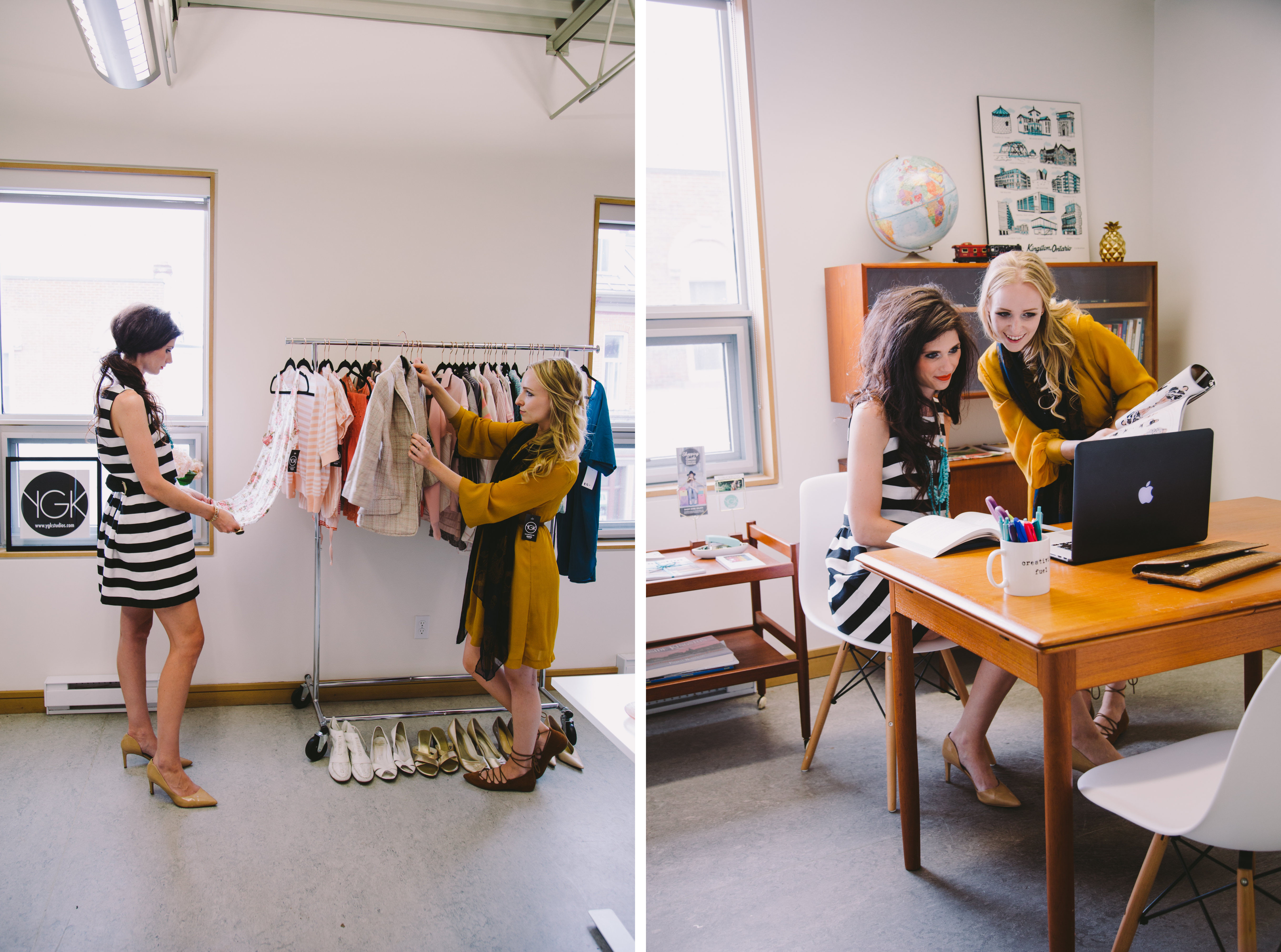 However, not everyone enjoys the hunt for prime pre-loved apparel, and it's my belief that this is simply because the experience can be somewhat overwhelming. It can feel like accidentally stumbling into a time warp, or like parading into a costume shop. It can be difficult to concentrate on reality, focus on what's a good choice, and remember what year it is amongst all the variety. It's so easy to get lost in the adventure, to spend ages excitedly pulling out hilariously comical pieces, and howling over the fact that people in the past really used to wear that. Not ironically, not for Halloween, seriously. Yes, encountering those pieces is all part of the fun. All I'm saying is, it isn't always easy to determine which items are must-haves, which are worth giving a try, and which should be left untouched for some quirky collector type. But as someone who can proudly pronounce herself a seasoned second-hand hunter, I've got three vintage-shopping tips to guide you on your next consignment shopping trip.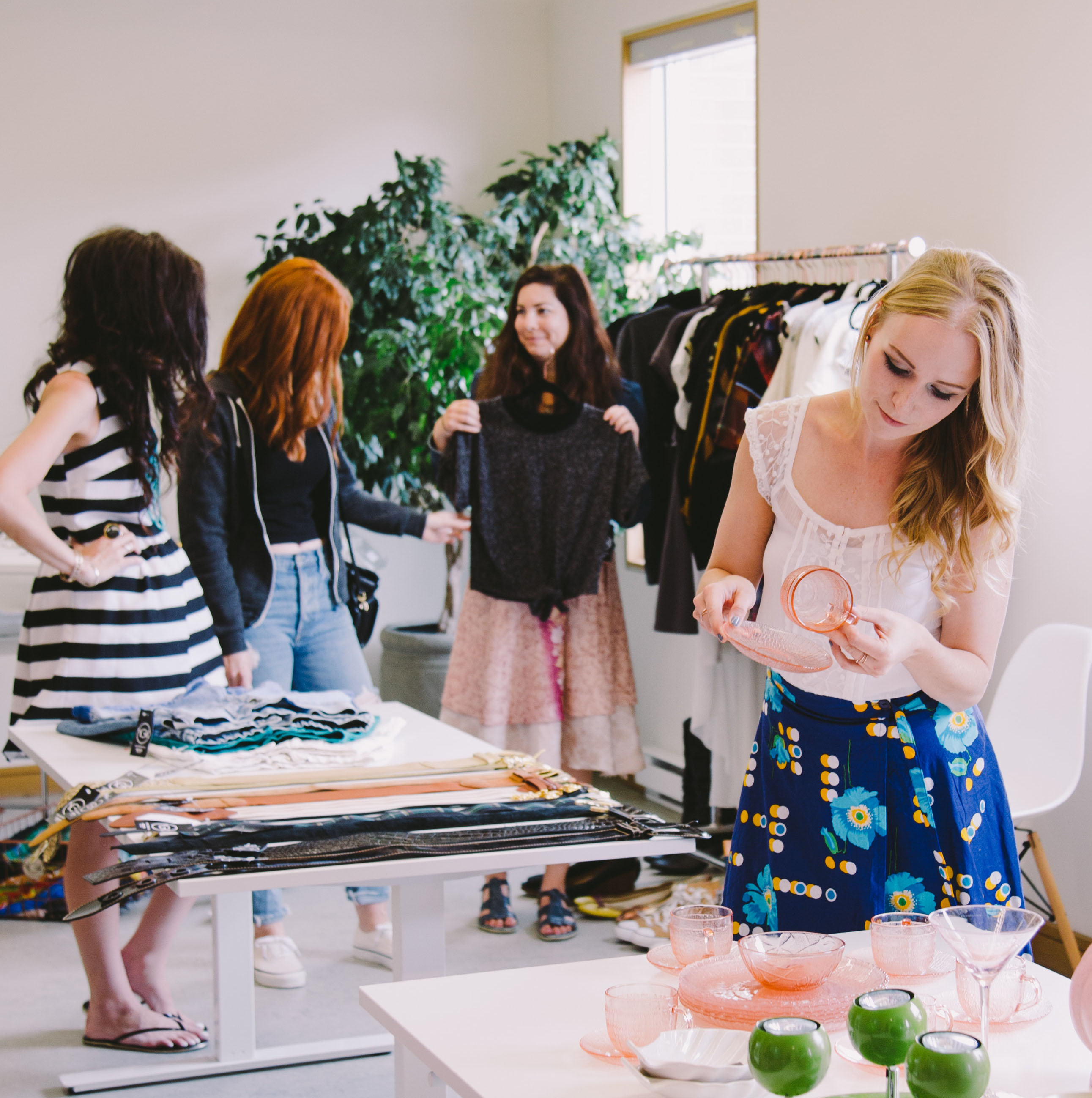 The Three Rules of Thrifting
01.
Let Your Gut Be Your Guide
Let your instincts guide you. That aforementioned twinkle you've spotted from afar? Go look. If you think you may have spotted something special, it's best to head on over and investigate. When you're surrounded by colours and styles from a variety of eras and don't know where to start, it's best to simply allow your gut to guide you. It's a little different than browsing the aisles of a modern merchandised store, one you may visit with a mission in mind. There you're looking for something very specific, perhaps something you need to wear to an event or for an upcoming special occasion. I view vintage shopping through an entirely different lens. I'm not on a mission, I'm on an exploratory journey. I approach the search like an explorer, with an open mind, and ready to pounce on a valuable find the second curiosity strikes (there's only one of everything after all right?).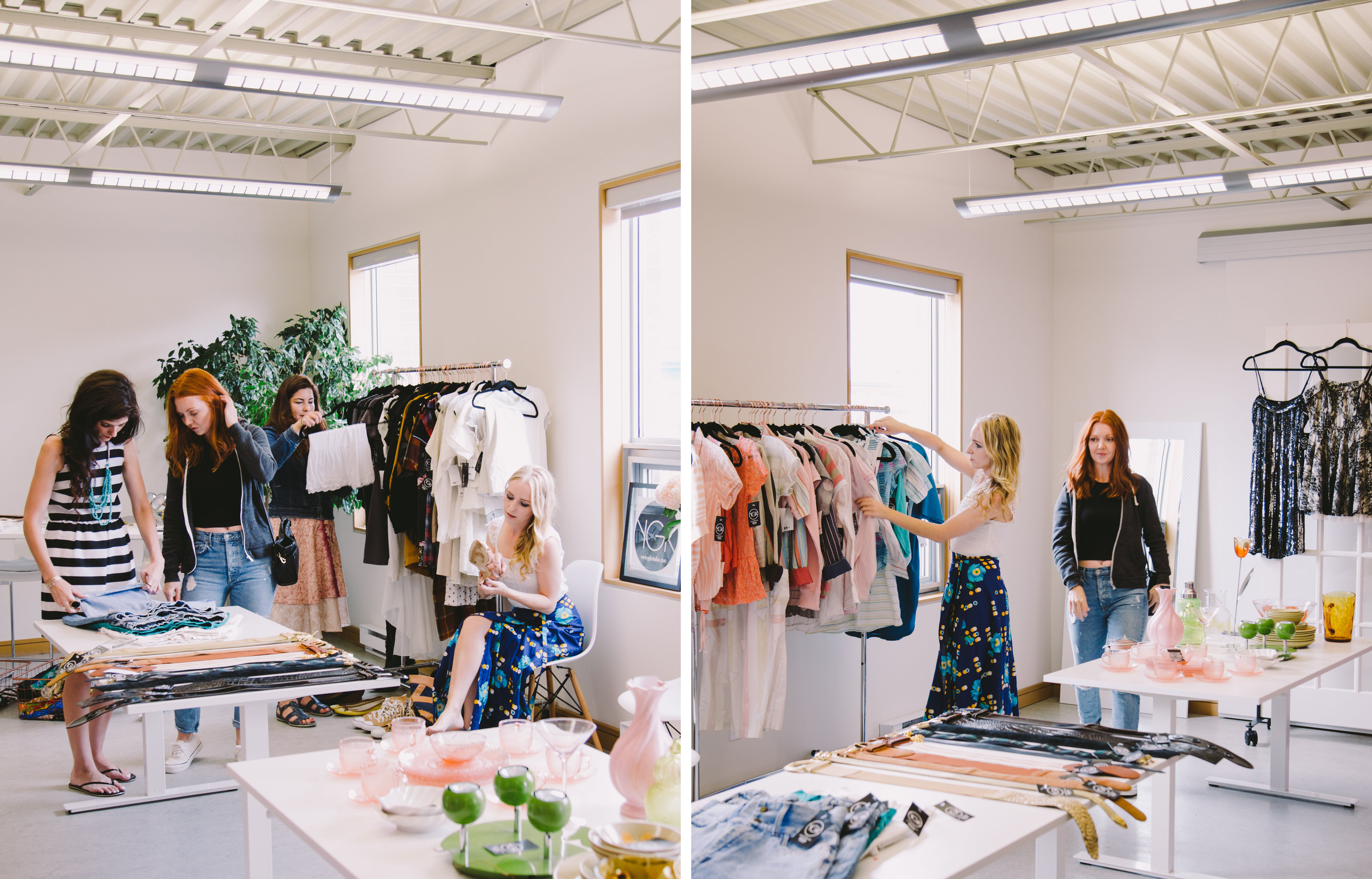 When you're in that frame of mind, that's when you'll stumble upon something special, and bask in your moment of glorious discovery. That's how I felt when I found this printed skirt. I was immediately drawn to the pattern and deep hues. I opted to pair it with a delicate white blouse, to create a feminine silhouette and overall feel. I could imagine myself waltzing down the downtown street, skirt flowing in the wind. It made me feel so romantic and ladylike.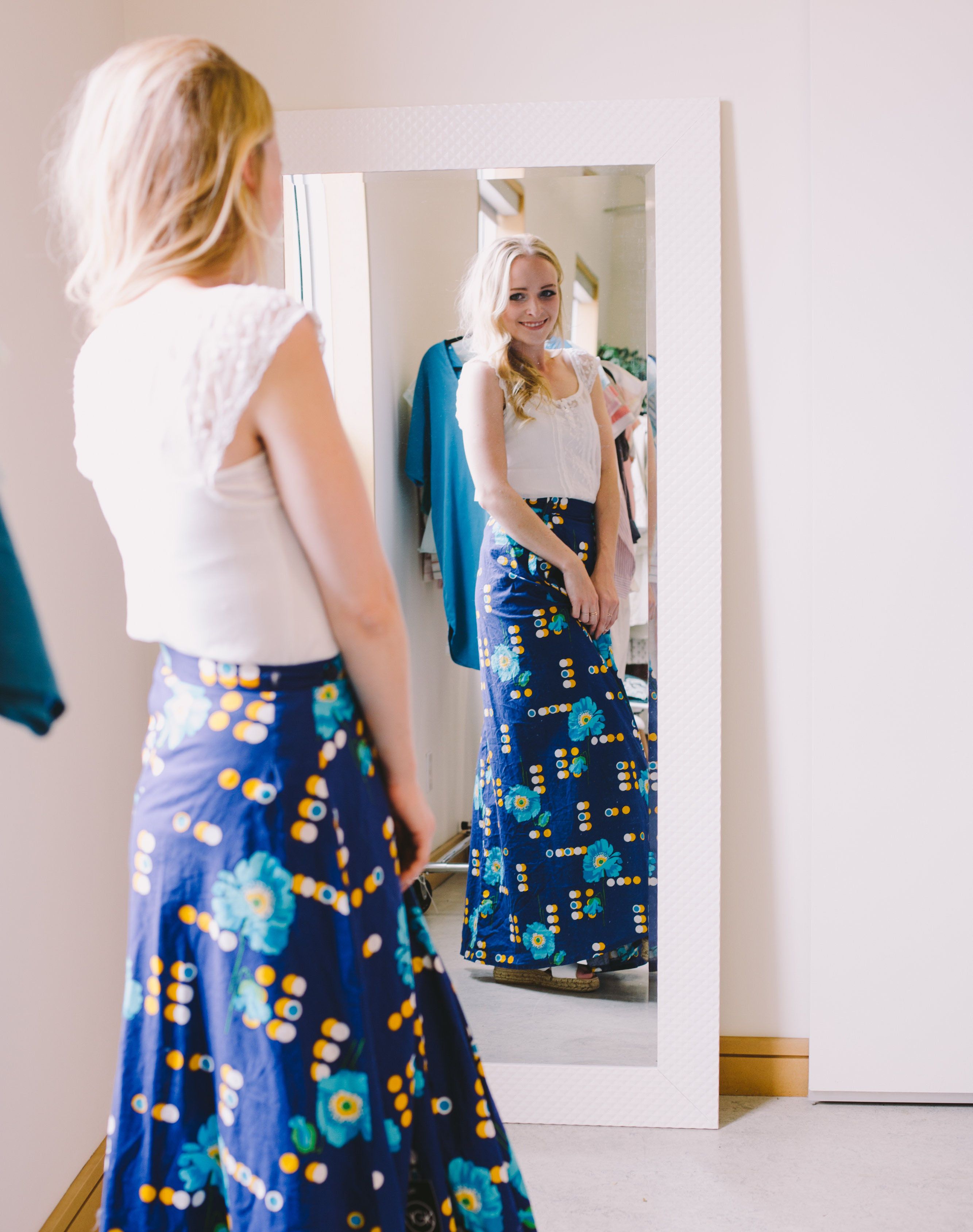 I also spotted this flashy floral romper, the large-print and colourful pattern easily caught my eye. The accentuated waist and the wide-leg short looked so interesting on the hanger, I had to give it a try. I loved the cut of this piece, well-fitted yet with lots of movement, mimicking the appearance of a skirt. Snagging summer pieces that clothe you head-to-toe is so satisfying, it's just so easy to put together! If you can find a one-piece that's also unique and one-of-a-kind, snatch it up.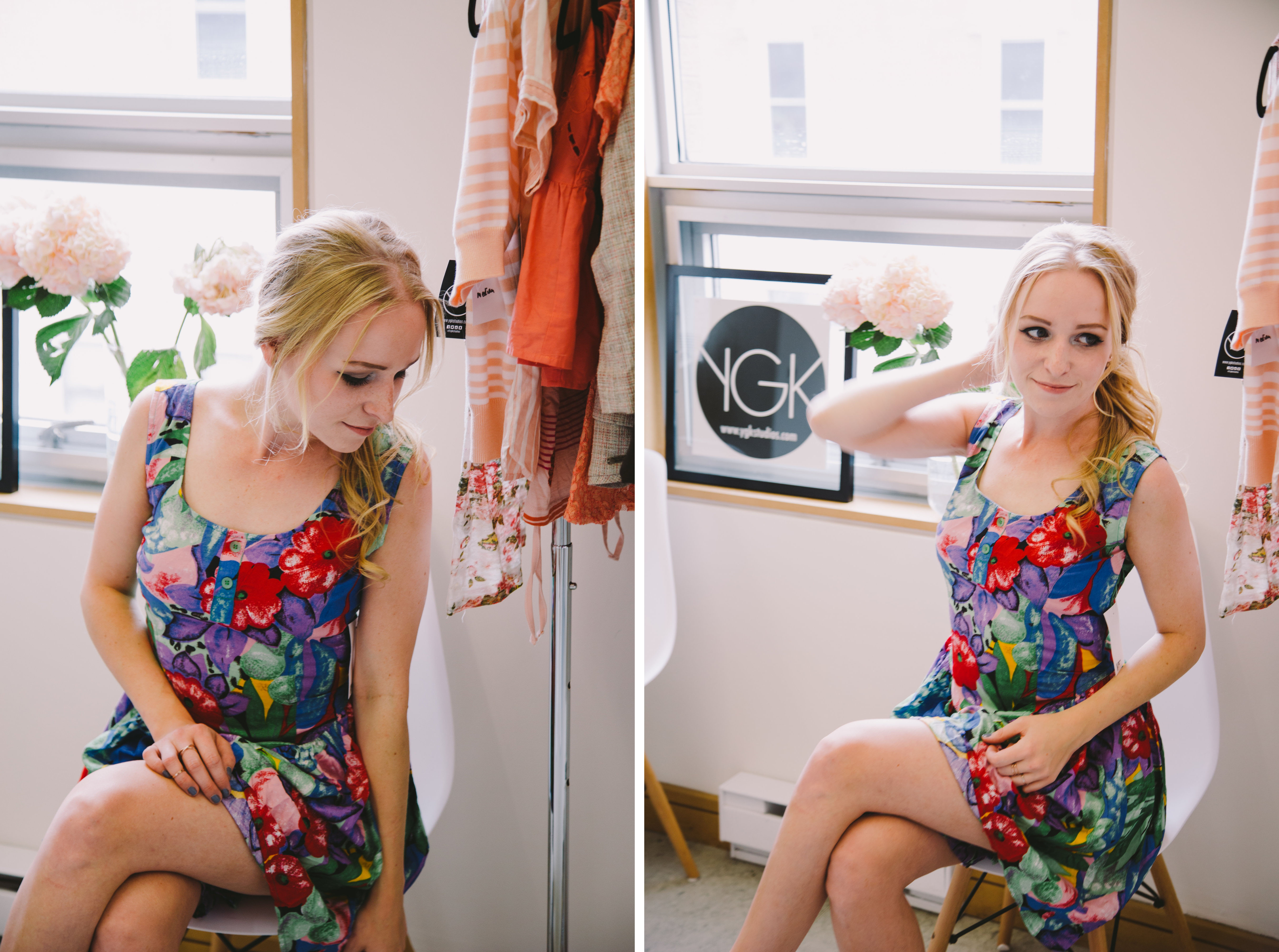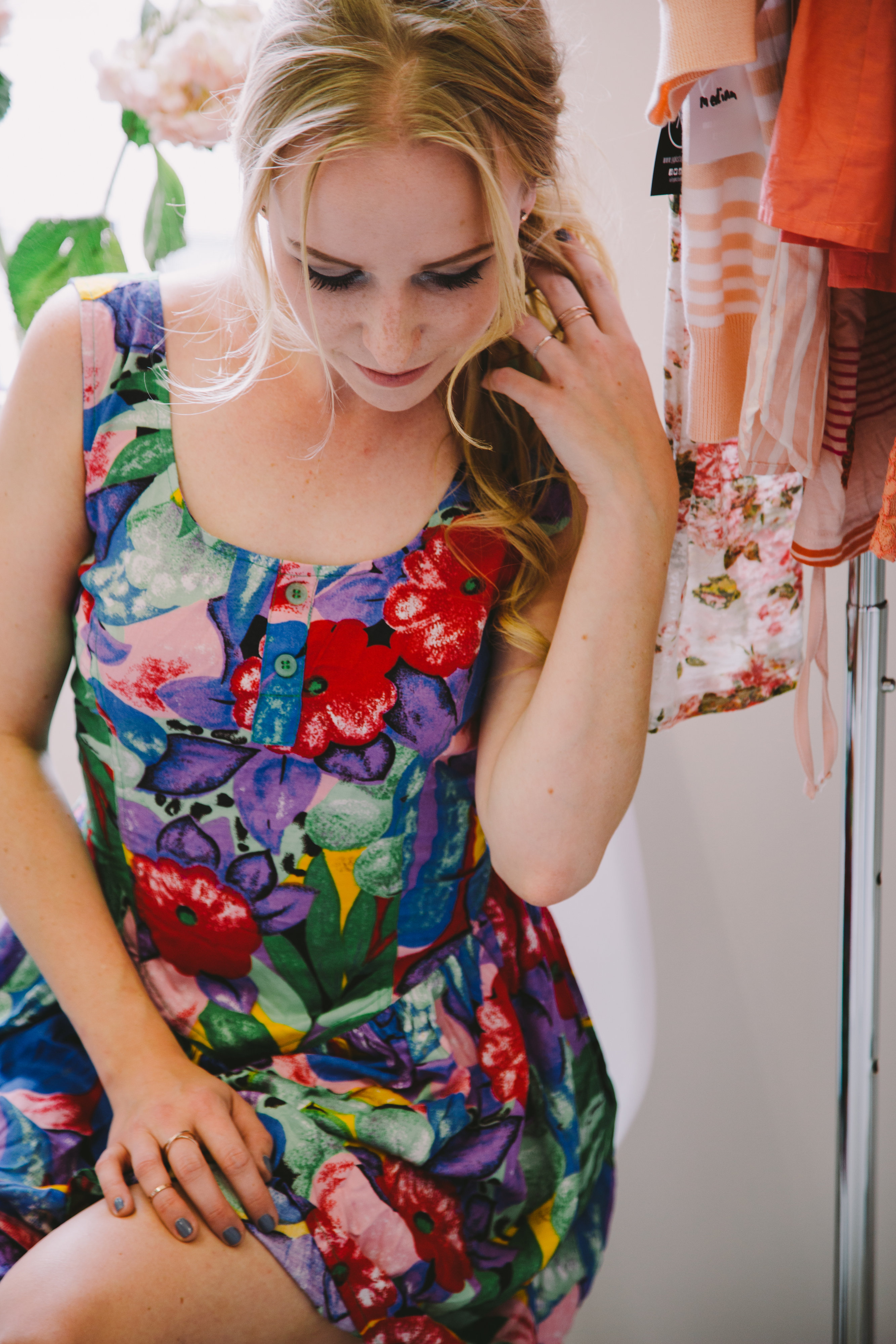 02.
If it Billows, Belt It
There are times when I'm thrilled to find a fun thrift piece, but it doesn't quite fit my frame. Those moments are the worst. When you are just dying to try it on, and then are disheartened to find it just doesn't look like you hoped it would. No one looks good in clothes that don't fit; fit is integral to looking put together. You should be wearing your clothes, not vice versa.
However, if it's just a tad too large, a belt may be all you need. Of course, this only works to some degree. I'm not suggesting you belt something enormous that looks like it has swallowed you whole. That won't work, unless you're planning to have your outfit double as a blanket for naps on the go. But a belt can add just a touch of definition to a garment that is lacking structure. It helps to define your waist, and draws attention to the narrowest part of your torso creating a flattering silhouette.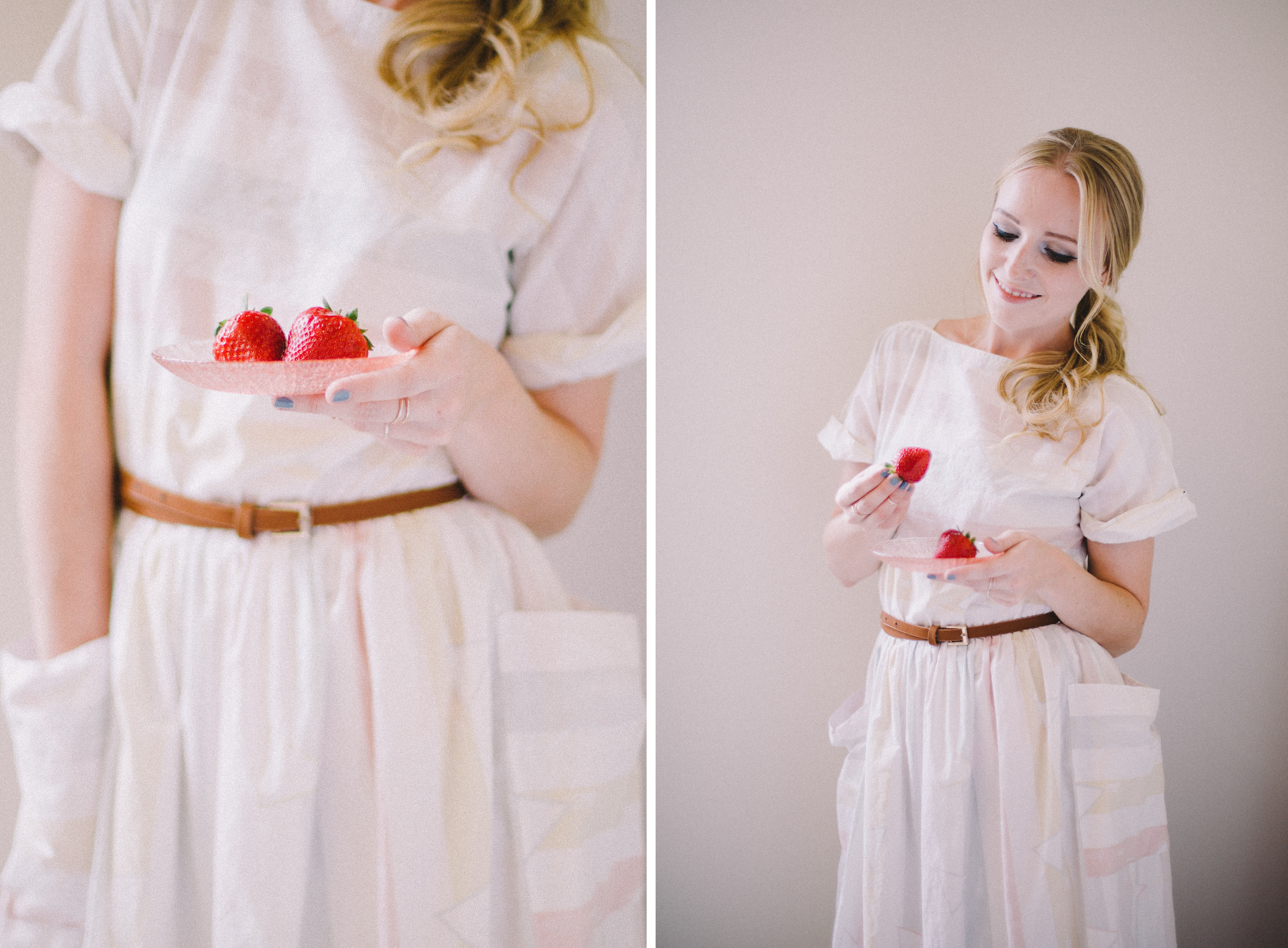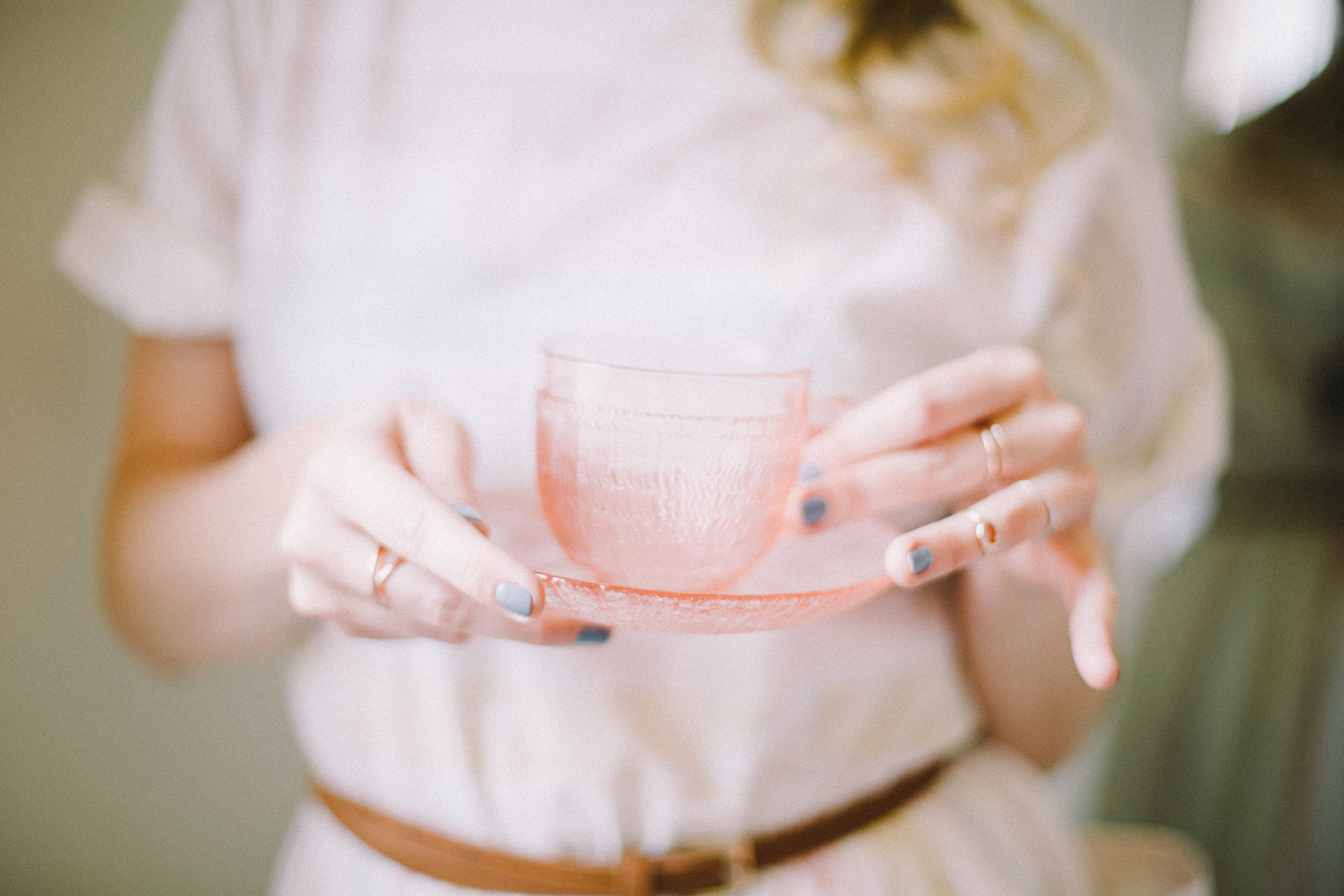 Choose a simple style if you'd prefer to let that special find shine so the two aren't completing for attention. Alternatively, there are so many incredible vintage varieties to be discovered, bonus points if you can turn up the perfect thrifted belt to complete your throwback look.
03.
Turning Up Texture
Often, high-end consignment shops are full of first-rate finds, but many everyday second-hand stores can also acquire sneaky surprises. One of the best parts of buying previously-loved pieces is the price, you're often able to save a bundle on lavish materials and brands. I've purchased leather and suede jackets for less than $20, and have snatched up designer items by Christian Louboutin and the like for far less than their worth. Keep an eye out for quality materials such as velvet and lace; it's no surprise the premium varieties of these fabrics can be uncovered at the consignment shop. They've been worn time and time again, yet still maintain their beauty. They're eye-catching, unique in style, yet don't appear worn. That's what you're looking for as your eyes scan the various textures.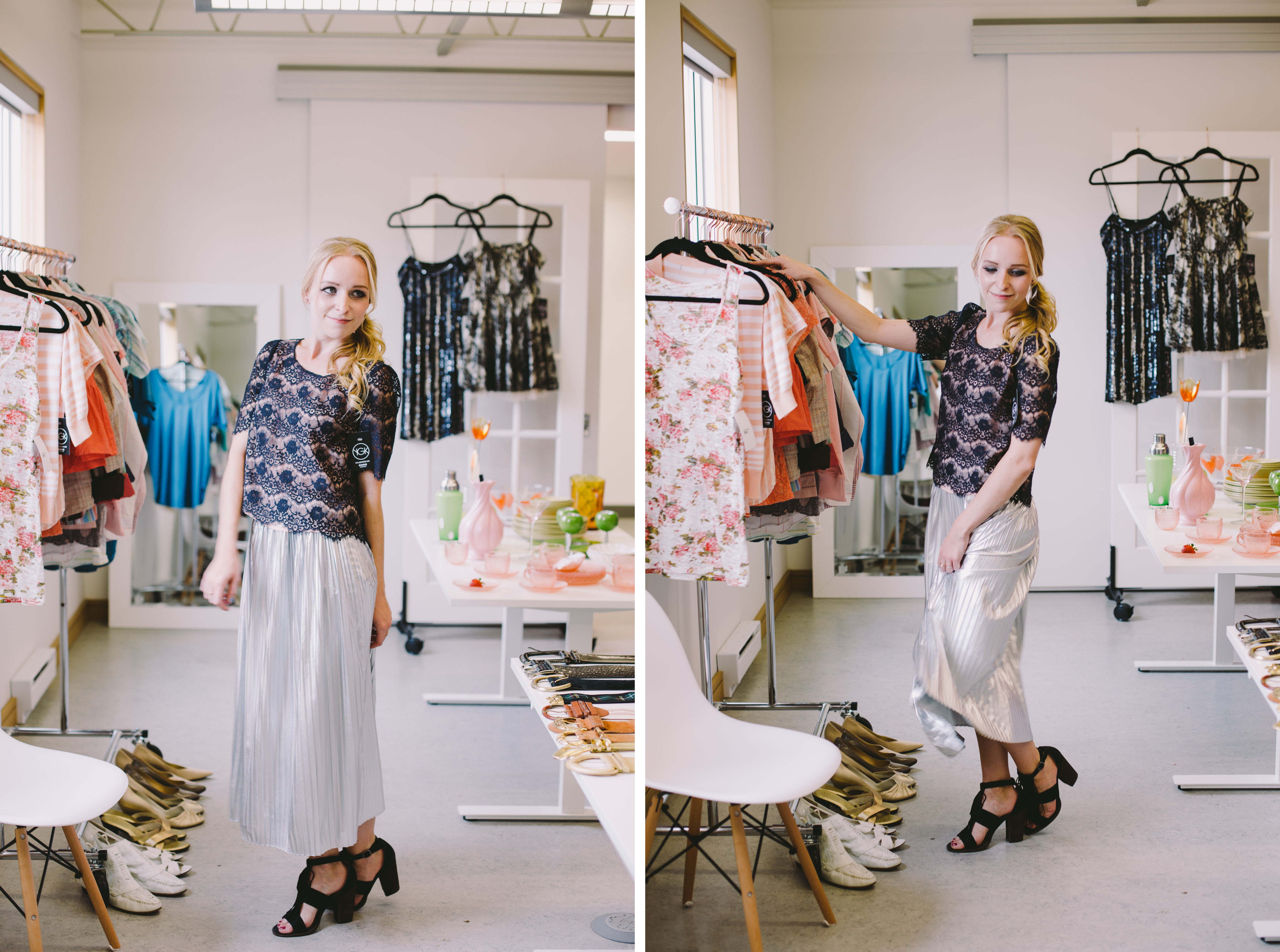 Touch everything, feel the garment and inspect it carefully, evaluating the stitching and fasteners. Chances are you'll be impressed by the quality of the item. You know how they say they just don't make things like they used to? Well, that's totally true. Technology has allowed us to produce more, faster, to keep up with consumer demand. The time and care that used to be dedicated towards making a well-made garment just isn't there anymore for the most part, but it sure used to be. Examine textures in your quest for quality, and there is a good chance you may just find a valuable gem.
Let's Shop Together!
If you need help spotting that special piece, or you're just not sure how to pull it off without looking like you're going to a theme party, I've got you! Come join me this Friday October 6, 2017 from 4-8PM at YGK Studios, located at 200 Princess Street, 2nd floor here in Kingston, Canada. I'll be there to meet, chat and shop alongside you. I'll help you style a killer consignment look, and I'll be sharing our fashionable community across STRUCKBLOG social channels. Let's take a second-hand selfie together!
Shopping Event
October 6, 2017 from 4-8PM
YGK Studios
200 Princess Street, 2nd floor, Kingston, Ontario
More info on Facebook

I'll be joined by members of our remarkable entrepreneurial community who will be there with their beauty products, accessories and a variety of wellness products in tow. I've personally had the pleasure of using a few of these items myself, such as Shiva's Delight (my Insta post about her fabulous charcoal clay mask here) and KnitWhits Couture (check out her pieces in this post: How To Style A Kimono, To The Max!) Come join in, and I'm certain you'll leave feeling fabulous from the inside out. Hope to see you there! You can find more detail about the event on my STRUCKBLOG Facebook Page.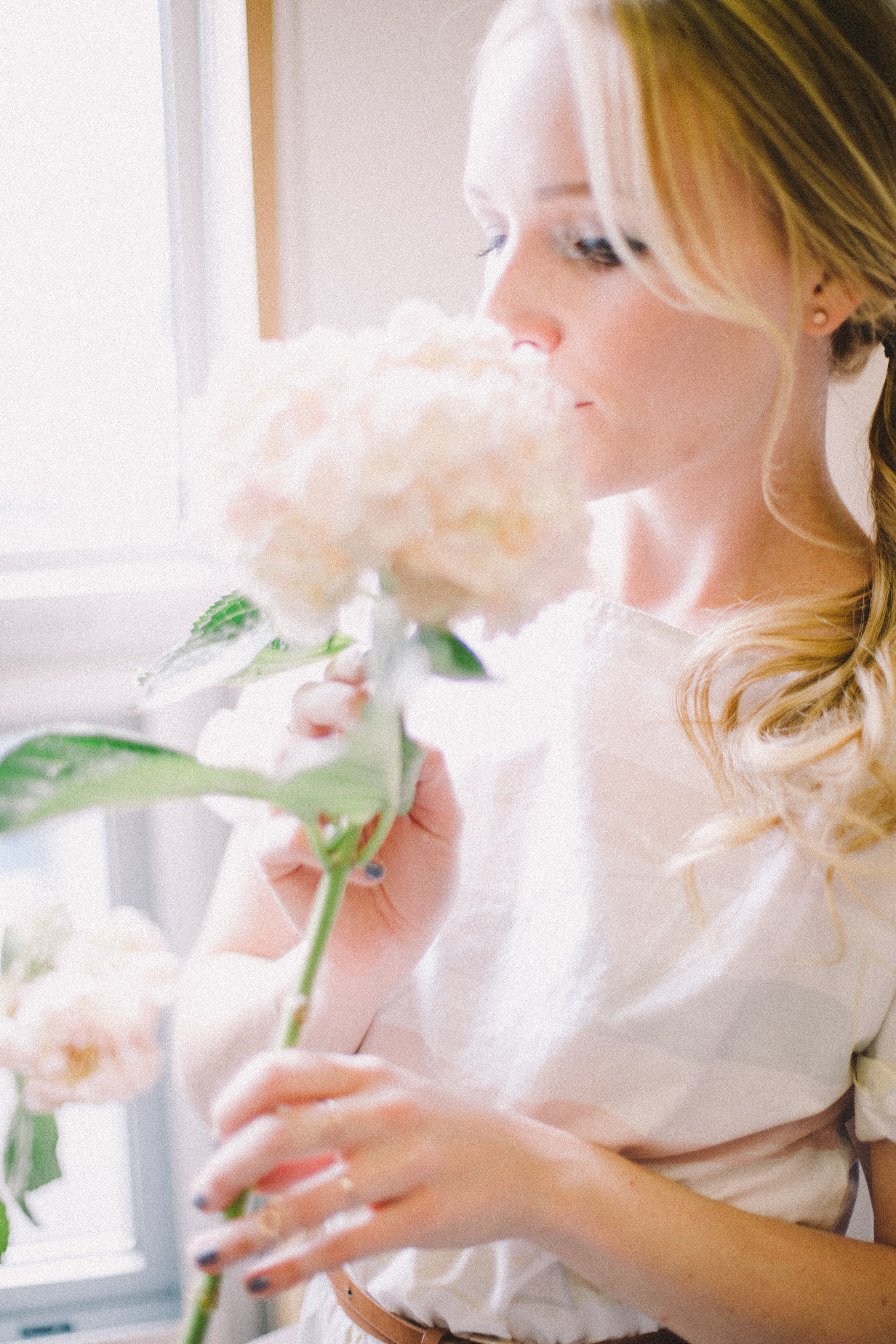 Happy Hunting!
Anna
Disclosure: Clothing seen in this post styled by STRUCKBLOG for YGK Studios. Photography by Kaley Noel Photography, and also published in Refined Kingston Magazine. All opinions, and comments are my own.
Want to see your brand/business reviewed on STRUCKBLOG? Contact me for a copy of a Media Kit.