How do you know when spring has officially arrived? Some people notice the blooms and flowers, or the sunny blue skies. But for those of us who are fashion-obsessed (who, me?) it's the clothes that make the season. I take one look at those lighter spring jackets, dresses and flats and am so excited to ditch the parka, tights and socks! As a Canadian living in a climate that can turn into an absolute tundra on a dime, I appreciate every blade of green grass tickling my toes.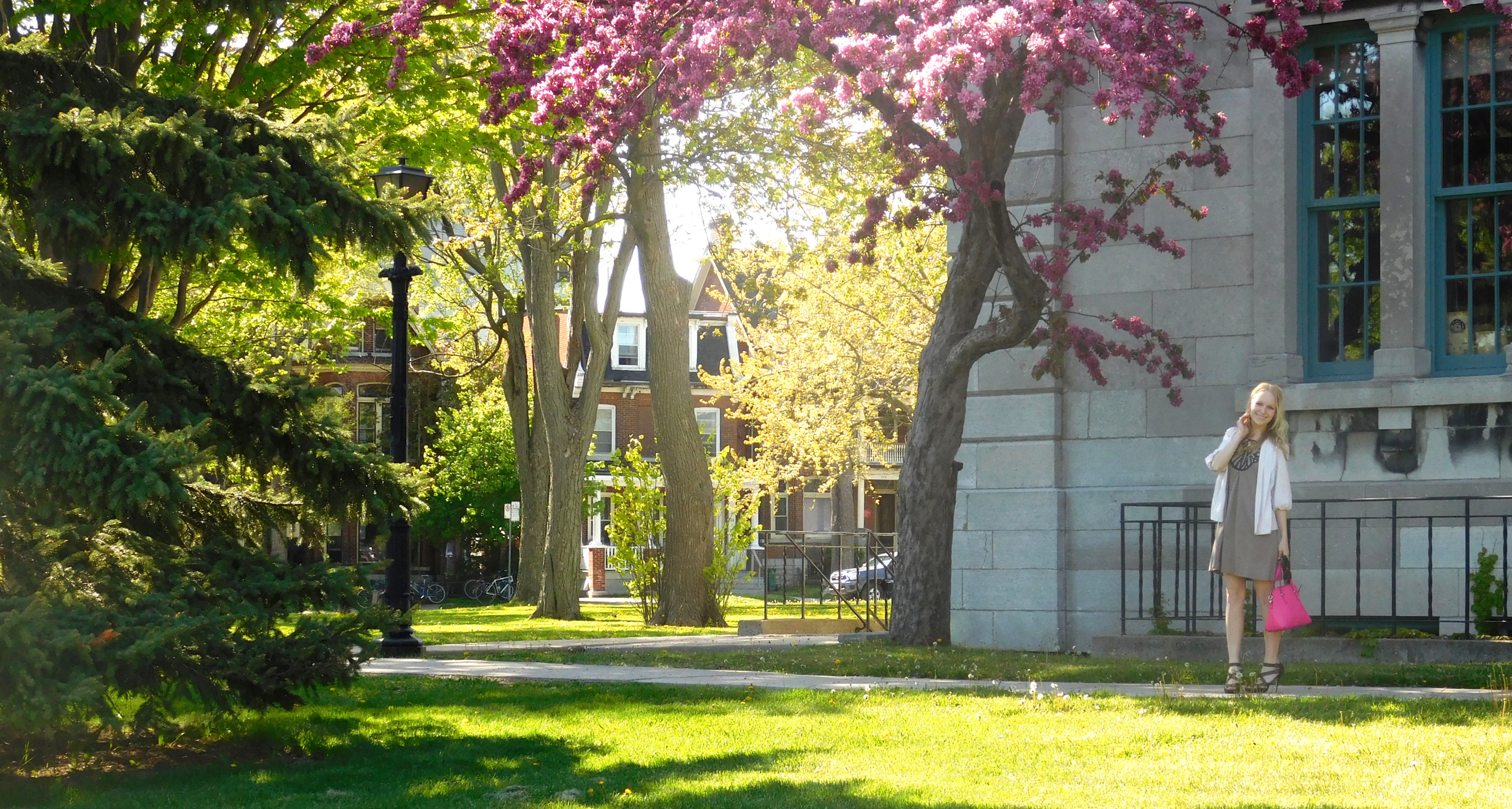 For me, spring fashion evokes imagery of bright colours and bold prints. But that's not for everyone and every closet certainly needs a good balance, mine included. You needs a harmonious wardrobe that's just as multifaceted as you! You need compatibility in your closet so that regardless of your mood that day, you can find something that feels right. Although, most of us ladies will probably still complain that we have nothing to wear. For those days you need neutrals my friends, and they really should be part of your wardrobe regardless of your personal taste.
What are neutral colours? What is a neutral outfit?
Personal style varies and what may seem indistinct to one person may be too much for another, but blush and earthy tones are a good rule of thumb. The most common shades come to mind such as white, beige, ivory and brown. However, neutrals can encompass everything from lighter shades of pink and blue to army green. Style is individual, so what neutral means to you is just as personal.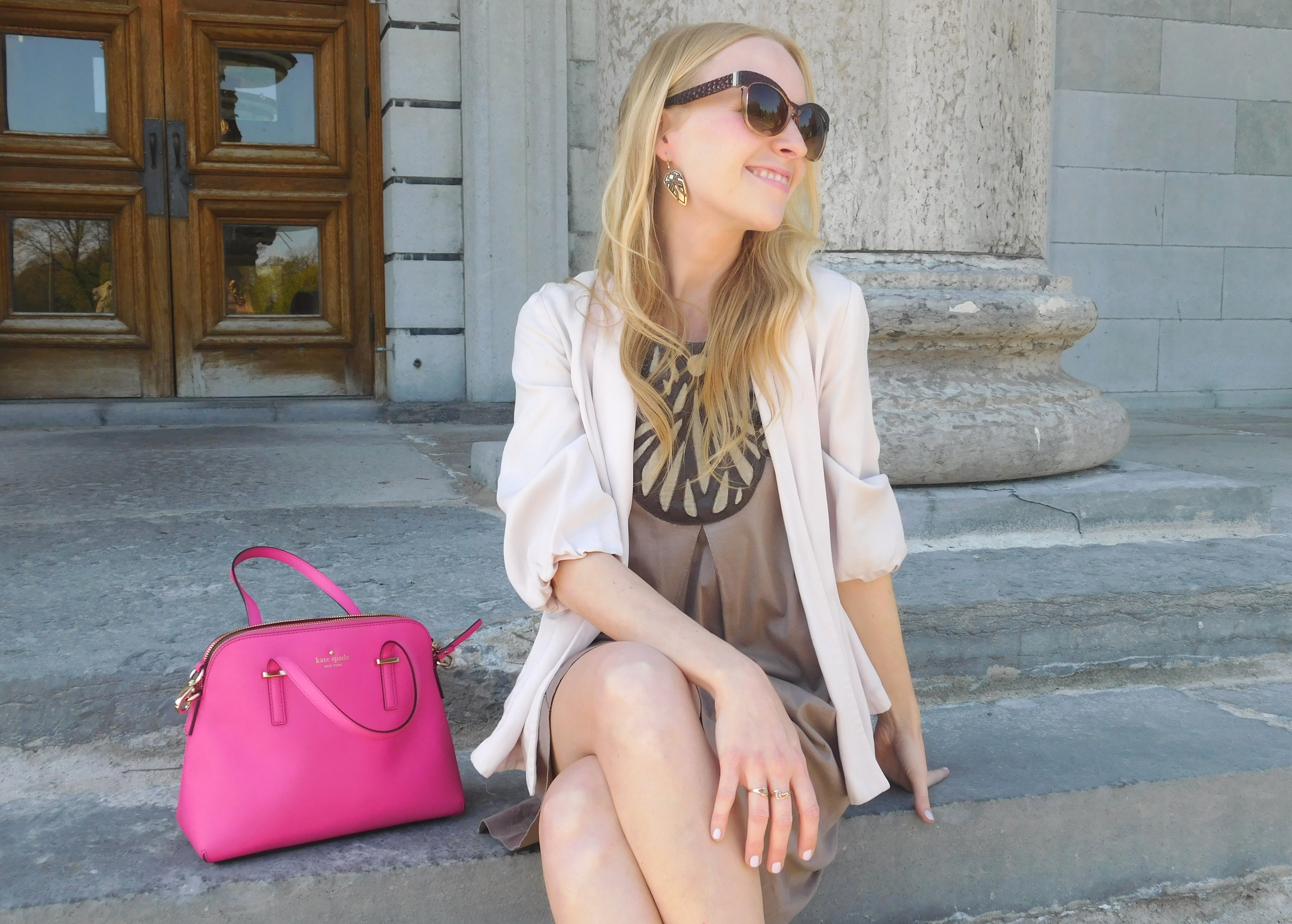 Neutral pieces can be found all over, shorts, coats, shoes, pants – you name it. It's easy to find clothing that integrates nicely into your existing closet. They're neutrals after all, they're not there to steal the attention away from your fearless favourites, they're there to complement them. These pieces are so versatile they can be incorporated into a multitude of looks and outfits. Just in case you're not convinced, here are three reasons you should consider investing in at least a few neutral pieces.
01.
Don't Compete, Complement
I like to wear lots of colour and print in the warmer months, but certainly not all the time. For some, daring colours and valiant prints are horrible or terrifying. It's not your thing, that's ok, be true to you! You're not someone who likes to draw attention to your look and don't gravitate towards pieces that are loud and say "look at me!" Or, you're just having a day where you're not feeling quite as brave so you opt for something a little simpler.
A neutral palette doesn't have to be drab and boring. These pieces of clothing bring stability to your closet, so you're not running around looking like a colourful clown. If you don't have them, chances are you'll pull out those funky patterned pants one day and realize you need a simple top to pair them with. If every item in your closet is busy and ornate, you'll have a hard time creating an outfit that allows for a focal point. You can craft a look based entirely around complementary neutral tones, or they can be worn when you'd like those flashy pieces to shine without a rivalry. It's all about the details and how you style those beige, white or brown items that will bring your look together.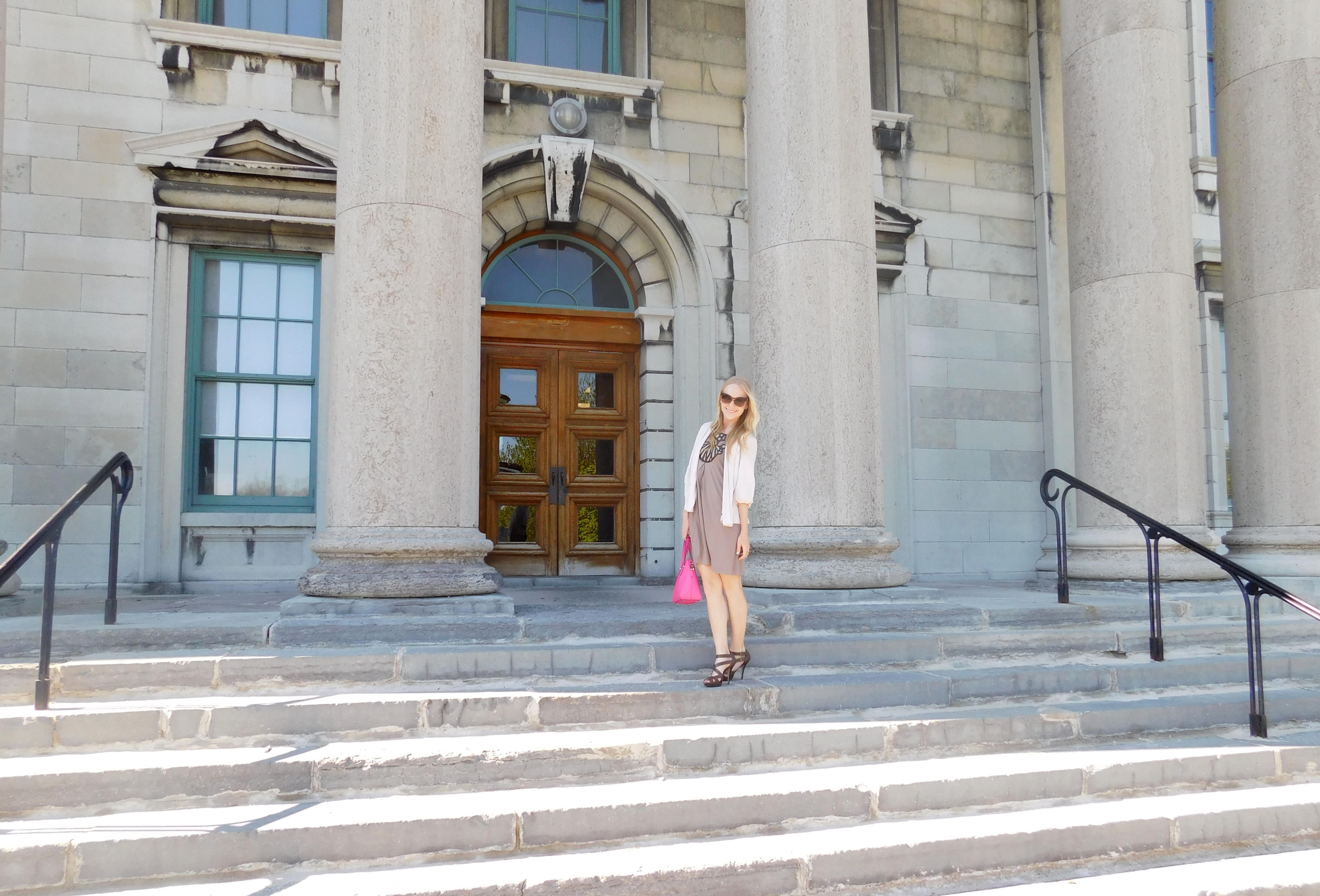 02.
The Perfect Canvas for Colour
Speaking of details, they're so easy to incorporate when you're wearing neutrals. It's like you're starting with a blank canvas, maybe a modern or minimalist piece of art and then, bam – you bring the colour. It doesn't matter what colour since you don't have to worry about clashing, just whether the tones complement one another. Make your look more interesting by accessorizing with a pop of fun here and there. Accessories make it so simple to do, so go with those bright purses or dazzling high heels that you may not otherwise wear too often.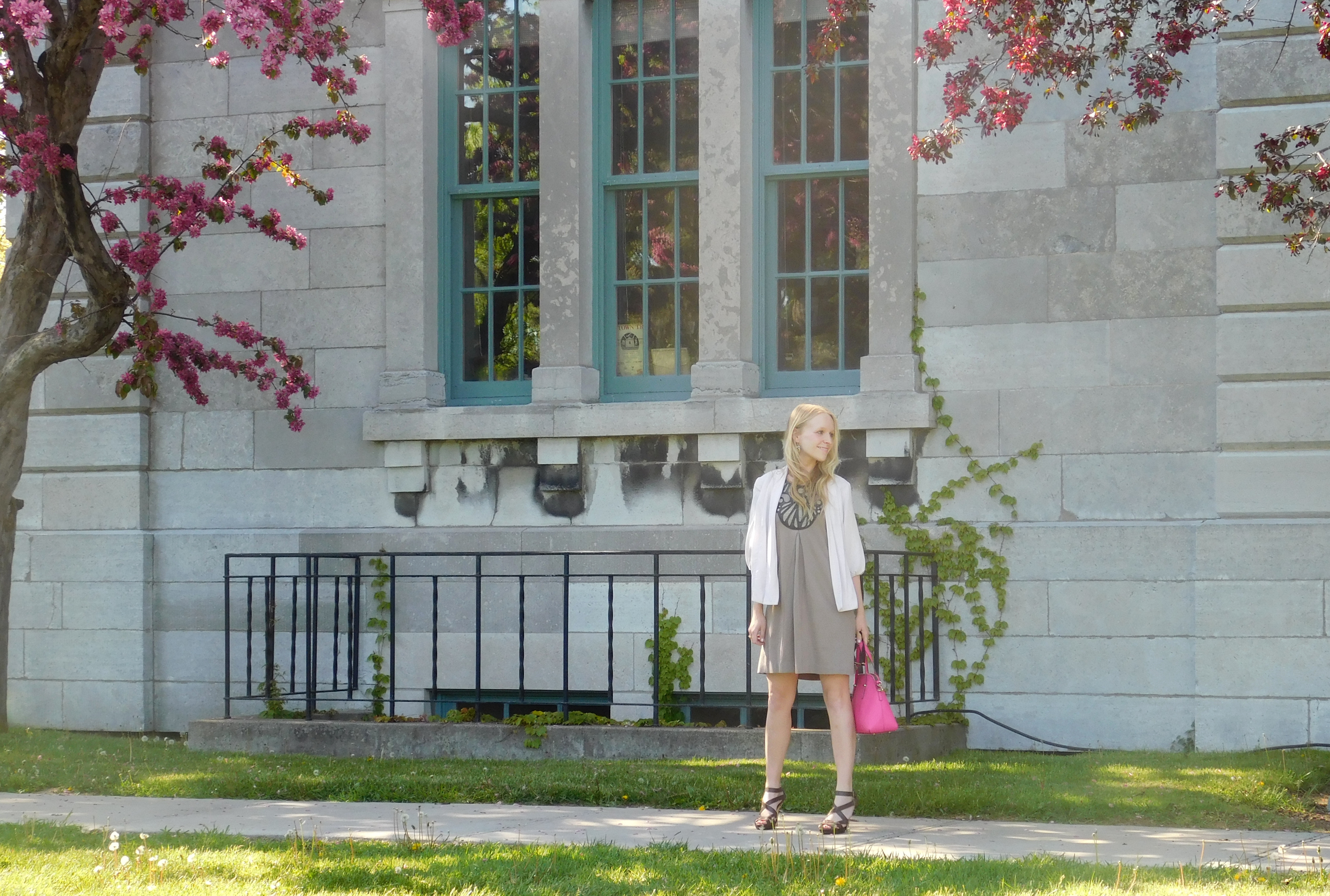 For example, I chose to highlight the subtle pink blush of this blazer with my favourite fuchsia purse. Now I've got a touch of pink goin' on, which brings excitement to this brown dress and sandals. A lighter neutral paired with a darker one gives a nice contrast. In this case I coupled brown and blush pink, and since my purse is stealing the show I kept the heels brown so they're not competing. Make sure you don't discount your make-up either. Since your outfit is toned down, it's the perfect time to apply some fun or bold looks that you've been wondering when to try out. I grabbed a delicate pink lipstick to go along with my colour-combo this day. I've been drooling over pink makeup pallets for spring in this magazine or that one, so I thought why not!
03.
Classic Details
This stuff just doesn't go out of style. I'm telling you, investing in neutral pieces of clothing is great on your wallet. You only need a few neutral items in your closet, and you'll feel like you have more than enough because they can be integrated into various outfits and look completely different. You can definitely get away with wearing them more often, and no one will ever notice. Promise. You don't need multiple pairs of white jeans or button down shirts, you can wear them so many different ways and if you buy decent quality, you'll have them for years.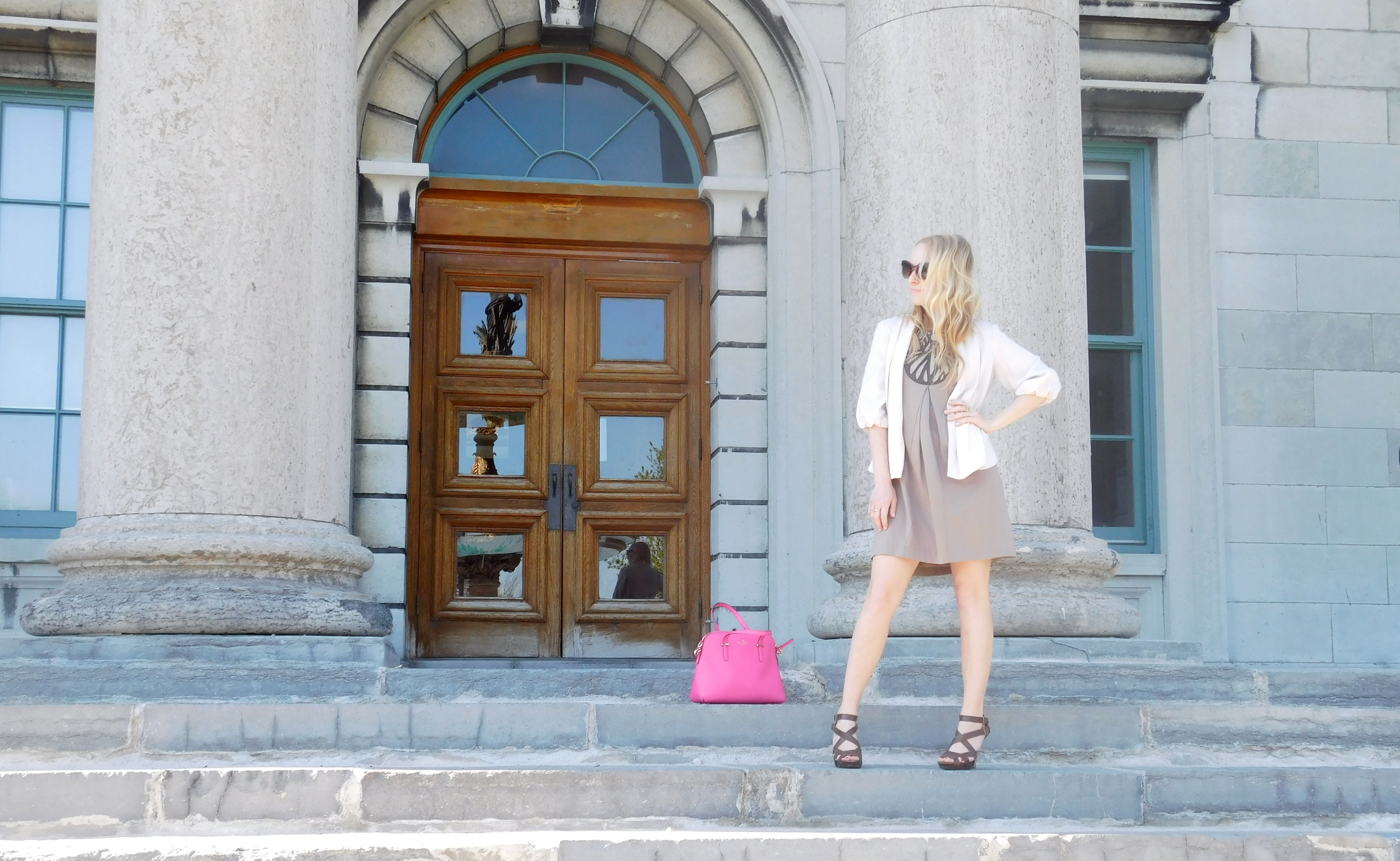 This brown dress has been in my closet for so long I had a hard time remembering where I bought it from. The same is true for the rest of my clothing here, the blazer, and heels (they were also featured in: "At The Park with Willow & Park"). None of it is new, but it feels like a completely fresh look since I've never worn this combination together before. I love choosing neutral pieces with some unique added details, they draw my attention without stealing it. A good neutral piece is one you'll never get sick of and will be able to wear a multitude of ways, but also jumps out at you with some feature that fits your style.
It's very personal! For me, I love how the dress walks the line between classic and exceptional. The colour makes it easy to style, but the pattern on the front adds an element of fascination. The blazer is just a blush-pink addition, but the puffy sleeves make it a little more fun. It's neutral, easy to pair, but also interesting. This balance is key to pulling off a neutral look that is timeless, but certainly not boring!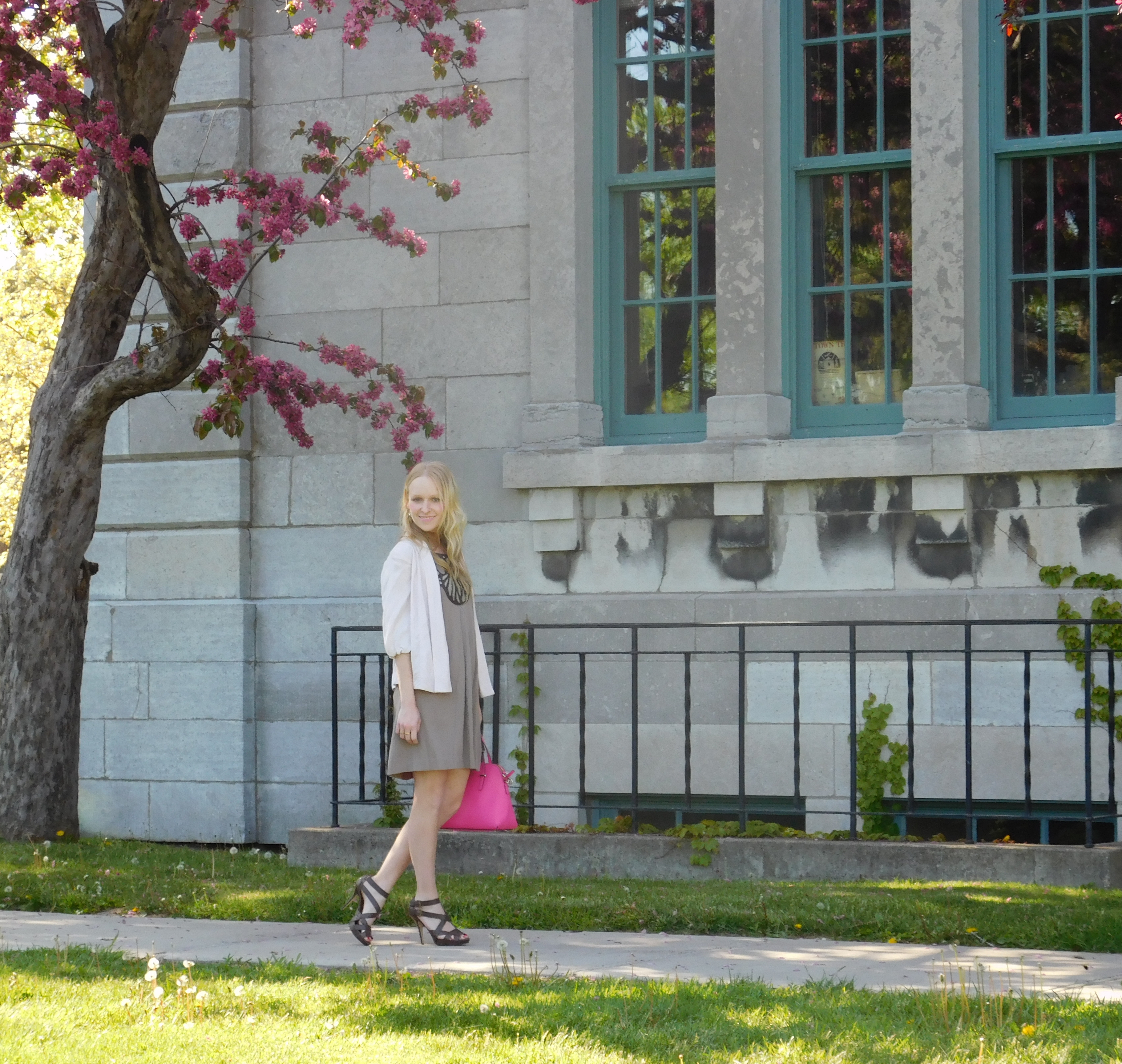 Purchasing some classic pieces in neutral tones is like building a solid foundation for your wardrobe. They're a great place to start, especially on the days when you're not feeling quite so bold or creative. Remember to keep them true to you, since neutrals are different for everyone. A plain white tee may be too mundane for some, so look for one with some added sparkle or a cute cap sleeve. For others, a v-neck t-shirt may be perfect and unspoiled just the way it is. Go with your gut, and trust your instincts! Keep it simple with neutrals: pair lighter and darker tones for a nice contrast, inject a little colour with your make-up and accessories and before you know it, you're out the door.
And remember – on a bad day, there's always lipstick…
Thank you to my friends at UsTrendy for their interview as Trendsetter of the Week and for featuring this post, check that out here.
Anna
Wearing:
Dress by Zara Collection
H&M blush pink blazer, similar here
Shoes by Guess
Kate Spade purse, find it here (similar colour)