Alright, I'll call it, I've caved. Summer has finally left us and fall is officially here. It's been a chilly past few days here in Toronto, so the booties have made their appearance!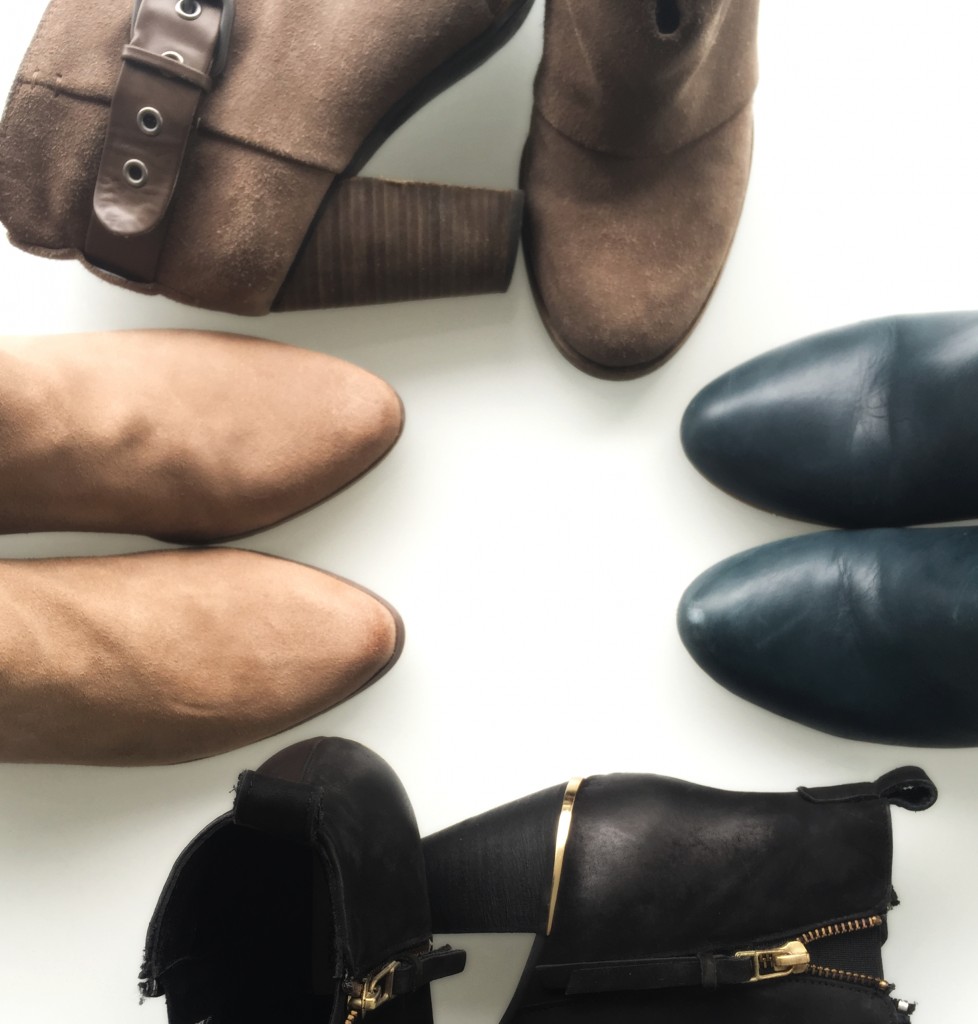 Closet Organization for Shoe-Lovers
When you live in a tiny city condo like me, your closet is a constant organizational battle, and real estate is a valuable commodity (if only I could stop shopping…nah). Every inch of my closet floor-space is occupied with shoe racks toppling with shoes of all varieties, sandals, boots, flats, and pumps, as well as the occasional basket of purses. As the seasons change, I rotate the shoes seasonally, that way what I wear daily is easy to access. Yup, just my super neat-freak organizational lady trick for you city dwellers and tiny space enthusiasts. Take 10 minutes on a Sunday (like I just did when I was inspired to share this post with you guys) to organize those sandals and boots into seasons and bring the ones you're wearing tomorrow (and the like) to the front. Your future Monday morning self will thank you (see my favourite thing to wear on Mondays: "Work Wear Wonders").
In the same vein, when you don't have a ton of space in your closet, what you buy has to be versatile, good quality, and practical. Some of these pairs are tried and tested, others are brand new. I've done some shopping over the last few weeks (alongside my lovely and fantastic mother of course) and stepped up my bootie-game for the season. Shoes I can wear every day in these cooler temperatures, coordinate with any outfit, be comfortable in, and most importantly of course, feel chic! (Insert dramatic hair-toss here).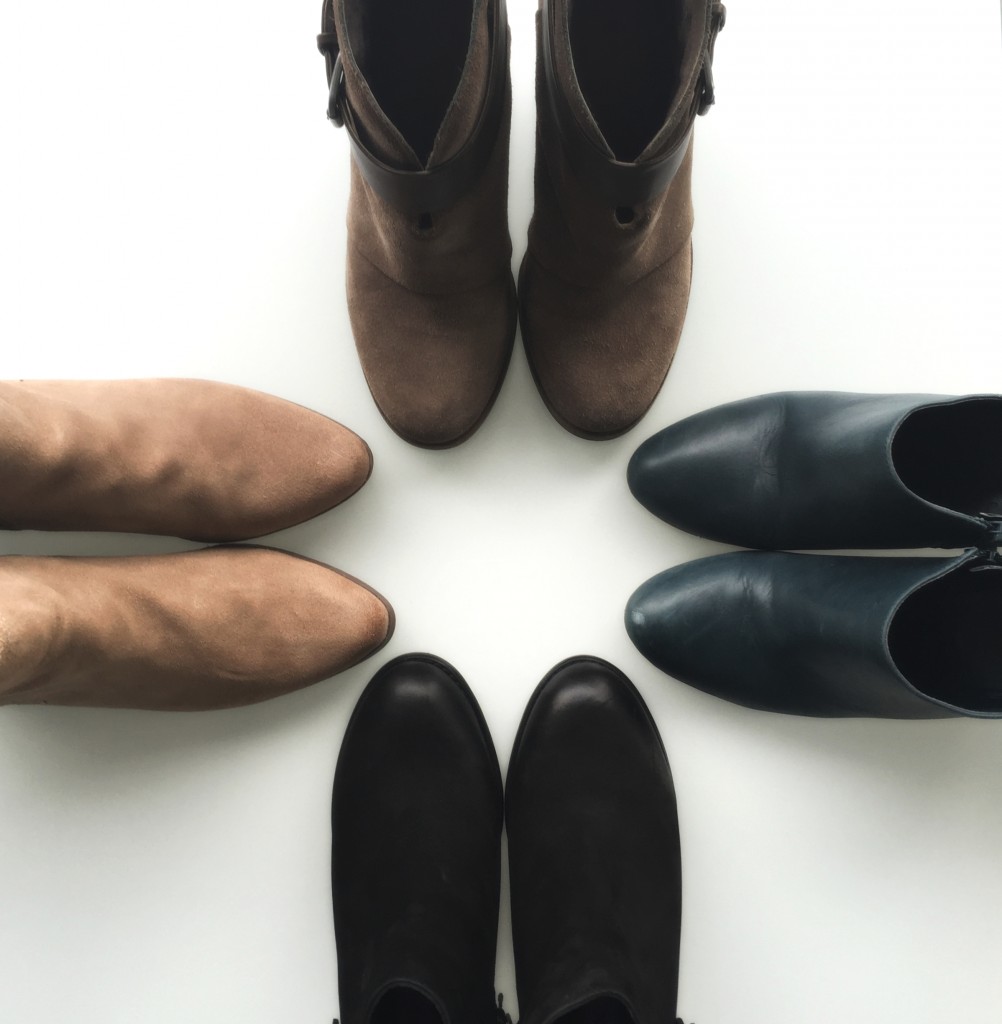 What Booties To Buy?
Booties are amazingly versatile as you can wear them with dresses, skirts, jeans, dress pants, or any pants really. Buy booties in neutral colours, but try to incorporate a pop of colour or two (grey skies can be drab, channel the fall hues instead). For day to day wear, try a chunky heel or a wedge to make sure you're comfortable (pain for fashion really isn't necessary). Oh and a little tip: roll up your pant cuff, and pair them with your favourite bootie and you can basically walk a runway. Instantly stylish.
My 4 Favourite Bootie-full Pairs for the Season
01.
Aldo Lillianne Ankle Bootie:
The perfect demure heel, these lovlies were instantly comfortable. The colour goes with just about anything, and the height allows you to even show a little leg and wear them with a dress or skirt. I've worn these on repeat the last few days, obsessed.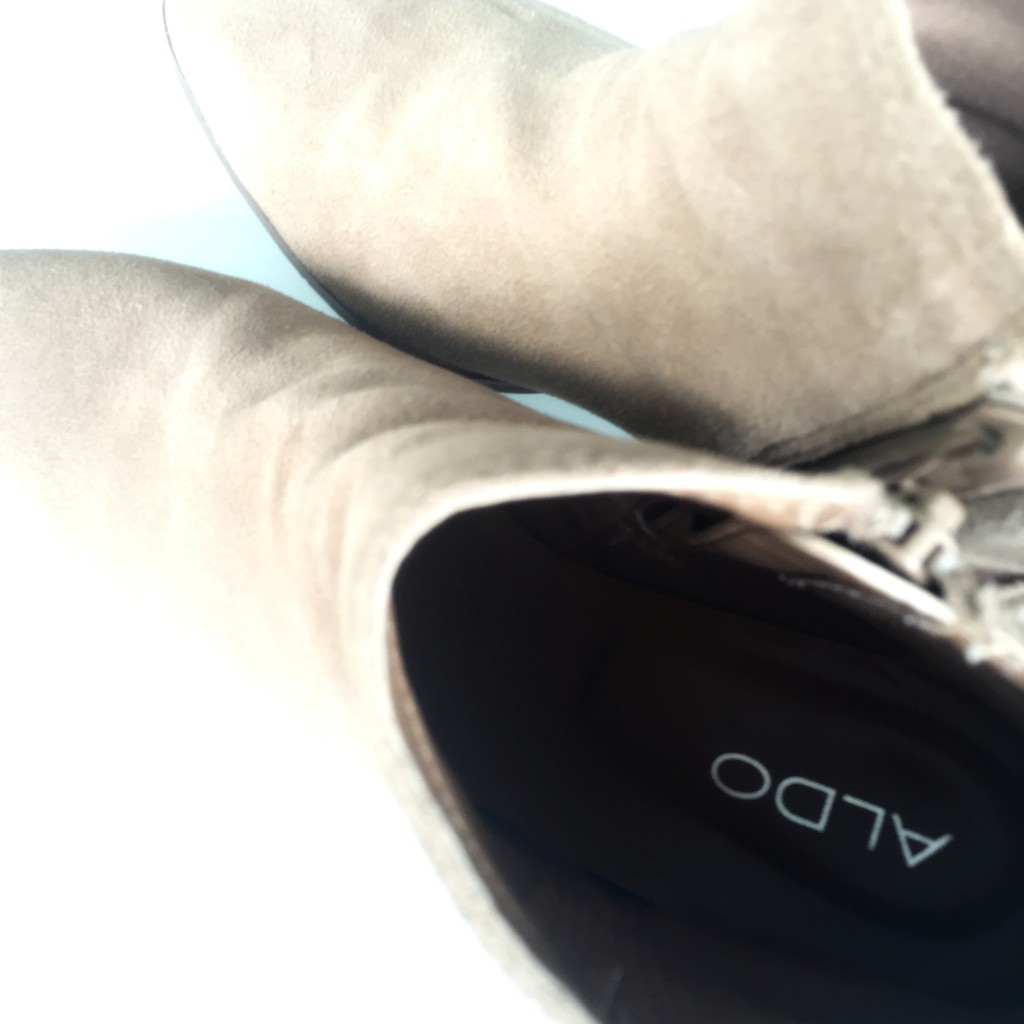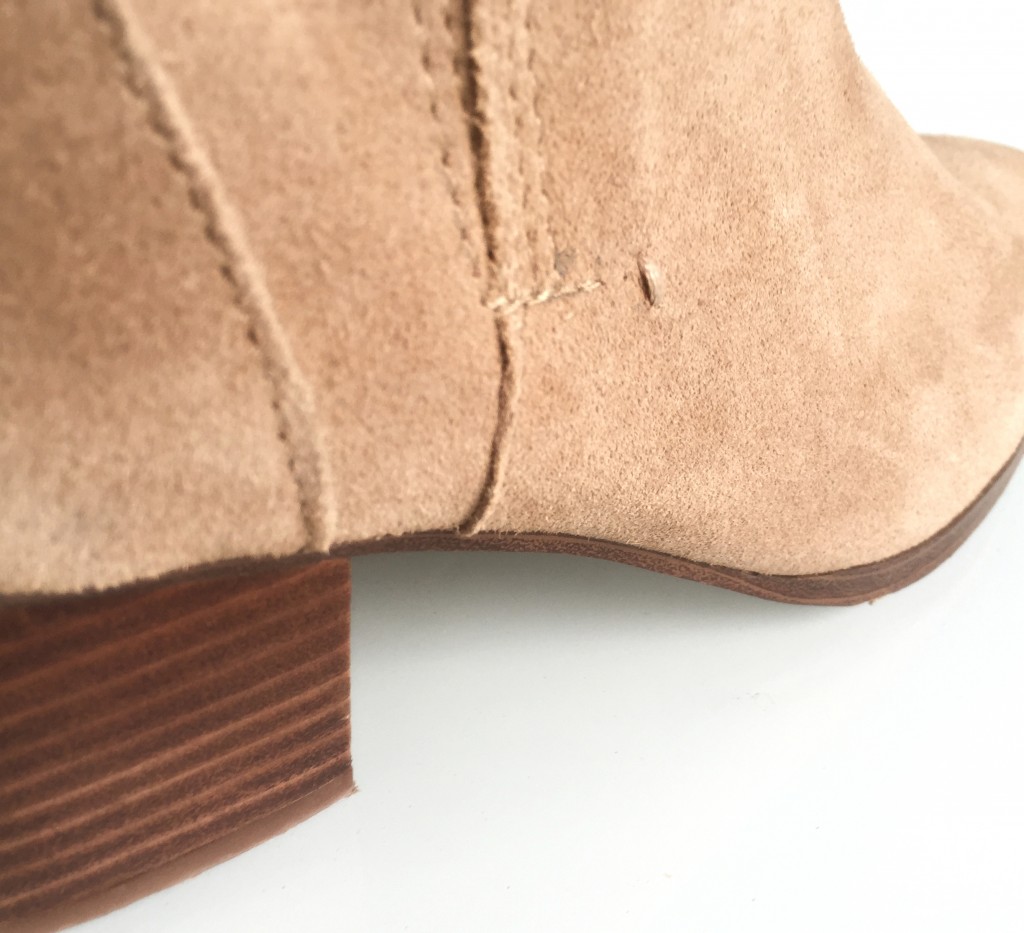 02.
Nine West Wood Wedge Bootie:
A wedge heel at a great height means the wood accent detail is comfortable and a cute. Win-win. The dark-blue leather adds a subtle pop of colour that says "oh I'm fashionable, but I'm not really trying, chic just comes naturally to me." The key to this colour choice is that it's still super easy to pair with an outfit, it's gotta be! Smooth moves you dashing diva.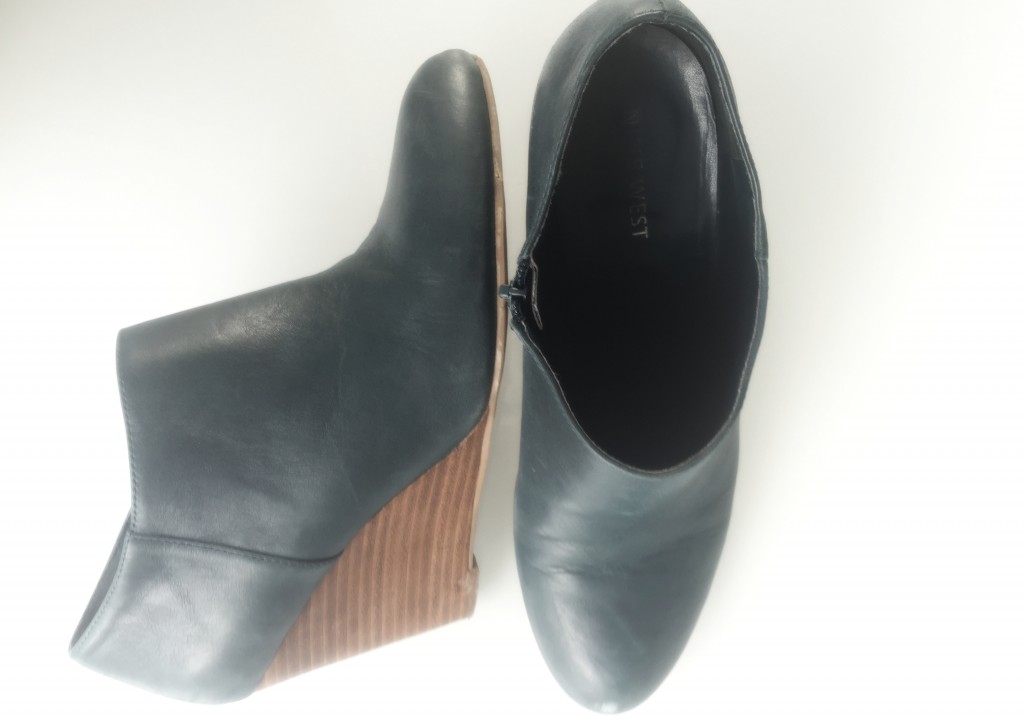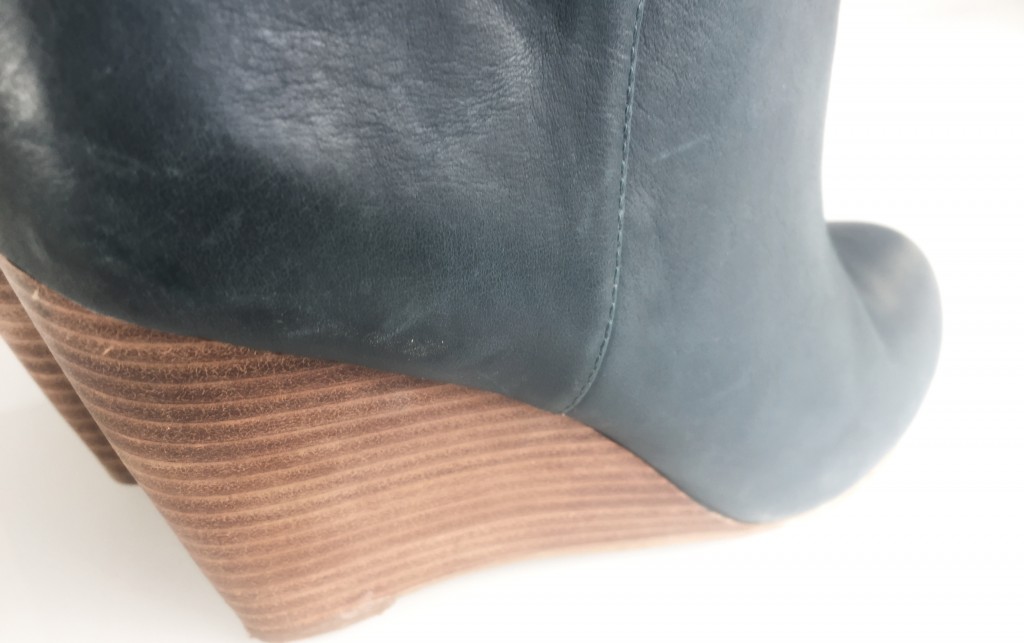 Similar Styles: here, here, and here.
These babies are greattt! I can't even take a nice photo of the heel without exposing just how worn these booties are, (oops)! They are tried and tested, I have worn them everywhere and with everything (just take a look at my daily Instagram outfits). The colour is a fantastic grey-ish neutral, and the buckle is just enough, but not too much pizzaz for moi. Chunky heel, for comfort of course. So basically everything you need to walk the walk and work it gurl.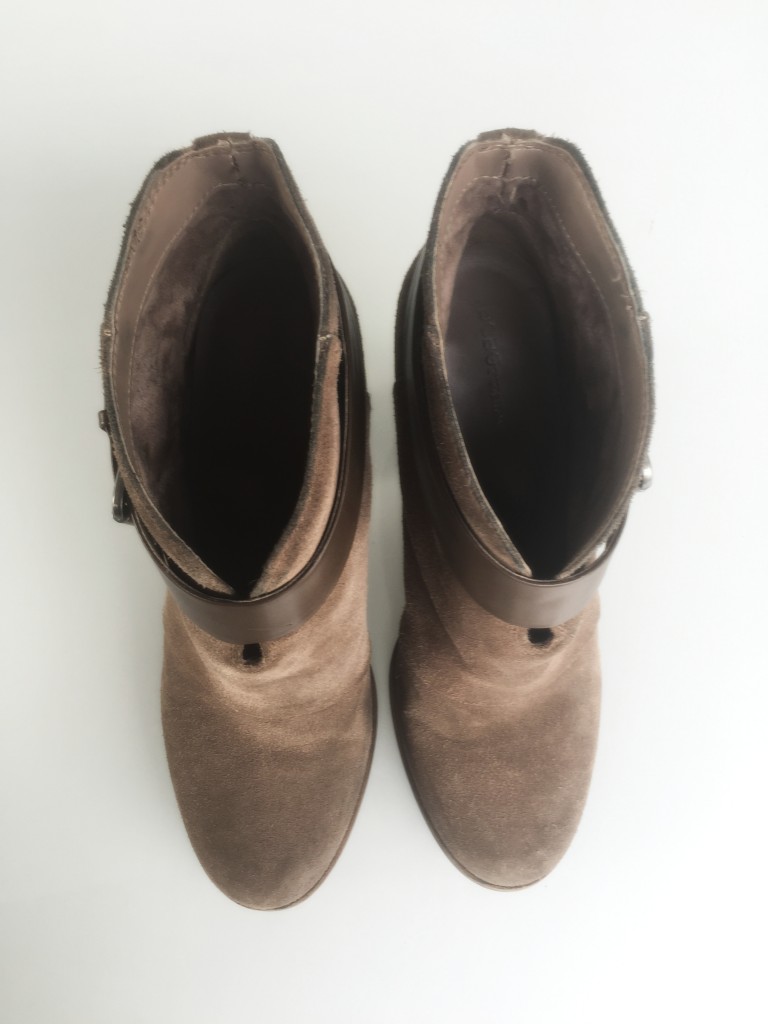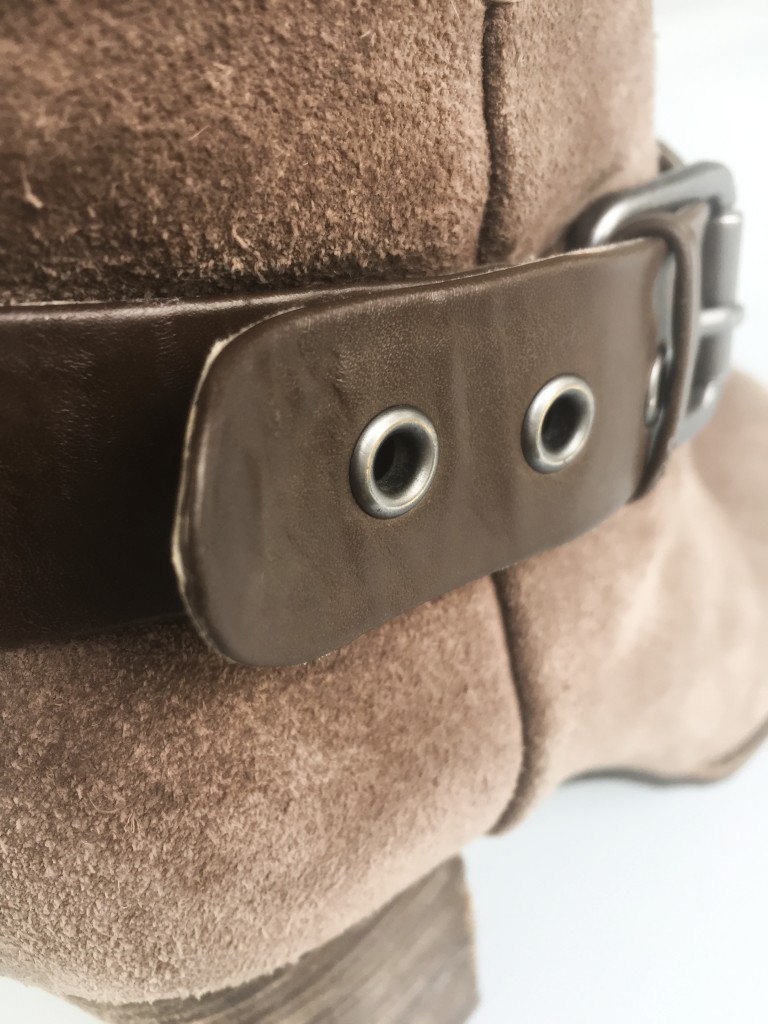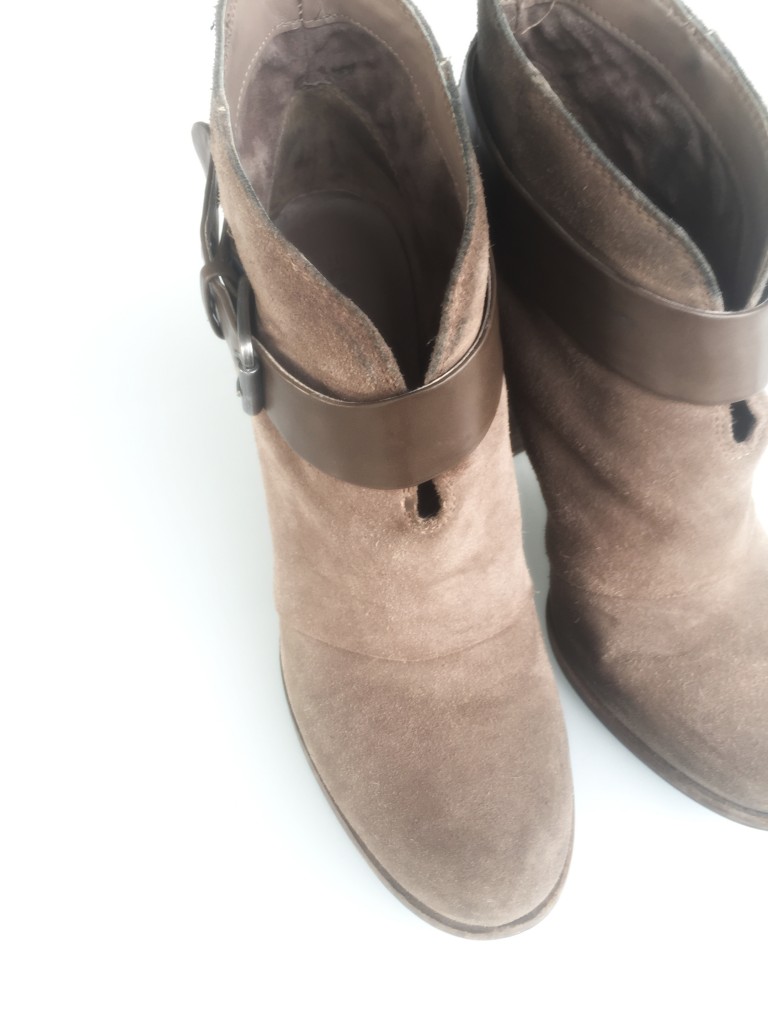 These gorgeous booties are sold out everywhere, trust me, I looked! It's because they're amazing.
Find similar styles here, here, and here.
04.
Steve Madden Wantaghh Bootie:
A little touch of gold, cus a girl needs a little flare when she's practical in black. I don't need to tell you that these will go with everything, they're black! What really stands out about this pair is the way the suede and leather blend into one another, very cool. A great chunk of heel (you got it by now, comfort) and a little faux zipper on the side keeps you stylin'. Can you tell I feel really super cool when I wear these? Yeah, I do, I'm fly.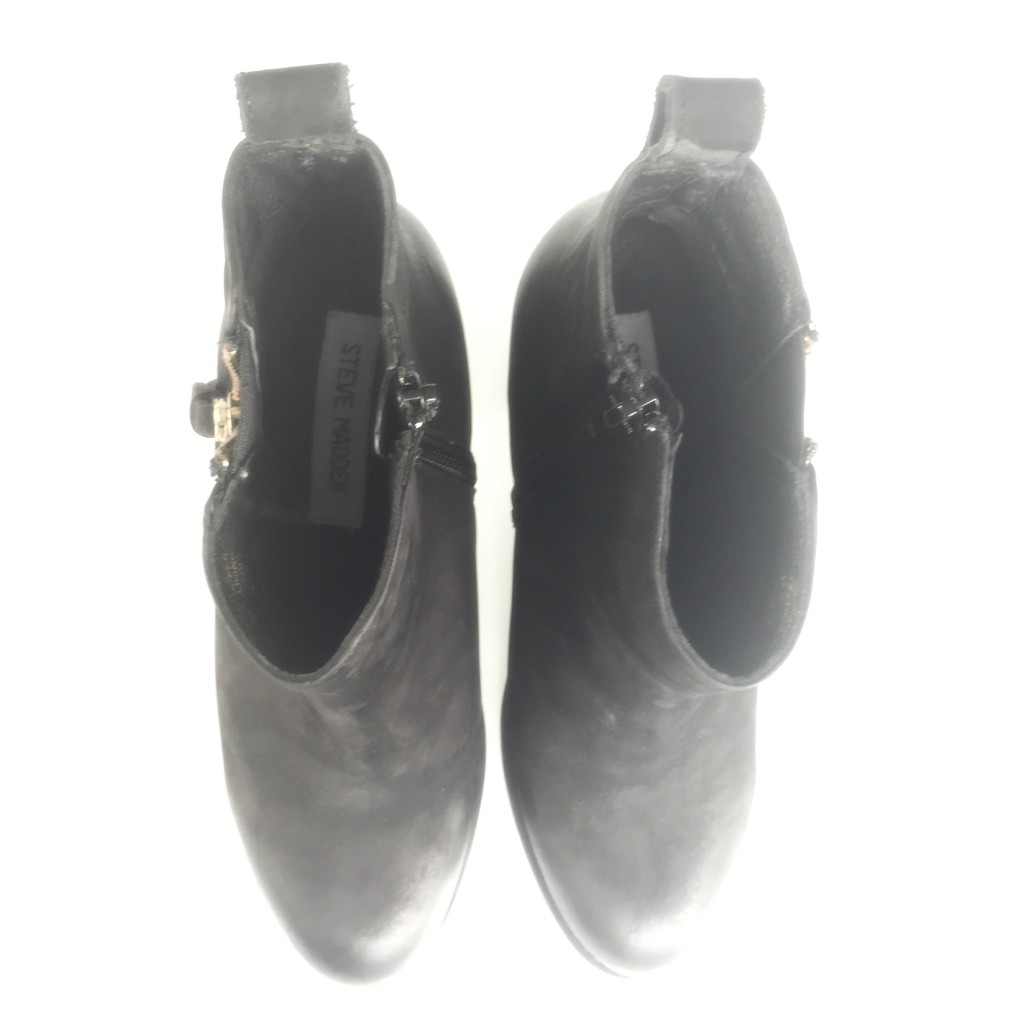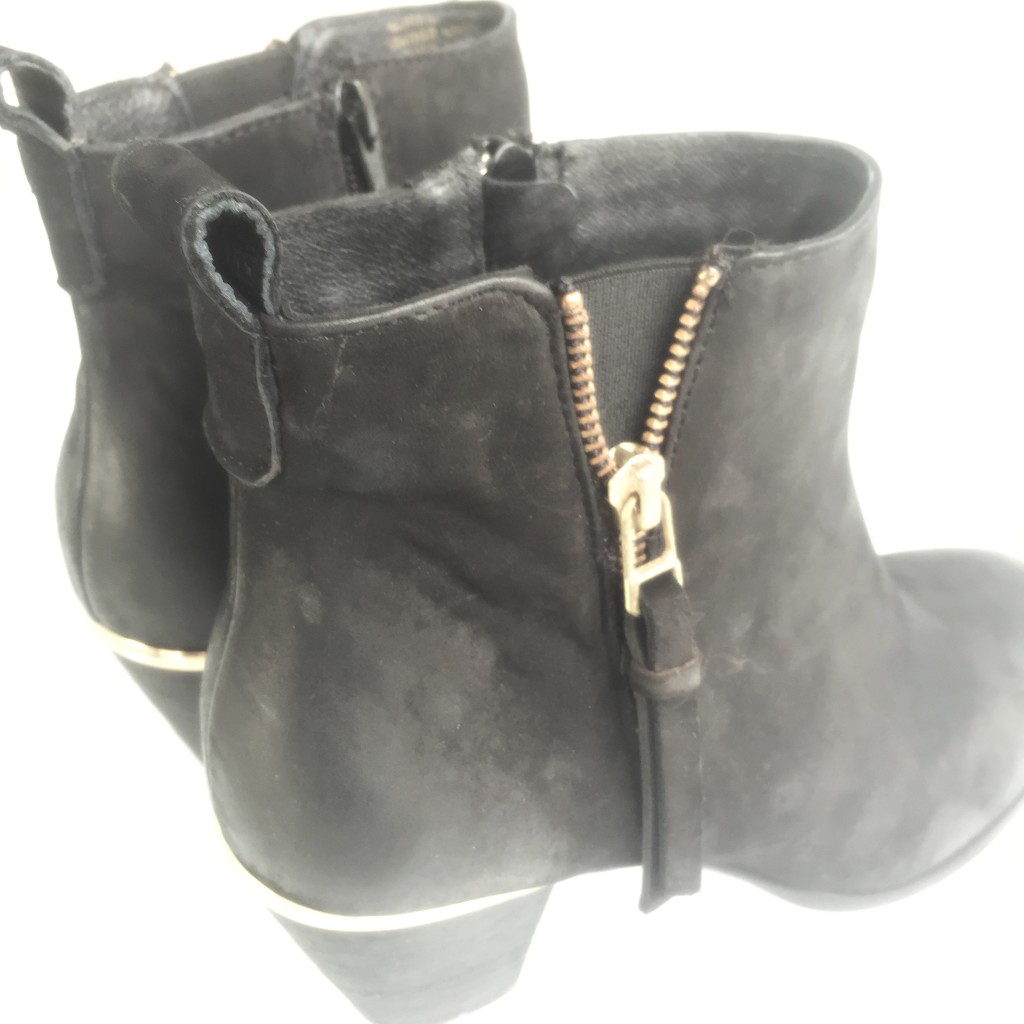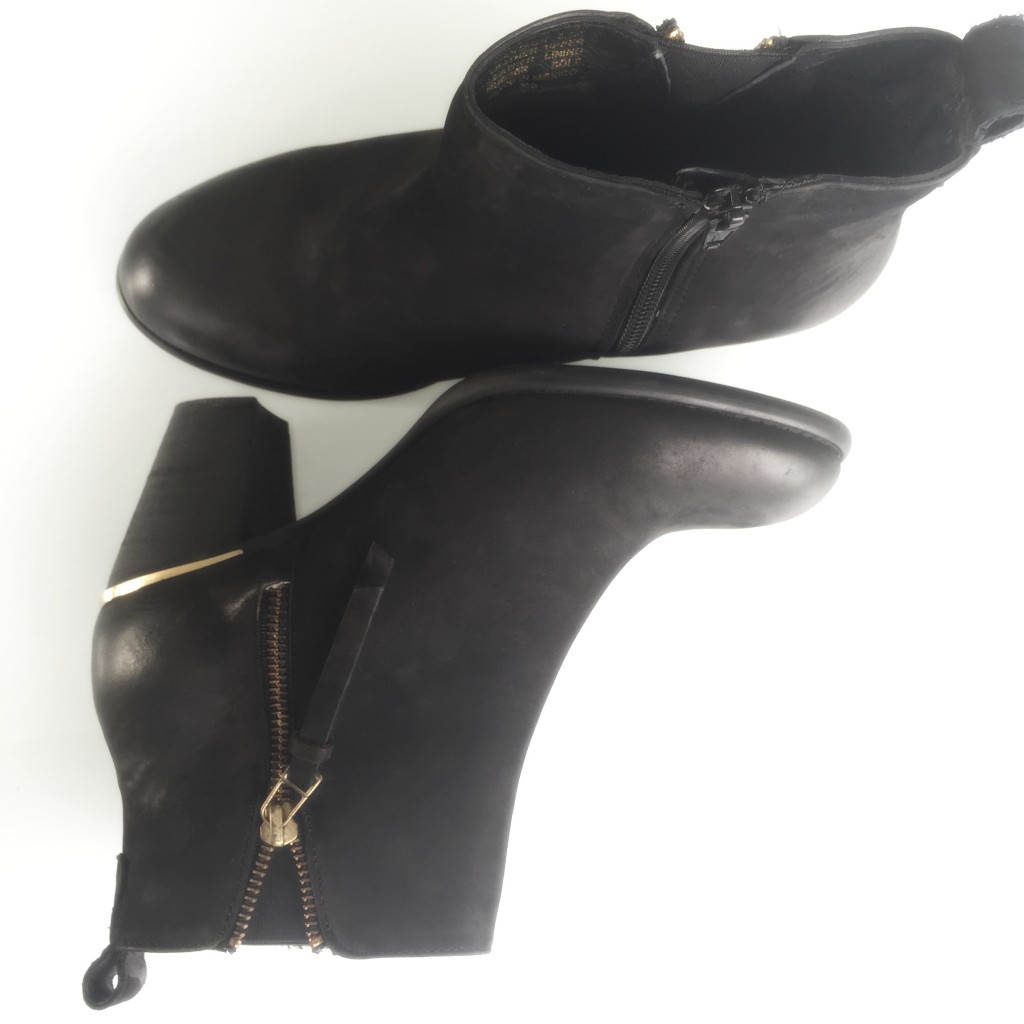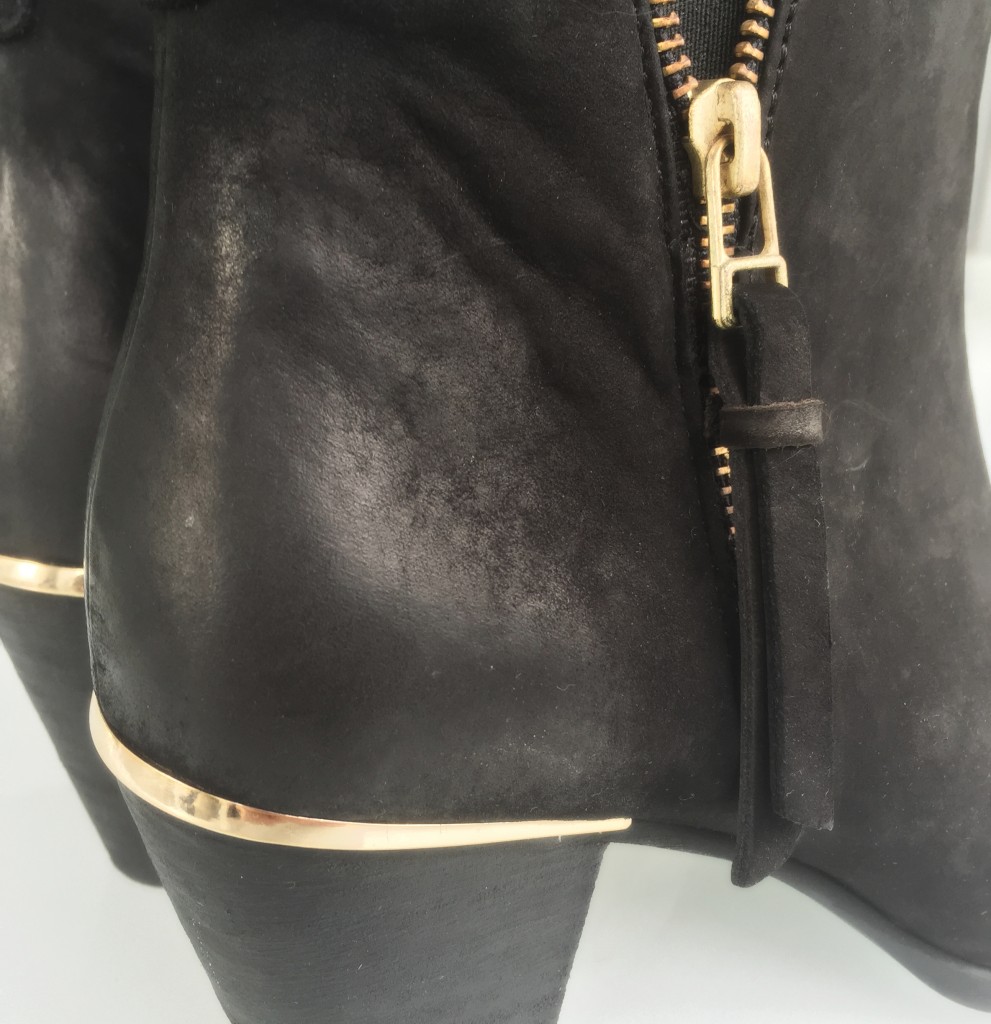 Four booties for fall, you're ready to go. If you're someone who gets totally overwhelmed with choice the minute you walk into that shoe store, don't be, this is all you need! Although a girl can never have enough, these essentials will carry you through the season and also transition into winter. Now, what else can we shop for…tall boots?! Haha!
See you bootie-licious people, happy shopping!
Anna