Photos by Red Lemon Art & Photography
During this time of year, many of us have one thing on our mind: food! Ok, well I'm sure it's not the only thing as you finish up your holiday shopping and decorating as well (it is a busy time for many after all). However, for me the food is what the holidays are all about. Why? Because this time of year is about family and friends, and spending time with those who are near and dear to your heart. I don't know about you, but my family and friends always seem to emerge when there's great food around. You too? Coincidence? I think not.
But before we get to the good stuff, I want to let you know about this phenomenal contest that comes as part of this post, the biggest contest I've run yet. My friends at Sapori Bottega Italiana and I are giving away three prizes, a total value of almost $300! You don't want to miss this.
CONTEST NOW CLOSED (thank you to everyone for your awesome participation!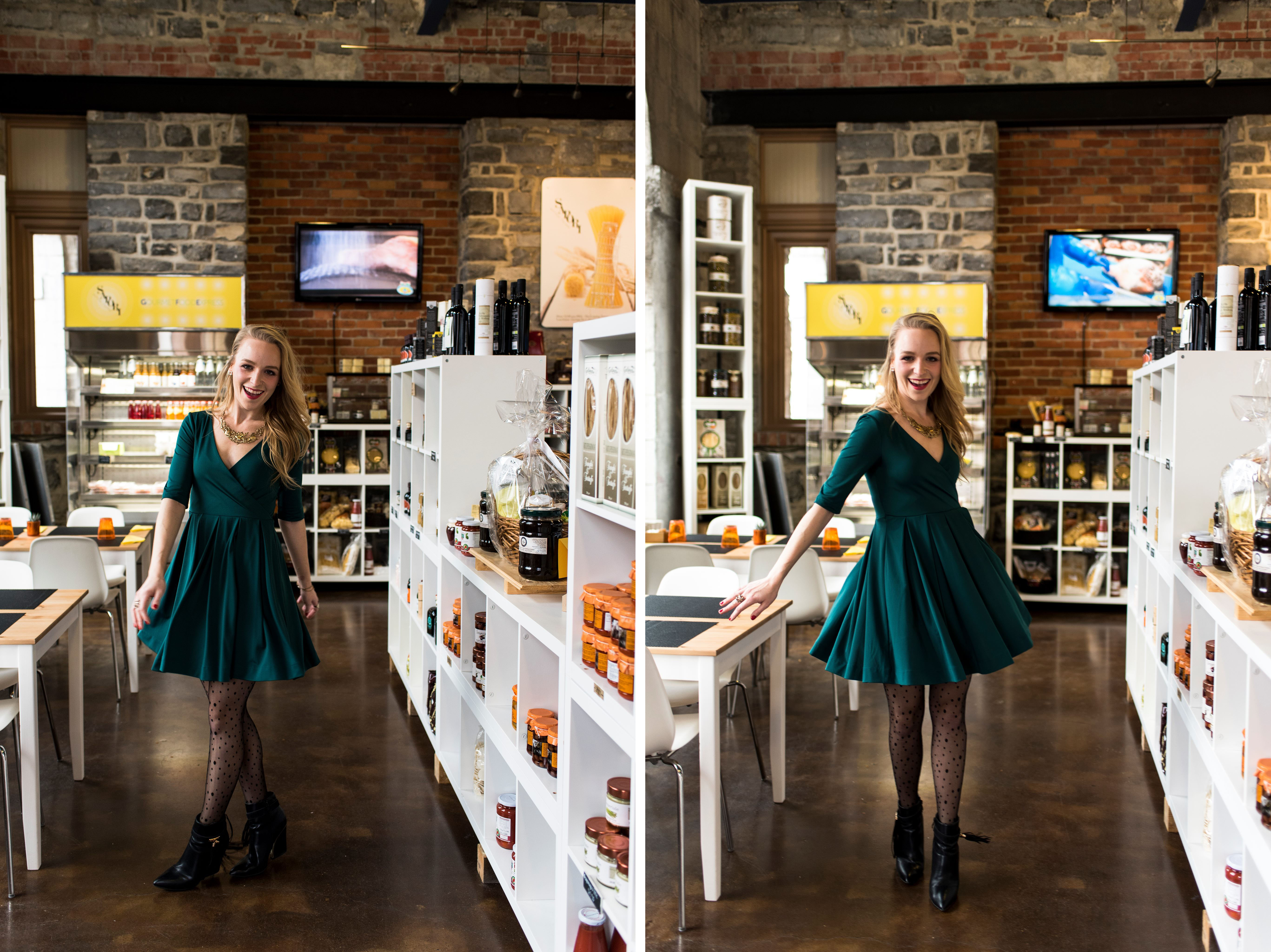 There is something special about indulging in decadent food surrounded by those you love, regardless of whether it's the holiday season, New Years Eve, or just a chance get together. But, if you're the host or hostess, and you aim to be the hostess with the mostest (or host with the most, of course) you may not feel quite as excited about getting all those delicious goodies prepared. Brainstorming ideas for appetizers, platters and meals can be overwhelming, not to mention finding the quality ingredients you need to impress your guests and their taste buds. It can feel equally trying if you're no wizard in the kitchen and you're asked to bring along some food for a pot-luck style event. You may be asking yourself: What should I prepare? What should I include? How do I present it? And most significantly, where do I find all the ingredients I need?
Well, if that inner dialogue sounds familiar, I understand better than anyone. I still have a long way to go before I can call myself a good cook, so I jumped at the chance to learn from a local expert. Maja is the owner of
Sapori Bottega Italiana
located in Kingston, Canada. She invited me into her Italian store, restaurant, and event facility (really, they're the ultimate Italian destination here in town) to discover some impeccable Italian delights. They offer paninis, fresh salads, coffee, tea, and more, all made with fresh Italian ingredients. While living in Milan for years, Maja got to personally know many of the artisanal producers and farmers in the area and was inspired to begin importing their goods home to Canada. Over the years, she has gained an incredible amount of knowledge about the production process, and knows exactly where all the products are sourced from. Many of these Italian suppliers are one of a kind in all of Italy. They have spent their lifetimes honing their craft, and maintain the traditional methods of producing excellent food.
Sapori Bottega Italiana
is home to these fine products. They are available for purchase, can be enjoyed as a meal in house, and can even be delivered right to your home (for you local folks).
What better way to sample an array of fine foods than on an authentically Italian-made charcuterie board, where even the wood is a genuine Italian import. The charcuterie board is the ultimate meat and cheese platter, with all the fixins' and accompaniments. It not only looks fantastic, but can be enjoyed by many. If you're looking for charcuterie board ideas, the perfect charcuterie meats and cheeses to include, and want to know more about how to pair them, read on! I'm thrilled to be sharing my new-found knowledge, straight from the experts at Sapori Bottega Italiana.
The staff prepared their most popular mixed board, the Michelangelo, which offers both cheese and meat options. Sapori also offers just Salumi or Formaggi boards as well if you favor one over the other. Otherwise, if you're looking for something special, just ask. All of their creations can be customized and eaten in store, or ordered for delivery or pick up. There's really no excuse not to indulge in Italy's best, whether you'd like to come in to purchase what you need to put it together yourself, or leave it to the professionals.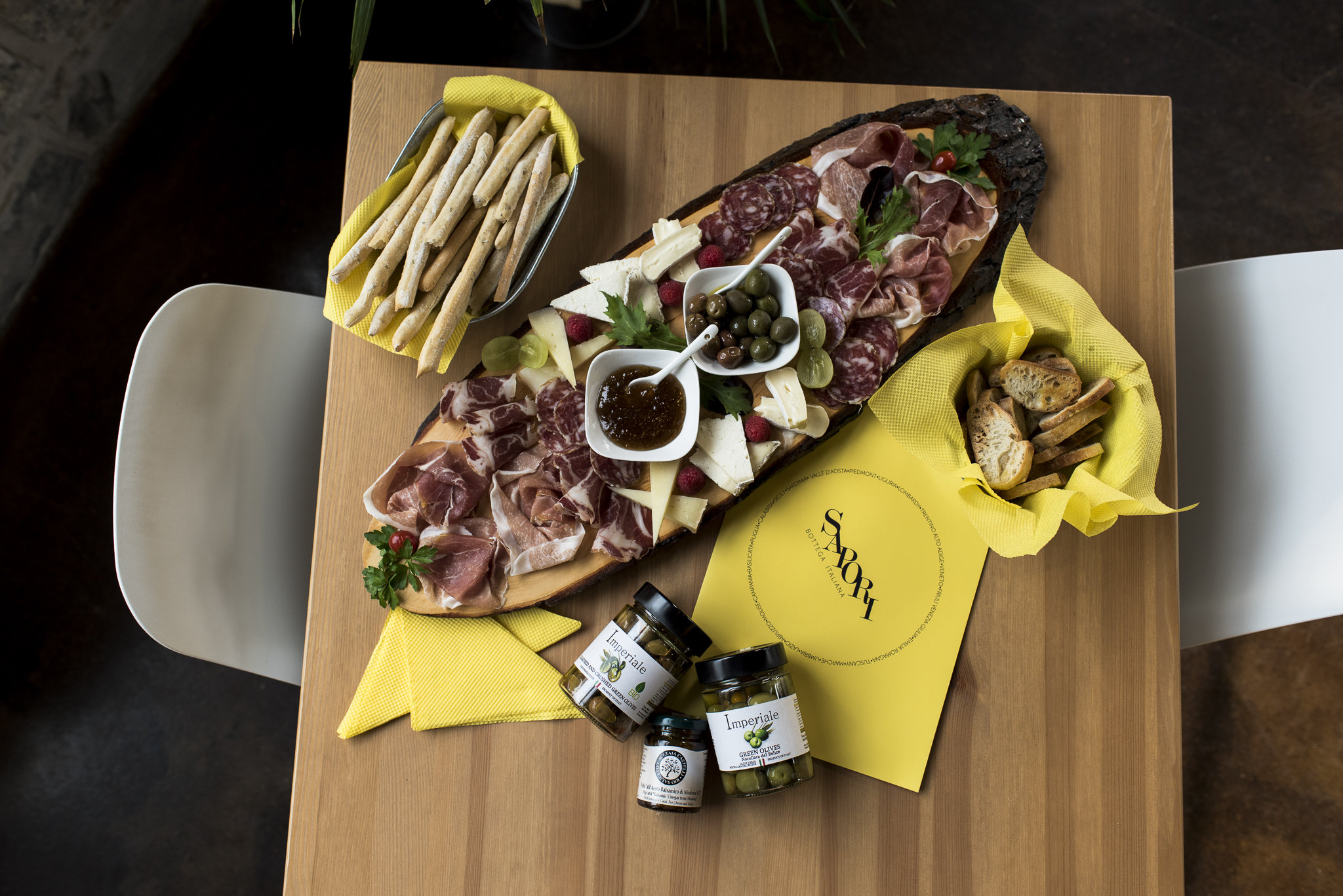 How to create the perfect charcuterie board
Whether you're a seasoned chef or are a novice in the kitchen, creating the perfect charcuterie board is simple if you include a few key items and remember the rule of thumb: it's all about decadence, layering flavors, and hints of interest. A good charcuterie board is anything but boring, so channel your adventurous side and pamper that palate.
Select quality meats that have been curated for the optimum length of time, and include both lean and fattier options to balance the variety of flavors offered on your charcuterie board. Doing so introduces the palate to an assortment of textures, which keeps things flavorful and interesting.
The cheeses you decide on should encompass a wide range of regions, textures and sources. Be sure to include both semi-hard cheeses and their semi-soft counterparts. This is important as it offers a balance of not only flavors, but adds character to your creation.
Additions such as olives, jams, honey or mostarda (a northern Italian condiment similar to chutney) add complexity and excitement to your charcuterie board. The right selections can considerably enhance the flavors of the meats and cheese options overall. Only choose your accompaniments once you have determined what your meat and cheese items will be, that way you can experiment with balancing and complementing flavors.
What Meats to look for:
Flavor: Combine meats that are simple in taste with those that are flavored with herbs and spices.
Age: Some meats such as Padus Salami are cured for 5 months, while others like Prosciutto di Parma are aged for over a year. Offer a variety.
Texture: Balance heavy varieties of meat with lean cured varieties such as Prosciutto or Coppa del Duca.
what cheeses to look for:
Composition: Include everything from hard compact choices such as Percorino Toscano DOP to contrasting semi-soft varieties like Robiola Oro. This allows for pairing with an array of interesting additions, such as fruit, bread and wine.
Source: Sheep's milk and cow's milk offer different textures and hints of flavor, so including at least one of each adds diversity to your spread.
what to look for:
Get creative: this is your chance to get pairing! Accompaniments can include bread and crostini, fruit such as pears or raspberries, as well as a variety of spreads. Jam, and mostarda offset some of the salty meat flavors with sweetness. Both white and red wines can be tasted along side various types of cheese as well, these additions really are your chance to offer something for everyone.
Meat Platter Selections
You may be interested to know that all of the meats included on this particular platter come from Salumifico Pedrazzoli, a truly exceptional Italian supplier. They produce their products the traditional way, maintaining complete control over the entire production chain. These meats are top quality, unique in their production, and are completely traceable. Not to mention, they hail from one of the most renowned suppliers in all of Europe.
padus salami
This salami is aged for 5 months in a humid cellar, and is then stuffed in a natural casing. This is incredibly unique, as most salami contains synthetic casing. Why is it a good choice in your charcuterie board? Simply because of the texture that salami offers. Salami, being a fattier version of meat, balances out the lean assortment of dry cured pork products such as prosciutto and coppa. So if you're including lean meats in your platter, opting for a heavier variety such as salami adds interest and character to your board composition.
coppa del duca
You may also see this type of meat referred to as capicola when you are doing your shopping. Coppa is a great choice when you are selecting your charcuterie meats and gathering ideas because of the flavor it provides. It is similar to the more widely known prosciutto but the difference lies in how they are cured. Coppa, unlike prosciutto, is aged in a mixture of herbs and spices, and therefore complements its counterpart quite nicely.
Prosciutto Di Parma
This particular prosciutto has been aged for 18 months and is from the region that originally produced it: Parma, Italy. Every part of this product is produced in Parma; from sourcing the meat, to aging, to curing. Products such as this one often bear a DOP designation. This simply means that you as the consumer can be sure that all of the ingredients and resources required to produce this specific food are original and authentic to the area.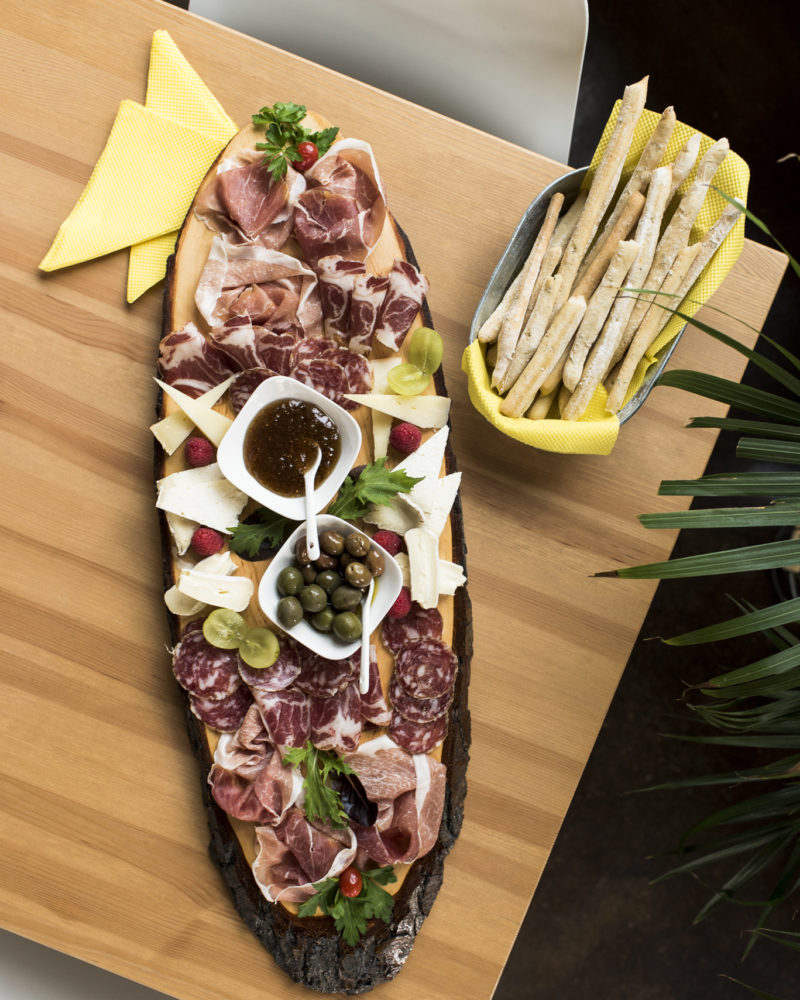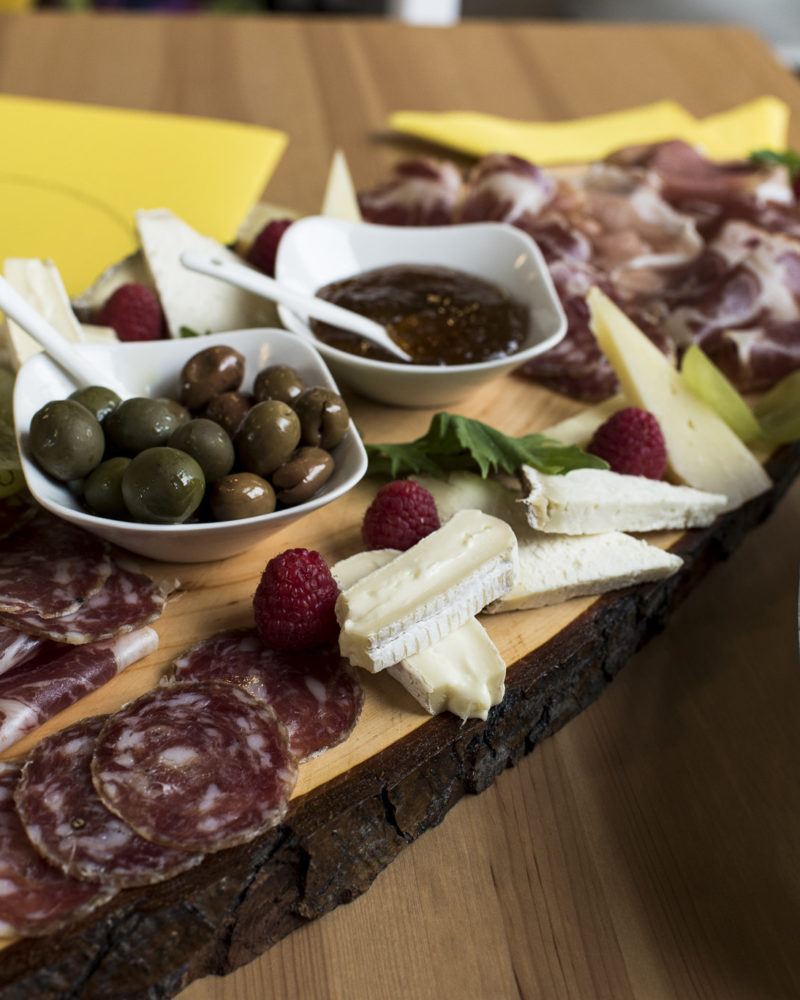 Cheese Platter Selections
Salva Cremasco DOP
Direct from Lombardy, Italy, this semi-hard cheese is made from pasteurized cow's milk and is aged for at least 90 days. During this time, it gains a complexity of flavors, making it compelling choice for your charcuterie board. It pairs especially well with mostardas, an Italian style chutney that can be either sweet or spicy. Alternatively, you can also opt to pair Salva Cremasco with pears and/or white wine.
Robiola Oro Cheese
This cheese is also made from cow's milk in Lombardy, Italy. However, it is a semi-soft cheese with a mild flavor. The cows who produce Robiola feed exclusively on hay, which generates a unique quality. The rind becomes flavorful and yeast-like in taste, so you can encourage your guests to eat every last bite! Serve this cheese with some fresh fruit for the full effect.
Percorino Toscano DOP
Percorino is produced in Tuscany from pasteurized sheep's milk. It is a hardier variety of cheese, which acts as a counterbalance to the other selections. After aging for a minimum of 60 days, it develops a compact texture and sweet flavor, with notes of sheep's milk. Pair this choice of cheese with an assortment of mostardas, Tuscan breads, and red wine.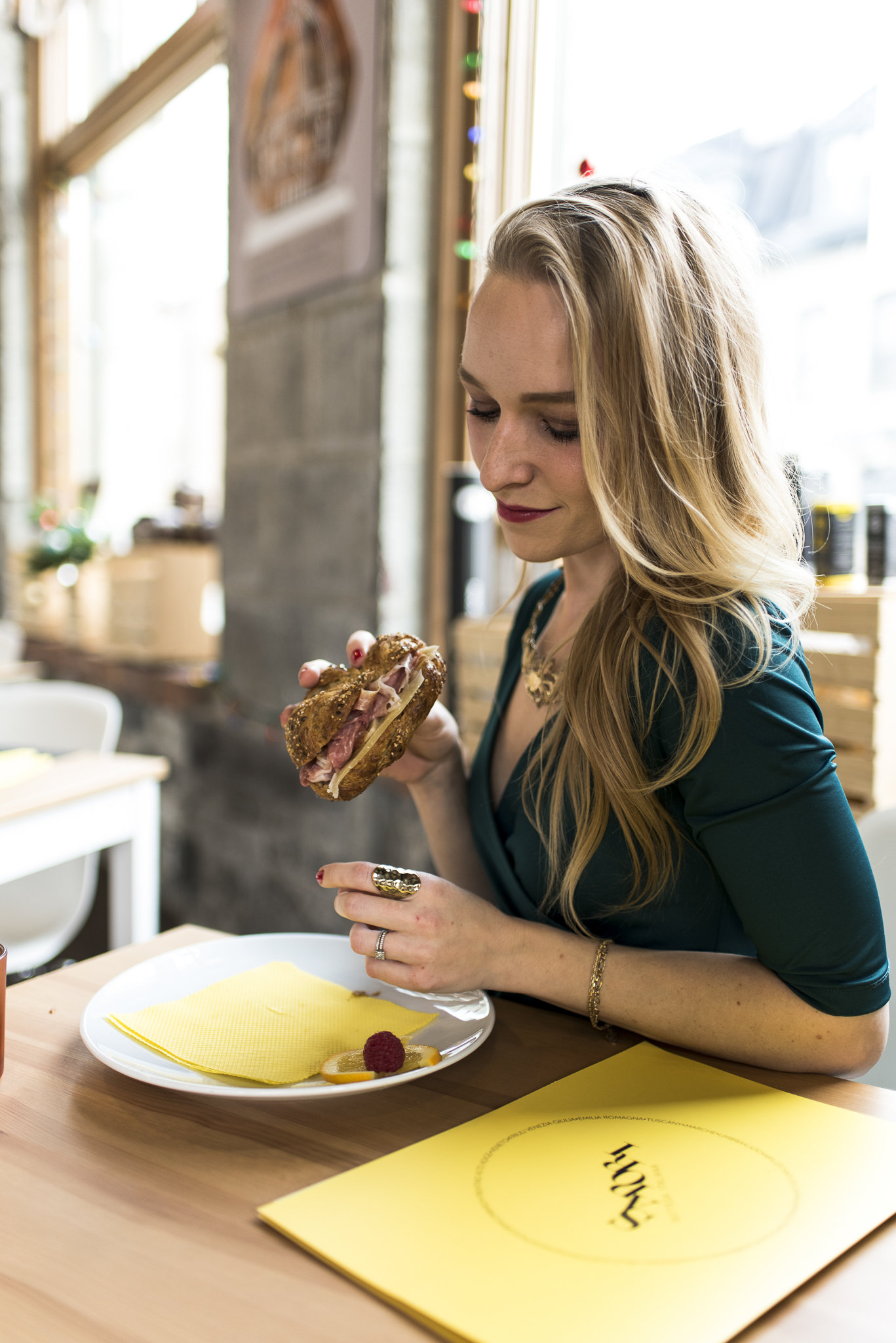 A chance to win three amazing prizes, with a total value of almost $300 –
CONTEST NOW CLOSED!
To get you stared on your charcuterie board and gourmet Italian food adventure, I'm excited to be giving away three different prizes from Sapori Bottega Italiana. Entering is easy as enjoying an authentic Italian charcuterie spread.
Check out the details below to find out what you can win, and head on over to Instagram and/or Facebook to enter.
Three Different Prizes to be Won
Sapori Bottega Italiana has graciously offered to make this festive season just that much more special for you all by offering three amazing prizes to STRUCKBLOG readers:
First Prize
The grand prize includes a stacked Michelangelo charcuterie board, as seen in photos throughout this post and prepared by the experts at Sapori Bottega Italiana, and the board itself! Your prize can be picked up in store, or delivered straight to your home (local addresses only). Although this charcuterie arrangement is always available at Sapori, the boards are usually only available by deposit. This is your only chance to not only enjoy the delicious delights just in time for the holidays or New Years Eve, you are also welcome to keep the Italian-made and imported charcuterie board! I predict parties in your future…
Perfect for 4 or more, a $180 value.
Second Prize
The second prize winner will enjoy a gift box complete with exclusive private label Sapori products. The package includes linguine pasta, 3 varieties of tomato sauce, a 750ml bottle of extra virgin olive oil, as well as a 350gr jar of premium olives.
A $50 value.
Third Prize
The third prize winner is welcome to come into Sapori Bottega Italiana to enjoy breakfast or lunch for two. Offer applies to any fresh and ready-made food available on the menu.
A value of $25 per person ($50 total). Available only to local readers, or those willing to travel of course!
enter below!
(and feel free to enter on BOTH Instagram and Facebook to increase your chances of winning).
So, if you want to devour your charcuterie board entirely on your own, that's your prerogative, but I wouldn't recommended it. They are after all meant to be shared, just like this contest! The more friends and family you bring into the loop, the better your chances are of tagging along for some Italian treats, right?!
Now the only decision left to make is, delivery or pick up?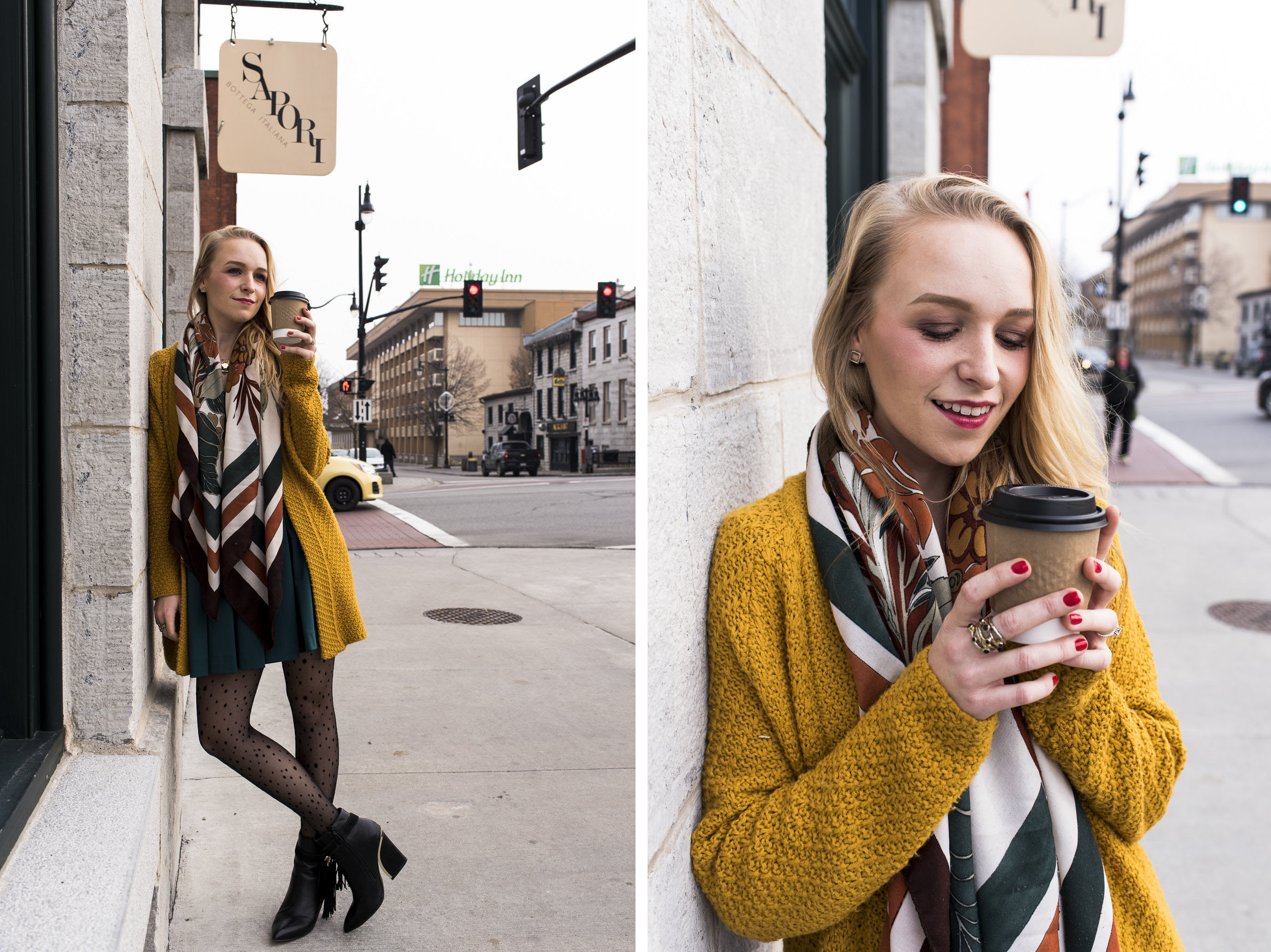 I hope you have an absolutely wonderful holiday season, and take the opportunity to slow down, relax and reconnect. It's easy to get caught up in the chaos of this time of year, but as you satisfy that stomach take a moment to take it all in and relish in the festive moment. Italians are known to recite poetry and sing songs as they celebrate this time of year, so channel your inner Italian and enjoy to the fullest. Hey, with food this good, I'll be singing too!
Lots of love to you and yours. This Christmas, I hope your heart is as full as your stomach.
Anna
Shop the post
Disclosure: This post was sponsored in collaboration with Sapori Bottega Italiana. Photography by Red Lemon Art & Photography. Shop The Post features contain affiliate links. All opinions and comments are my own.
Contest organized by STRUCKBLOG and open to those in Kingston, Canada, or those willing to travel to enjoy their winnings. Prizes kindly provided by Sapori Bottega Italiana. Participants are welcome to enter on both Instagram and Facebook. Winner chosen by random generator, no affiliation with STRUCKBLOG or the STRUCKBLOG brand. CONTEST NOW CLOSED.
Want to see your brand/business reviewed on STRUCKBLOG? Contact me for a copy of a Media Kit.