Photos by the incredible Ashlee of Red Lemon Art & Photography. Spectacular make up by Erin of Pro Make Up Coach and special thanks to fellow model, Laura of YGK Studios. Thank you ladies for dedicating your time and talent to bring my vision for this project to life.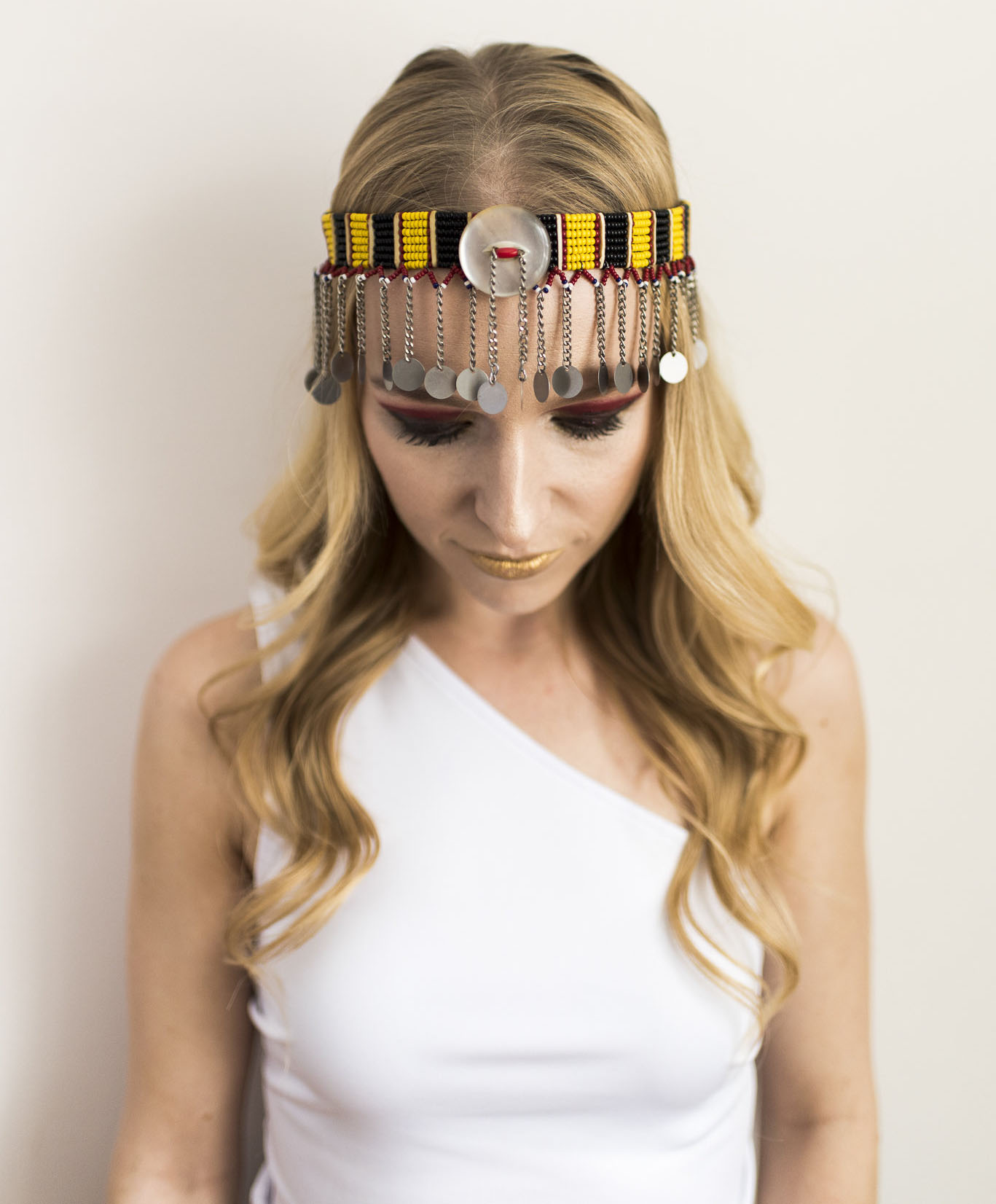 As some of you may be aware, by formal training I am an educator. I've worked in education in a variety of capacities and have dedicated much of my schooling and experience to the field. Why? Well, my educational journey has provided me with knowledge, skills and many priceless opportunities that I otherwise wouldn't have had if not for all those hours in school. Most significantly, I've witnessed the immense power of education first hand. I've worked with underprivileged children and youth, vulnerable individuals, and those presently living in poverty. Through these experiences, I've come to understand that education is the key to everything: positive change, growth, and overall improvement. It is the antidote to ignorance, it opens doors, minds and creates new pathways. One of the people actively creating these pathways is Nancy Stevens, the founder and director of operations for Kenya Help. She started the charity with a mission: to enhance educational opportunities for children and communities in Kenya through sustainable means.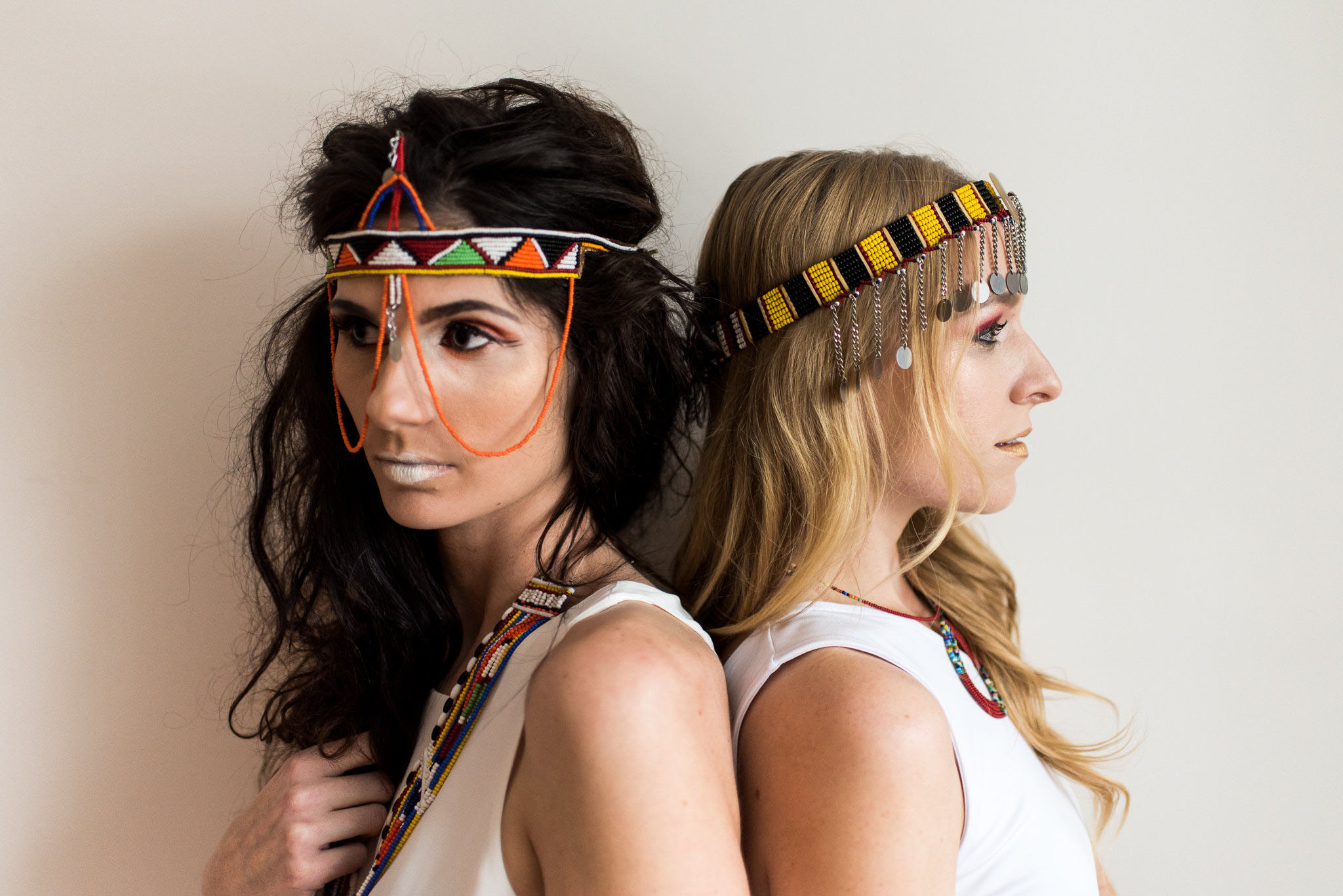 A short time ago, I had the pleasure of meeting Nancy over coffee and after chatting, it was clear to me that we had a lot in common. She shares my passion for education and through her charity work, has brought opportunities for learning to a community in desperate need. This year, Kenya Help is celebrating their 10-year anniversary (and if you know anything about running a charity, you know that's a feat). To mark the occasion, Nancy is doing what she does best: giving. So, to celebrate her work, the charity, and the children and families she has dedicated her life to, I wanted to showcase Kenyan culture and beauty, with the help of some truly amazing local women who came together to create this shoot. Within a week, Ashlee the photographer, Erin the make up artist and my lovely model friend Laura jumped right in to dedicate their time and talent towards this project, and I am so grateful! It is my sincere hope that by reading Nancy's stories from Kenya and learning more about some of these jewelry pieces, that you too are inspired to give what you can.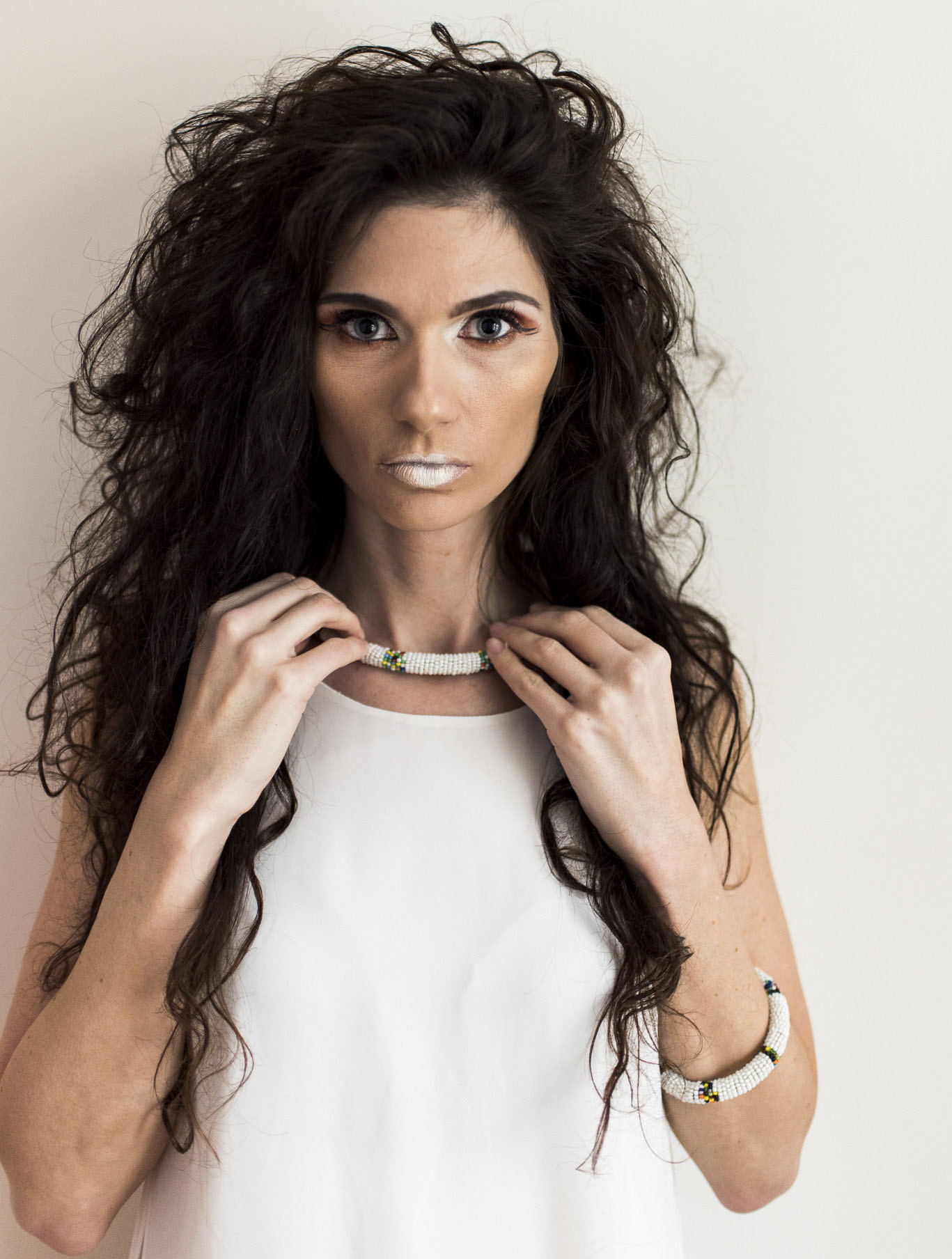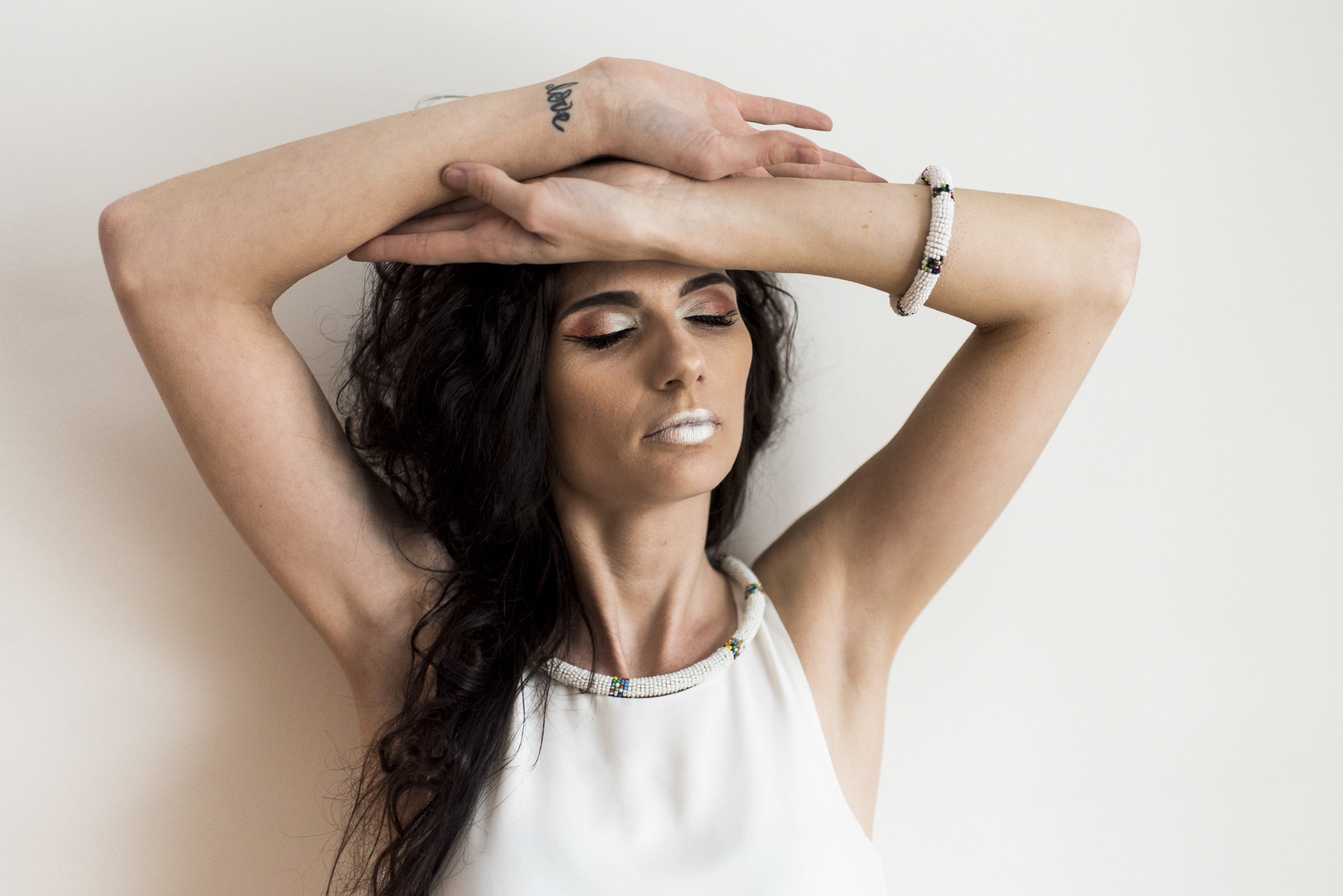 About Kenya Help
Years ago, while still a student, I traveled to Romania with Habitat for Humanity to do some volunteer work in a small village outside of Bucharest. Nancy and I have this in common as she too worked with Habitat, but in Kenya back in 2005. You could say this was the initial spark that lit the desire within her to do more work in Kenya. So, a few years later Nancy borrowed the funds needed to fulfill her life-long dream of starting her own charity. After ten years, she has created much more than a charitable organization, she has fostered and nurtured a Kenyan community. When Nancy speaks of the people in Kenya, she uses endearing terms such as "mama". She has practically adopted local children, watched them grow up, and supported them as they go on to post-secondary educational institutes (read on to hear more of that story). Nancy has built a second home in Kenya, but together as an organization Kenya Help has worked tirelessly to build a lot more than that.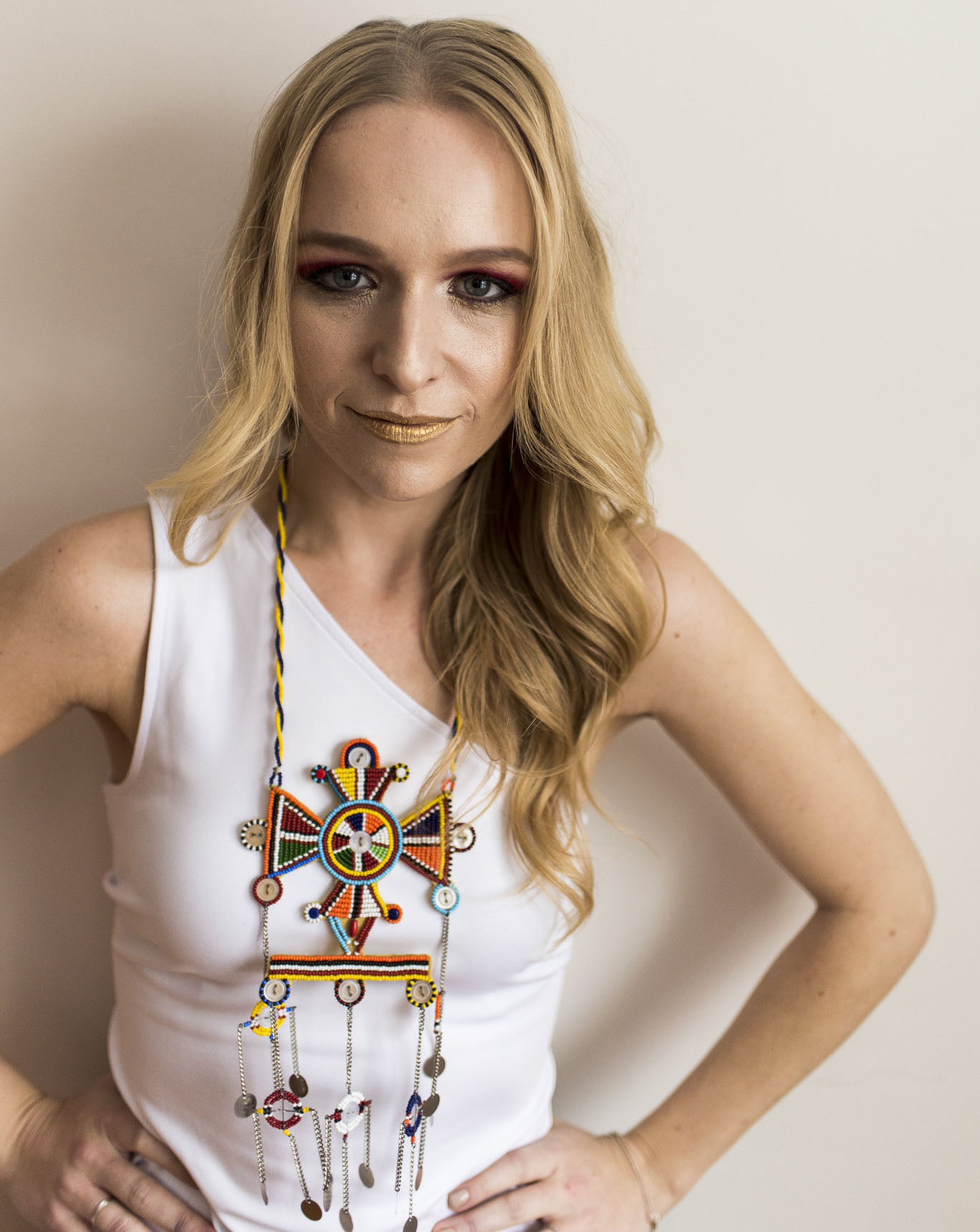 Kenya Help works to make positive change for the children in Kenya, specifically in Ngong. She started by building one orphanage, which turned into building many. Over the years the organization has constructed full classrooms, schools, learning hubs, and even empowerment centres for women. Currently, they are constructing the Global Hope Rescue and Rehabilitation Centre as a space for the boys, in hopes that they can save some of them from the streets of Kenya. Seventy boys are already receiving protection, food and shelter that they otherwise wouldn't have access to (be sure to view the video links at the conclusion of this post to see some of them). Kenya Help also strives to build capacity and sustainability into their projects. Along with constructing the buildings themselves, they install everything from water tanks, to solar panels. They even ensure the kids have what they need to learn, such as pencils, desks and chalkboards. Overall, they work to build leadership in future generations, to help these communities become self-sustainable, courageous, and most impactfully, to lift them out of poverty. I could go on about it for days, but if you'd like to learn more from Nancy herself, I encourage you to check out this recent interview, as well as the Kenya Help website, where you'll find lots of photos, biographies, and a captivating documentary which chronicles the work that they do.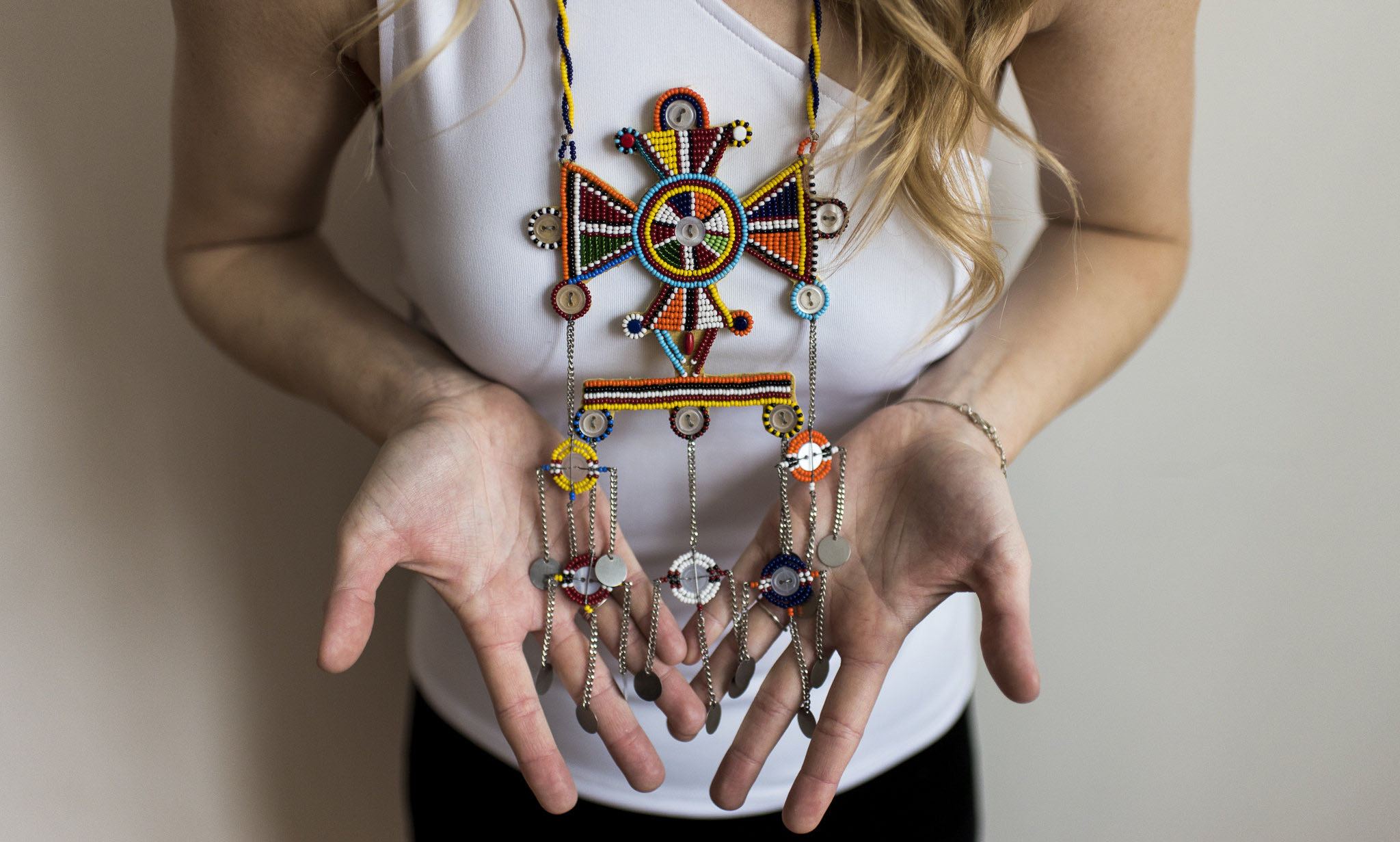 Celebrating Kenyan Culture: The Essence of the Beads
I love learning about culture, and if I can learn through my love of fashion and all things beautiful, bonus, right!? The headpieces and jewelry you see throughout this post are entirely one-of-a-kind, handmade pieces gifted to Nancy as symbols of gratitude for her efforts. I sat down with her to hear her stories about the pieces, and to learn more about their significance. Every colour and bead has monumental meaning. These aren't just accessories; these pieces are intricate representations of self-identity.
This beaded jewelry symbolically captures a person's entity and spirit. They are traditionally created by Maasai women, who are revered for their craft. It is their responsibility to adorn both men and women in the tribe with these pieces, which are indicative of a person's age and generation, marital status, and even denote whether a mother has given birth to a boy or a girl. If you think about it, in Western culture we also use jewelry as a means of representing ourselves and our status. For example, it's not much different than wearing an engagement and/or wedding band to signify and celebrate marriage. Maasai communities similarly celebrate milestones, except they use beautiful beads to represent their world.
The Story of the Orange Beaded Headpiece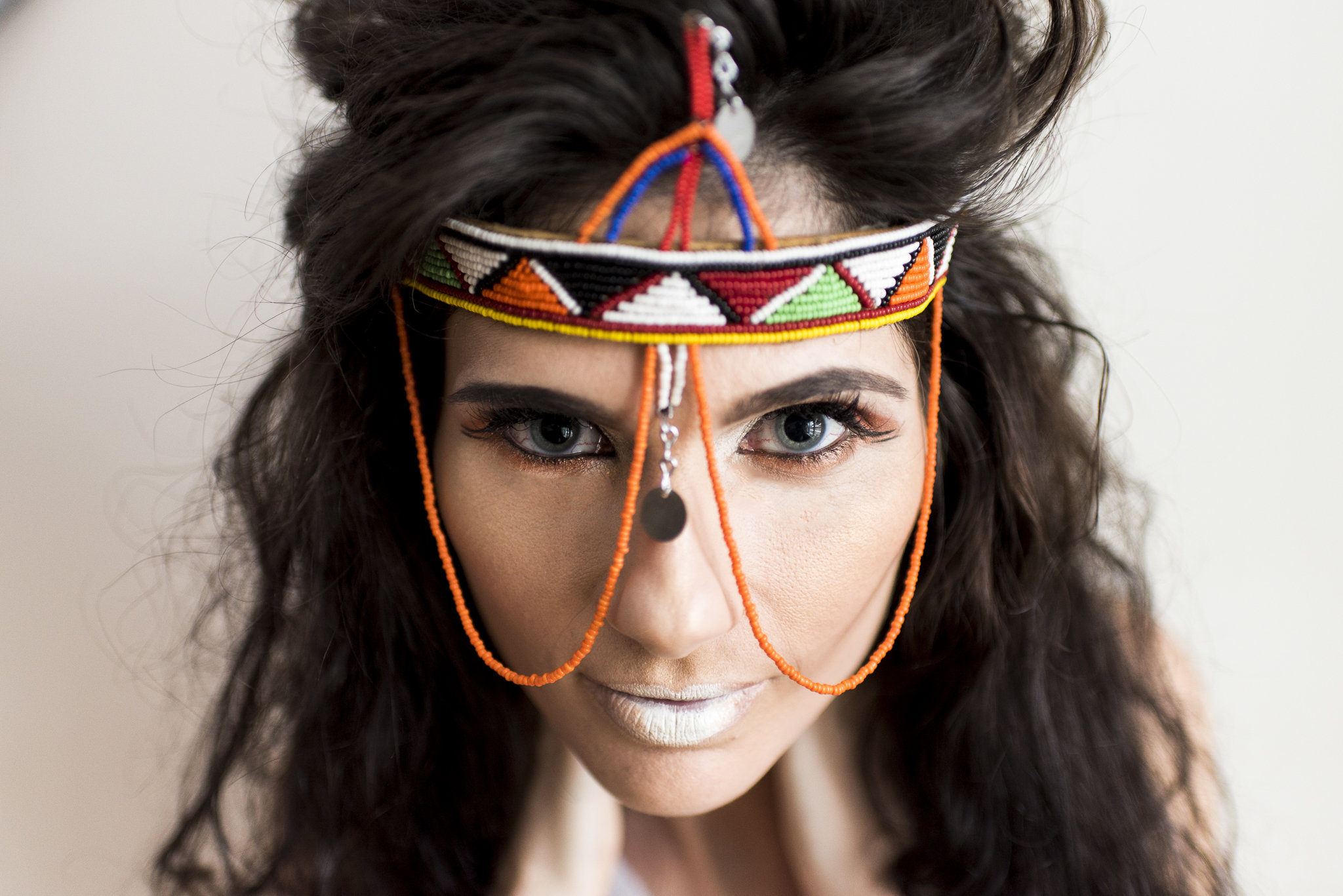 One day, Nancy witnessed a group of school children learning the ABC's and 123's while sitting in the grass under the tree. As she observed this, she was inspired to construct a proper learning environment for these students. She decided to open a school in the Rift Valley, and as the school finally celebrated its opening, she was adorned with this headpiece during the opening ceremony. While styling these accessories, it was fascinating to examine the craftsmanship and fine details of these handmade pieces. My favourite part about this particular treasure is the exposed cow-hide material, visible on the interior of the headpiece. As cattle is very important to the Massai people and sustains their way of life, they have a deep-rooted connection with them.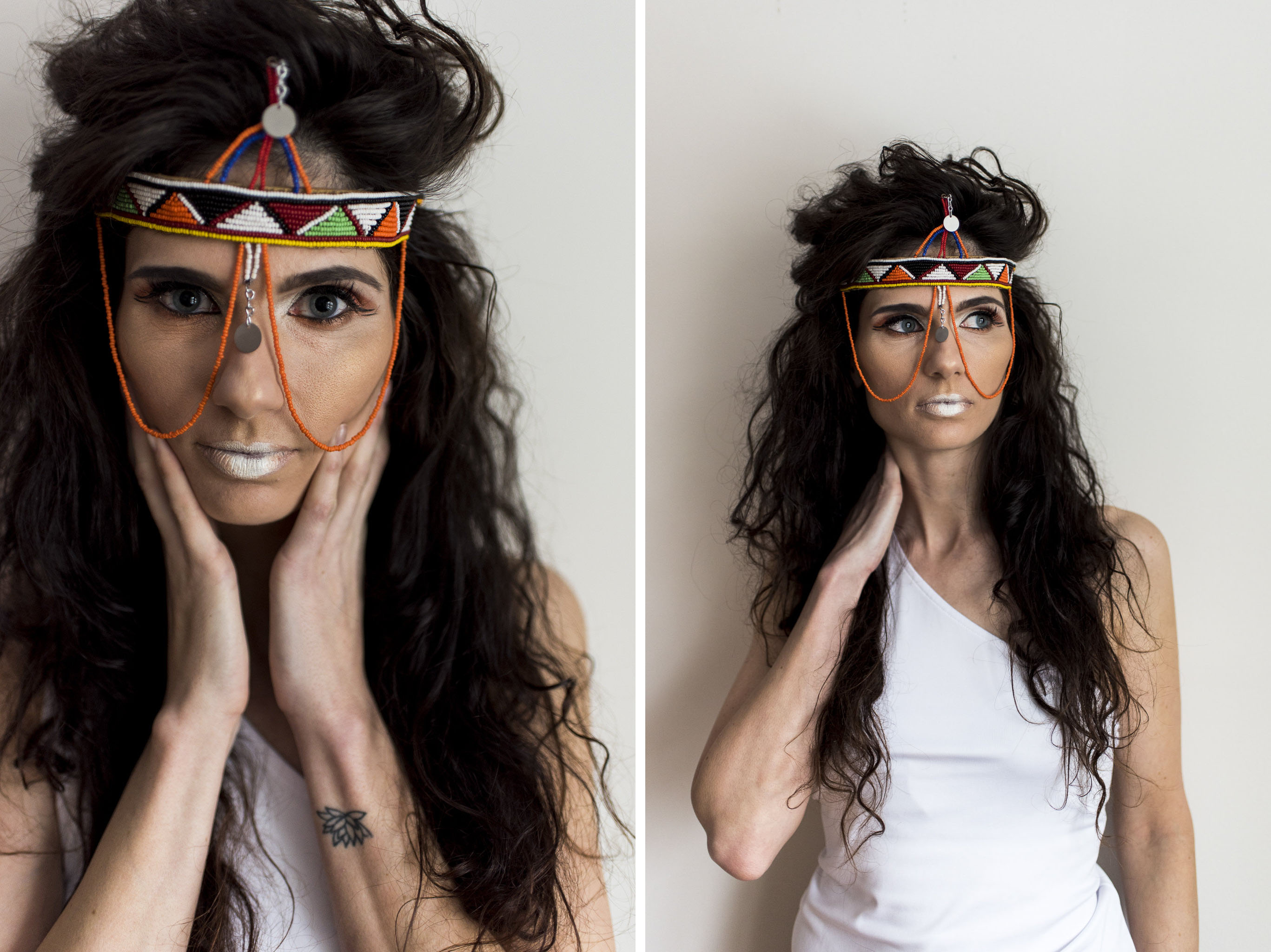 The Story of the Striped Headpiece
After working to bring the Women's Empowerment Centre to fruition, the women in the community gathered to clothe and dress Nancy during the opening ceremonies. They placed this piece upon her head, and brought her to the front of the line to lead the traditional dance. It is a great honour to be asked to be in the front of the line, so although Nancy wasn't sure exactly how she should dance, or where she should lead the group, she quickly realized that it didn't matter! What mattered in that moment was the love and energy shared by everyone present, represented right there upon her head. The yellow in this headpiece speaks to the collective energy of the group, while the black beads symbolize the people who endure struggles but come together as a tribe to overcome them.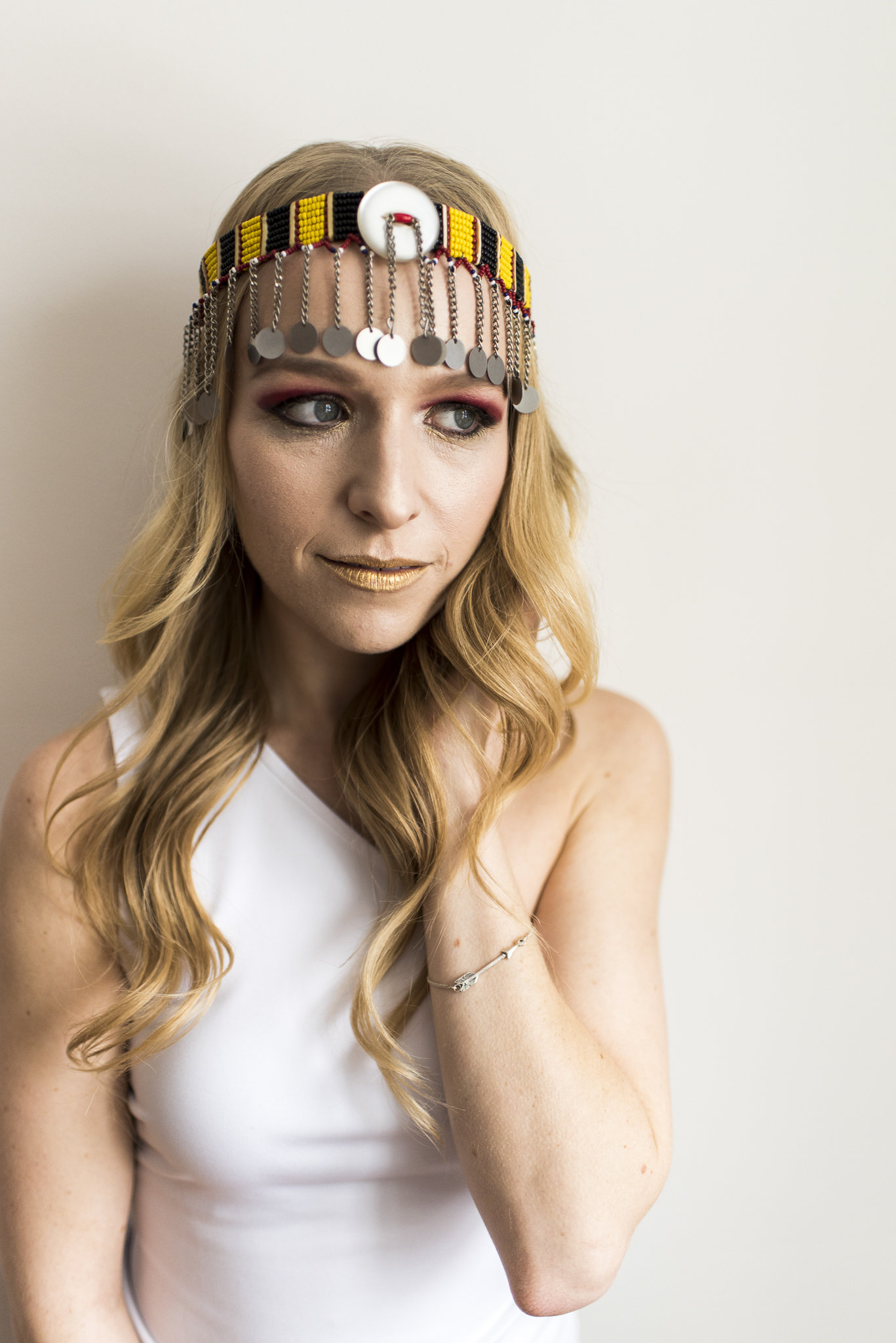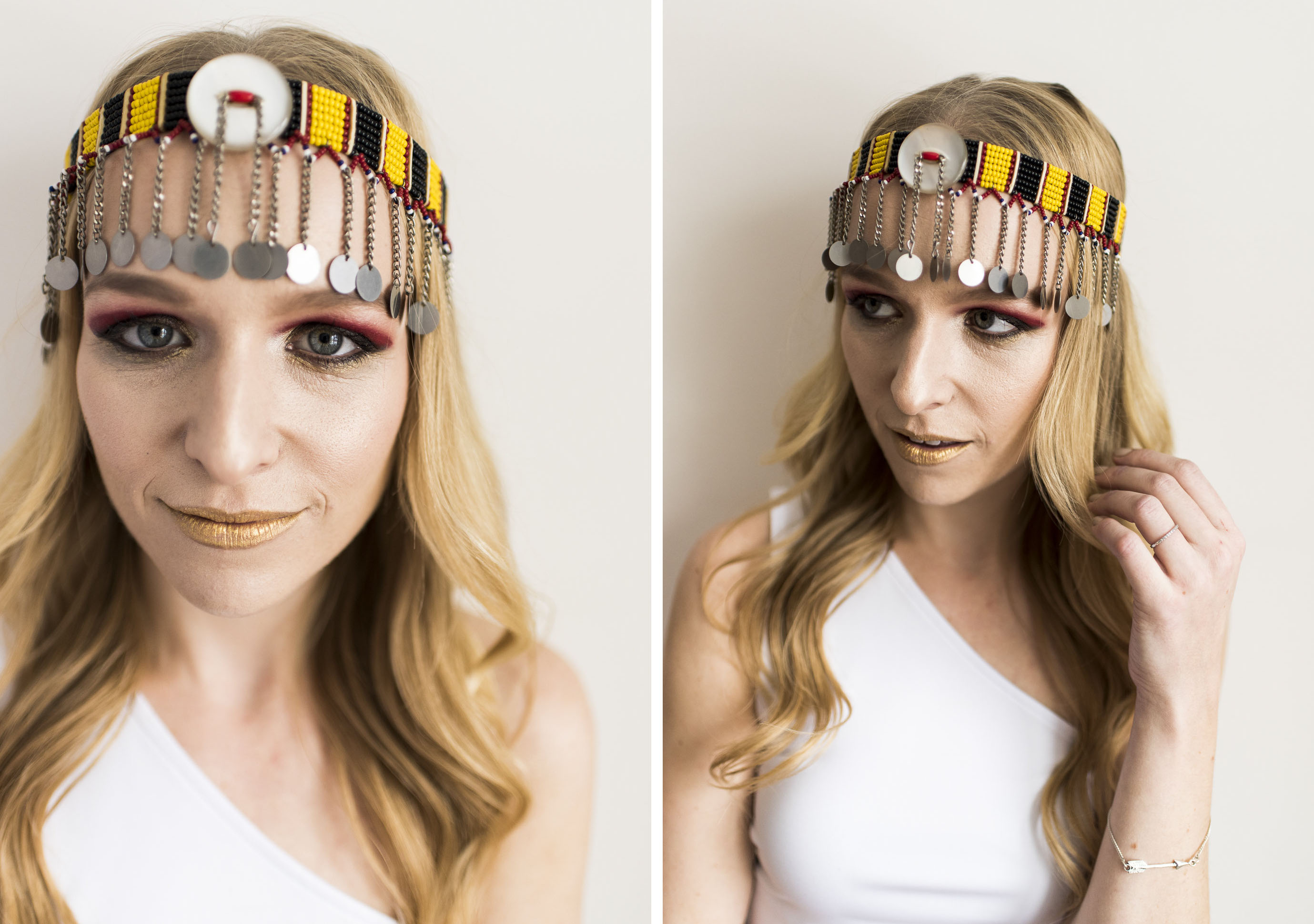 The Story of the Colourful Layered Necklace
One day "mama" found a young girl who has been brutally attacked at the side of the road. She took the girl in, took care of her, and soon afterwards they discovered that the girl had become pregnant. Due to the trauma and post-traumatic stress endured by the girl as a result of the attack, it was decided that an all-girls school would be most fitting for her. In order for the young girl to complete her education, mama took on the care of the baby and together with Nancy, they supported the girl throughout her schooling. Upon graduating from high school, the girl gifted Nancy with this piece. She spent countless hours personally crafting it, ensuring that it included every colour of significance to the Massai people. This young girl is now a young woman, and working to complete her university education!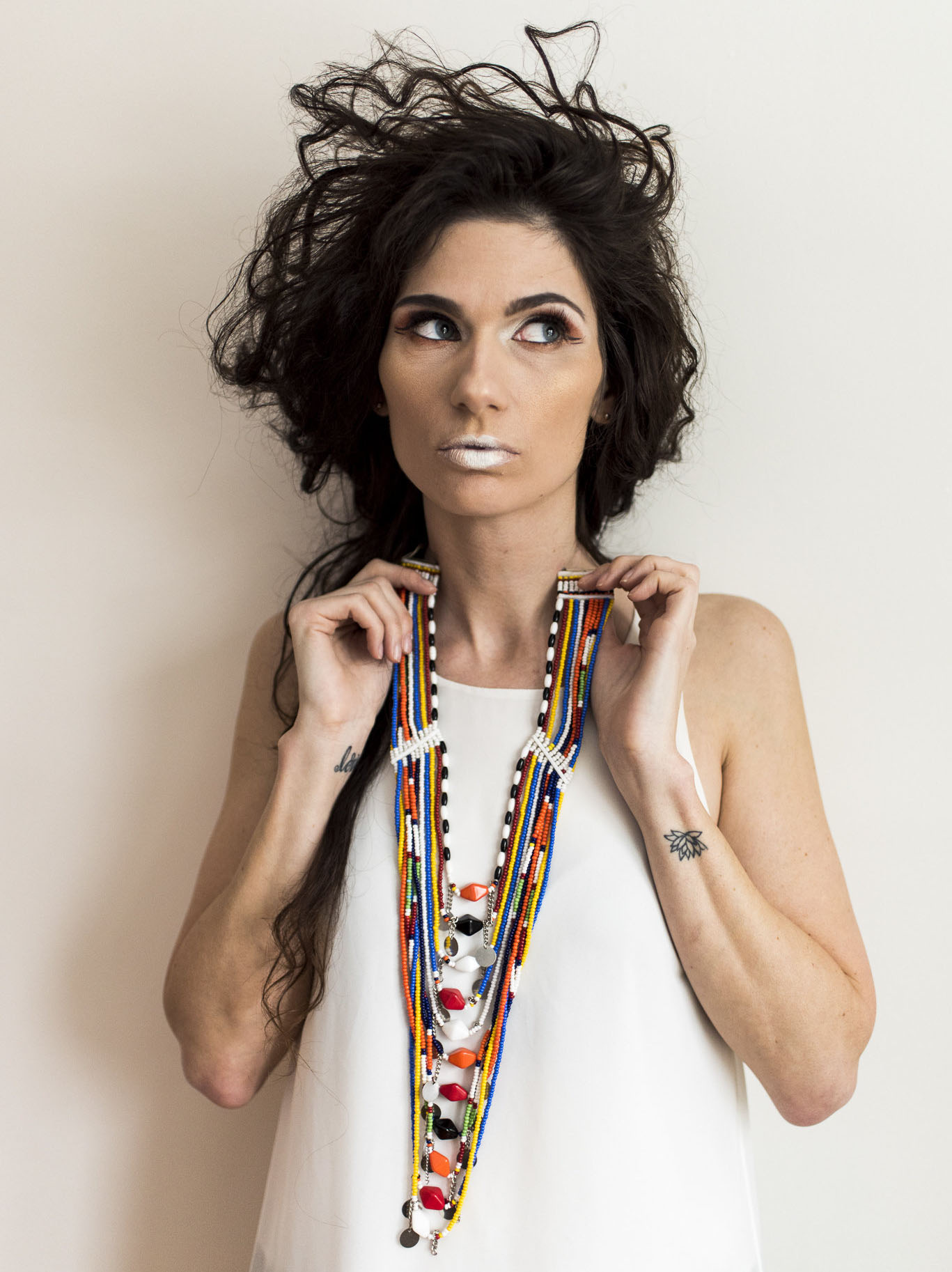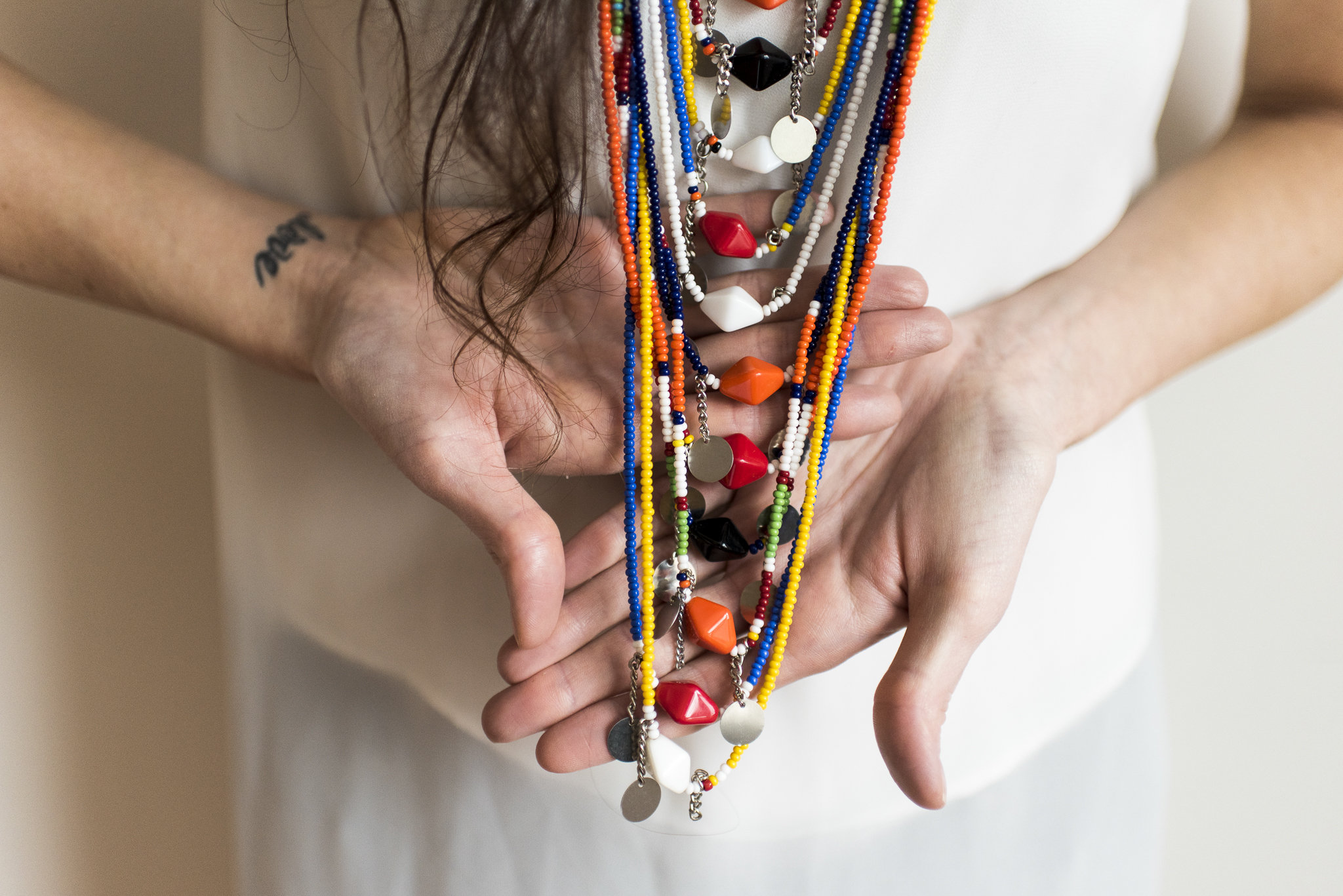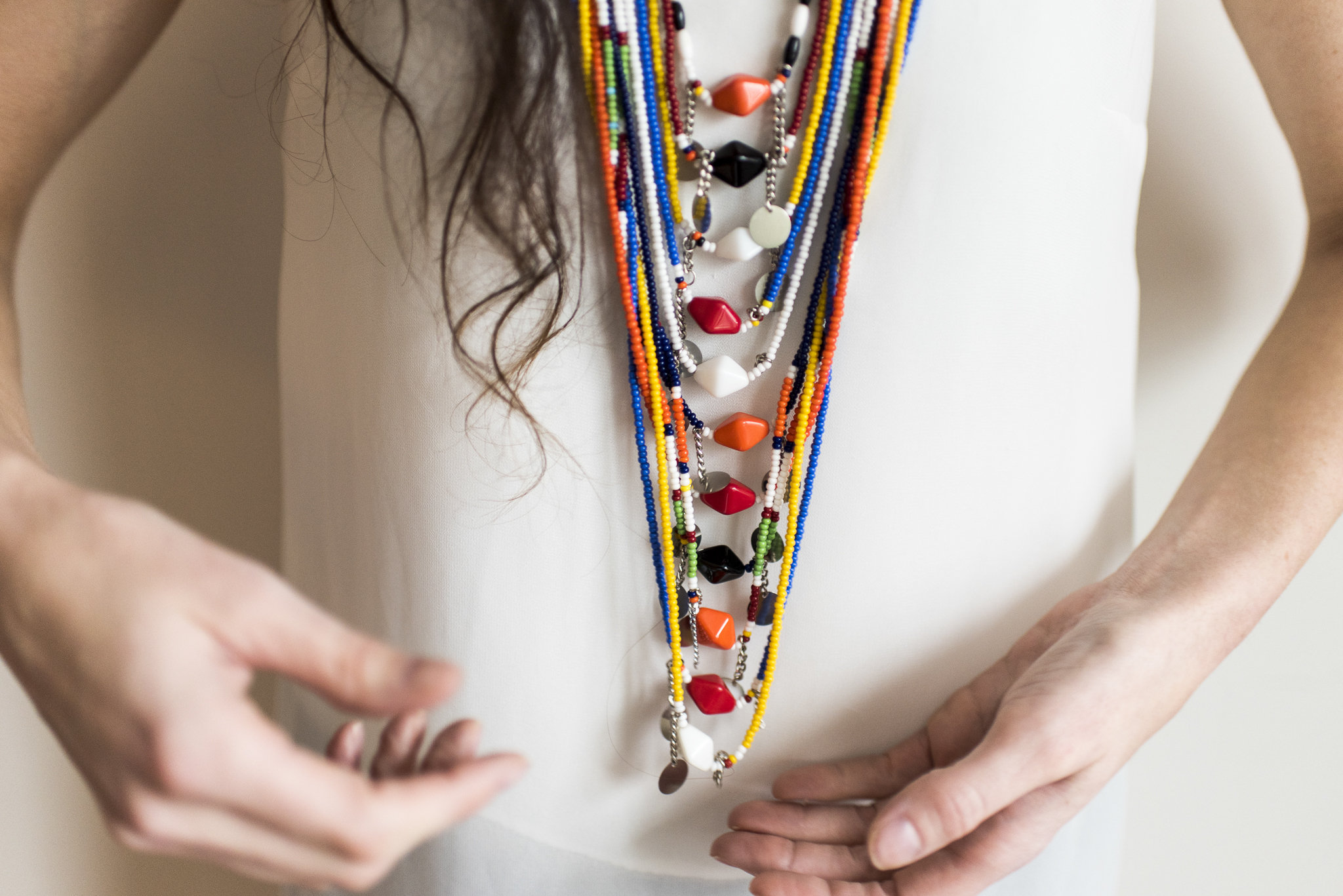 The Story of the Colourful Cuff Bracelet
While walking through the slums of Kenya, Nancy noticed a young girl who appeared to be taking care of her entire family as they gathered water from the ditch. She was struck by their poor living conditions, and how difficult it must be for a girl her age to carry such an enormous amount of responsibility. So, Nancy decided to give her enough money to purchase food for a month. As a sign of her gratitude, the girl gave Nancy this bracelet to remember her by. Now, you're probably wondering how much money feeds a family of 4 for a month in Kenya, well it's only $25. As for clean drinking water, a whopping $40 can fill a 5000 liter water tank. A little goes a very long way!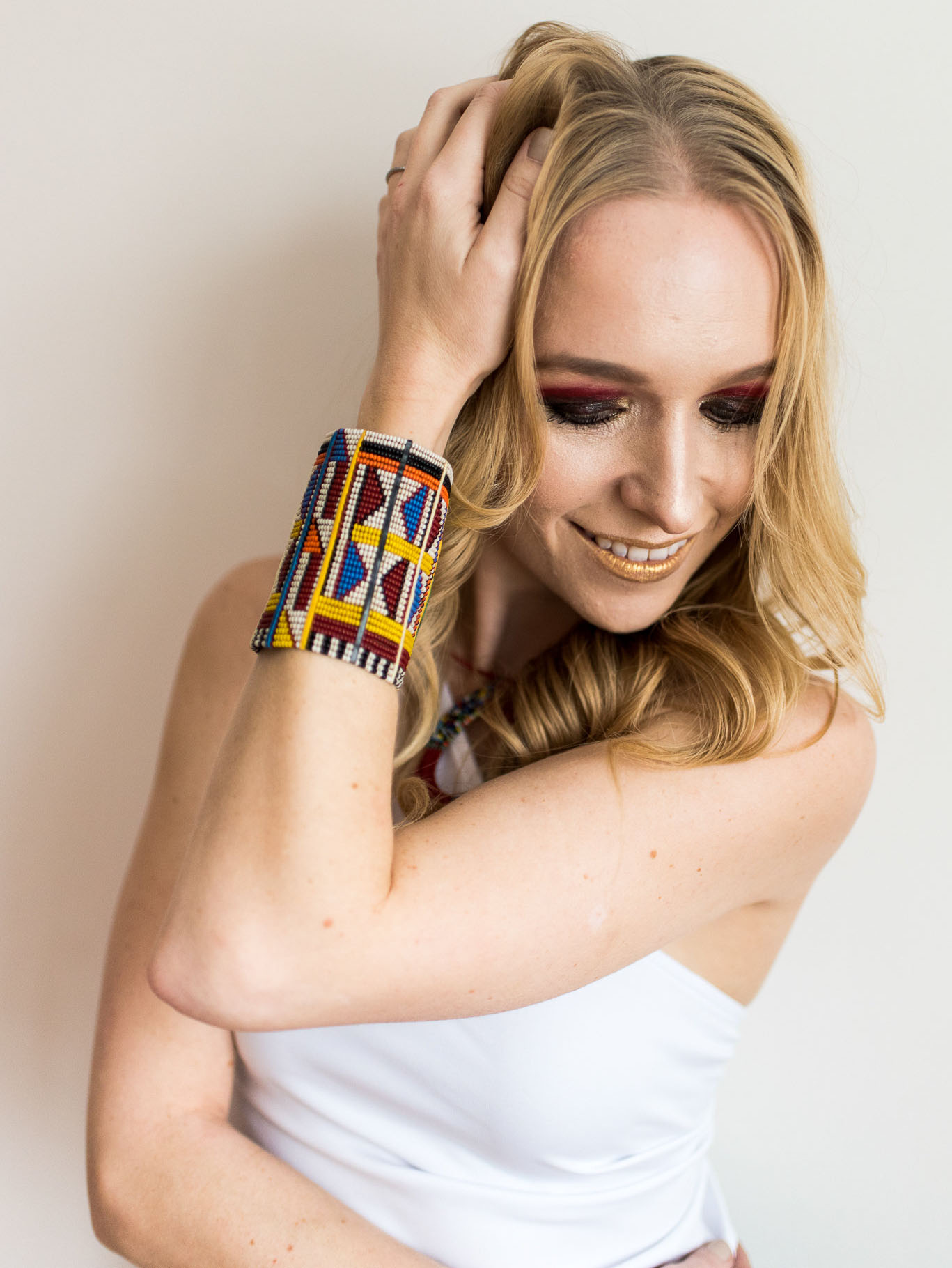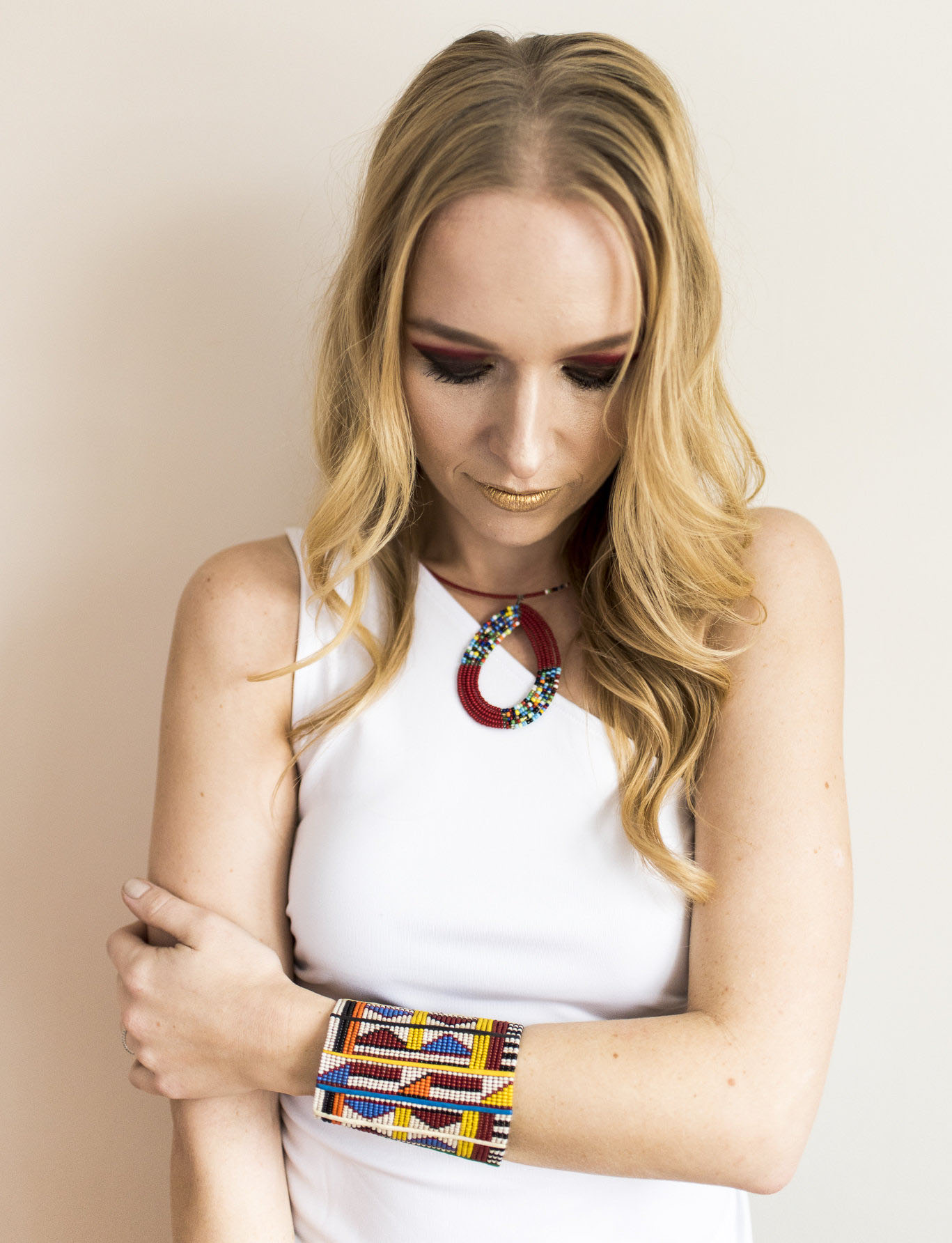 What Can YOU do to help?
Over the last month or so, Nancy has been posting stories, photos and videos on her social accounts in an effort to raise awareness and promote #28daysofgiving. Tuesday November 28th is Giving Tuesday and as such, Nancy has been collecting donations in hope that Kenya Help has a healthy lump sum in anticipation of her next trip. However, the need doesn't stop there. You can donate at any time and know that every single penny goes towards Kenya Help. How can you contribute? Oh let me count the ways…
01.
You can donate whatever monetary contribution you can to Kenya Help by clicking donate on their website, or by going here: The CanAssist African Relief Trust. Please be sure that Kenya Help – Global Boys Rescue is selected from the drop down. The form will request your tax receipt information to ensure that you receive one as well.
02.
If you're local (Kingston, Canada) you can donate the following items in the front of the Kenya Help office, located at 79 Pine Street:
♥ Blue Plastic Tarps: can be found at the dollar store, but serve as an important part of the roof for homes in Kenya to keep the rain out.
♥ Band Aids: are always needed during construction!
♥ Socks: there are never enough socks, and it can get rather chilly in the morning and evening in Kenya. As all my fellow Canadians know, when your feet are warm, it makes all the difference.
03.
Help spread the word!
Let's do everything we can to share this important work and encourage donations! Share the love for Kenya Help on social media: find them on Instagram @kenyahelp and/or share this post using the share icons at the end of this post.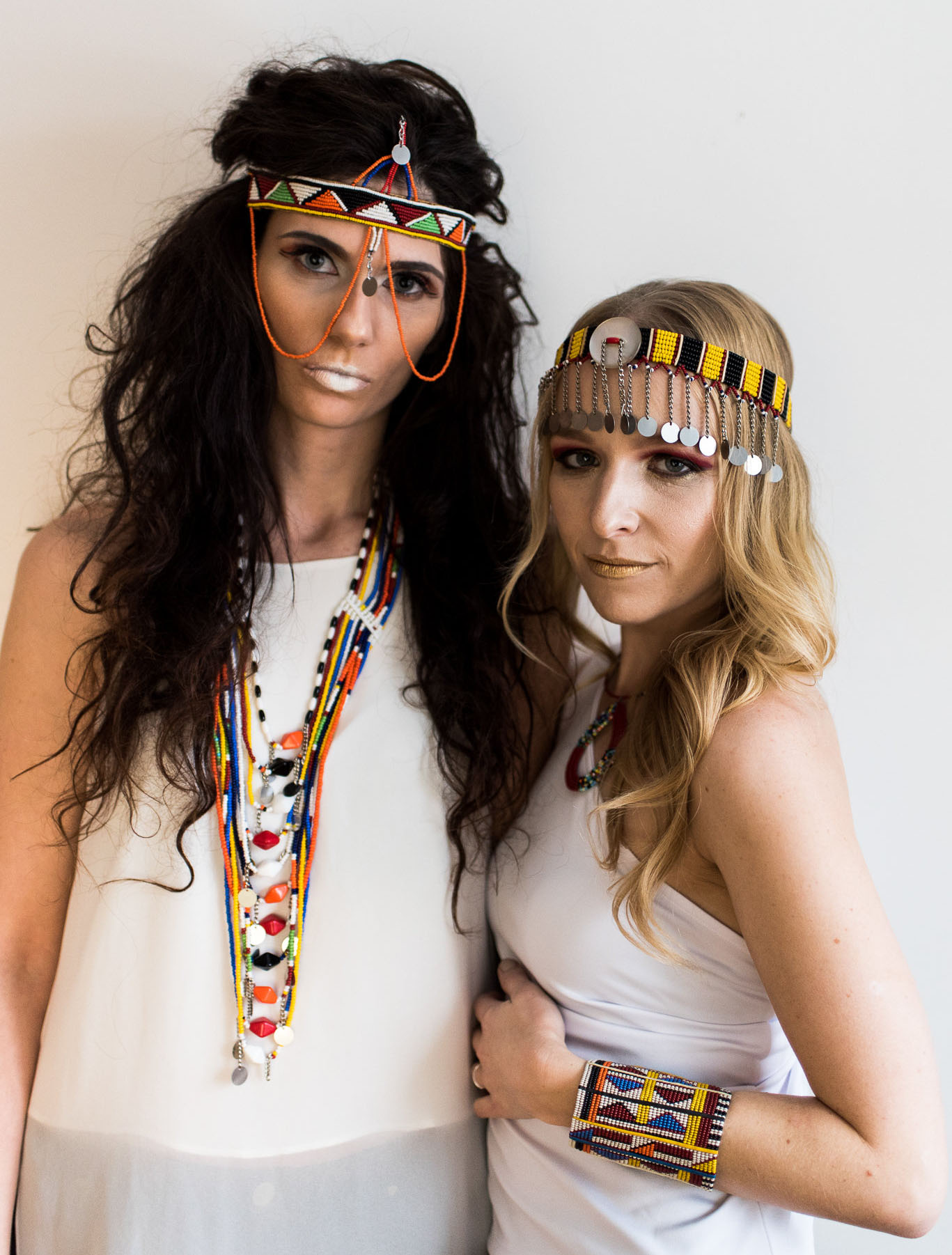 A Few Links…
In researching and learning more about this project, I came across a few favourite videos that truly touched my heart. I couldn't resist sharing some of the links with you.
Check out this video for an overload of pure love & one catchy tune! Singing and dancing here are some of the boys currently assisted by Kenya Help. Warning, tears of joy are quite possible: Kenya Help Boys.
Watch the day-to-day work of Kenya Help including the thoughts of Evan, one of the volunteers as he visited the sites: Hope Video.
See ya on social! Be sure to tune in across @STRUCKBLOG social channels for more content throughout the week.
Disclosure: Thank you to Nancy for lending her beaded treasures to be featured in this post and for the opportunity to speak about your extraordinary work. Photography by Red Lemon Art & Photography. Make up by Pro Make Up Coach. Thank you as well to Laura Kaminer of YGK Studios for your modeling work! All opinions, and comments are my own.
Anna