I won't lie to you. These are by no means healthy, but oh my goodness are they ever delicious!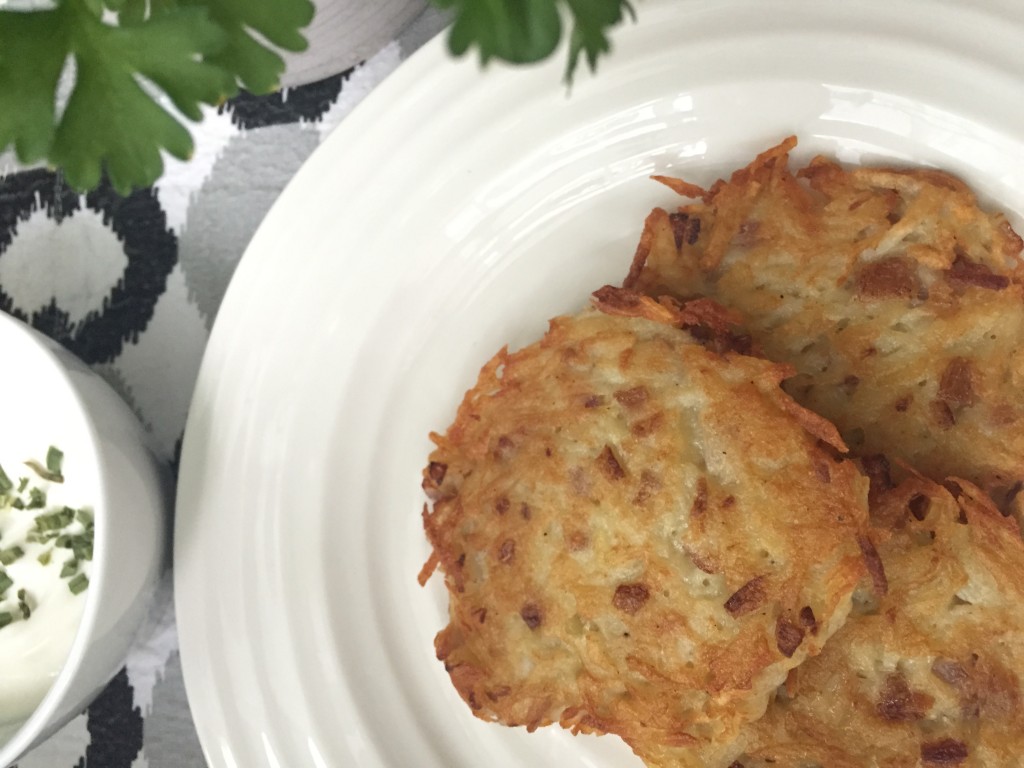 There are lots of great things about being Polish (learn more About Anna if you like), but food has got to be up there on the list (my husband may have married me just for perogies). These potato pancakes were always a hit at my house and are an old family recipe. The best part is, you hardly need any ingredients! So they're great when you don't have much food, or creative energy.
Here's What:
– 3 medium to large potatoes
– 1/2 cup flour
– 1 egg
– 1/2 an onion
– olive oil/oil for frying
– salt and pepper to taste
– sour cream and chives on the side
(see, I wasn't kidding, you don't need a whole lot, and you can use whatever potatoes and onion you have lying around the house already).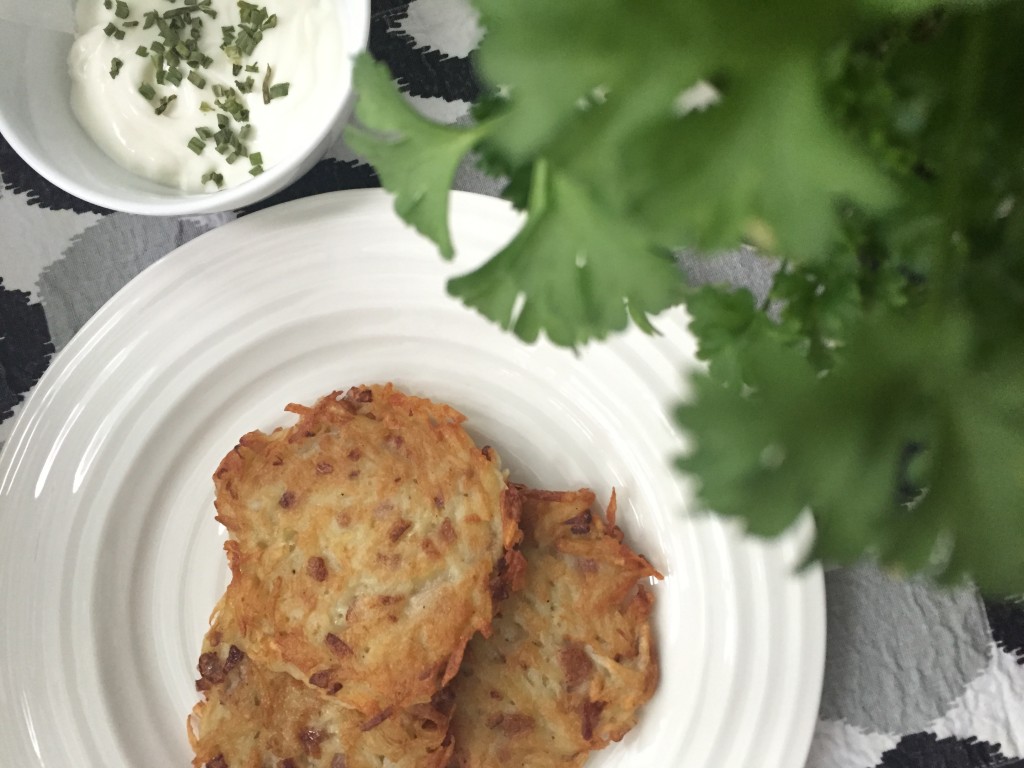 Here's How:
1. Peel your potatoes. I like to do at least 3 so that I have some leftovers. If I'm already peeling potatoes, I might as well make more than enough.
2. Grate your potatoes. If your arm gets tired, have whoever is eating these with you help make them! My husband comes in handy for this.
3. Chop 1/2 an onion finely, as it will be mixed in with the potatoes.
4. Add your grated potato and chopped onion to a large bowl.
5. Add 1 egg
6. Sprinkle in 1/2 cup of flour. I like to add it little by little, coating the mixture with flour as I go. You want your potato and onion mixture to become thicker and stickier so it creates a nice pancake shape when you're frying.
7. Mix in salt & pepper to taste. You've got a nice consistency if your potato-onion mixture is thick and sticky so it doesn't fall apart on the frying pan.
8. Heat a skillet with olive oil or whatever oil you like. Don't skimp on the oil (I warned you) and make sure your stove-top is set to medium-hot.
9. With a spoon or small ladle, scoop your potato-onion mixture onto the sizzling pan. I like to try and form the mixture into a circle shape. Make sure to relatively flatten your potato pancake, so it's not too thick.
10. Fry both sides of the pancake until it is a golden-brown colour, like french fries or hash-browns. You can keep them warm in the oven as you fry if you like.
11. Add a pinch of chives to some sour cream and serve for dipping on the side.
Easy-peasy! Eat and enjoy life. Once in a while it's ok right!? Take a walk or choose the stairs and you're all good. Just blame that blogging Anna girl…
Anna